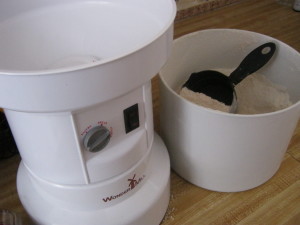 I usually measure out and mill each of these two flours separately or I've already had bag of each that was previously milled in my Wondermill. First things first. 
Make and bake an easy whole wheat pie crust shell. It is easier to do than you might think and yes, you can make a whole wheat one that is flaky and tasty.  
Whole Wheat Double Pie Crust

Makes two deep dish base pie shells or bottom & top of one deep dish.


Ingredients
1 Cup Freshly Milled Hard White Wheat Flour (sifted)*

1 1/4  Cup Freshly Milled Soft White Wheat Flour (sifted)*

1 tsp sea salt

1/3 C cold, hard butter

1/3 C cold, hard coconut oil

6-8 TBS very cold water

Sifting takes out some (not all) of the husk helping the crust hold together better.  It is optional, but keeps crust from crumbling too badly if not sifted.
Combine flour and salt in a bowl.
Cut in cold butter and cold coconut oil (at the same time) until fine and crumbly.
Add water one TBS at a time while stirring with metal spoon to combine.
When dough forms a loose (still slightly dry) ball stop adding water.
Hand knead just slightly in bowl until all of it sticks together.

Too dry (not sticking) add another TBS water.
Too wet (gooey) add a TBS flour.
Divide dough into equal halves, wrap in saran wrap and refrigerate for 15-30 minutes* before shaping.
Just before baking the pie…. roll out on floured surface and use as directed in pie recipe.
Bake empty to fill for a cold pie by pricking the base with a fork several times then put in a hot oven preheated to 400 degrees for approximately 8-10 minutes.
To bake filled for a hot/cooked pie, prick bottom crust as if it were being baked empty first. Fill with your choice of filling then top with the remaining half of the rolled out pie crust.  Be sure to slit or cut decorative wholes to allow steam to escape while baking. This will use the whole recipe.
If wanting only one crust – please note this recipe freezes well in plastic wrap for an easy ready made crust next time.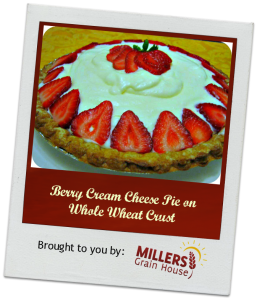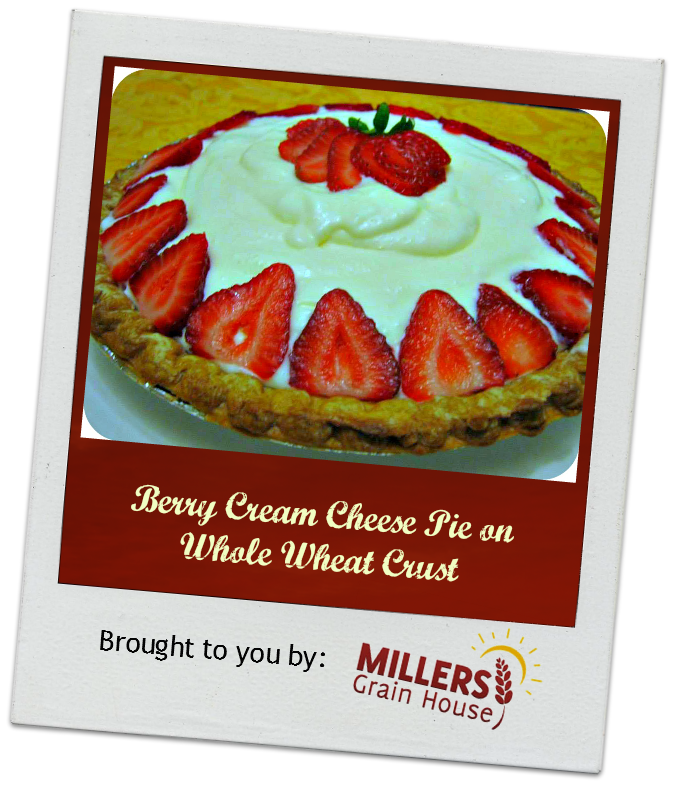 Miller Family's Favorite Summer Time Pie Filling!

It can get hot here in North Carolina, trust me.  So when strawberries, blueberries (oh, shoot ANY berries) are in season, we love to make this light and cool pie and put it in one of the empty baked whole wheat pie crusts.


Berry Cream Cheese Pie

Fills one deep dish baked,empty pie shell
Ingredients
12 oz of Whipped Cream


2  8oz  Packages of

Neufchâtel

Cheese (softened)

2/3 Cup Organic Evaporated Cane Crystals

1/2 tsp Almond Extract


1/2 tsp Lemon Juice

4 Cups of berries (may slice large berries but no need)


One Whole Wheat Pre-baked Deep Dish Pie Crust
In a large mixing bowl mix the cold whipped cream and 2 Neufchâtel Cheeses and Cane Crystals on high with a hand mixer until just combined. Add in Almond Extract and Lemon Juice and beat on medium until smooth.  Do not over beat.
Layer about 1/3 of the mixture in the pie crust.  Layer berries.
Repeat sweet cheese mixture and berries until all ingredients are gone.
Optional: Drizzle with chocolate sauce or sprinkle with chocolate shavings.
Refrigerate for a minimum of 2 hrs before serving.