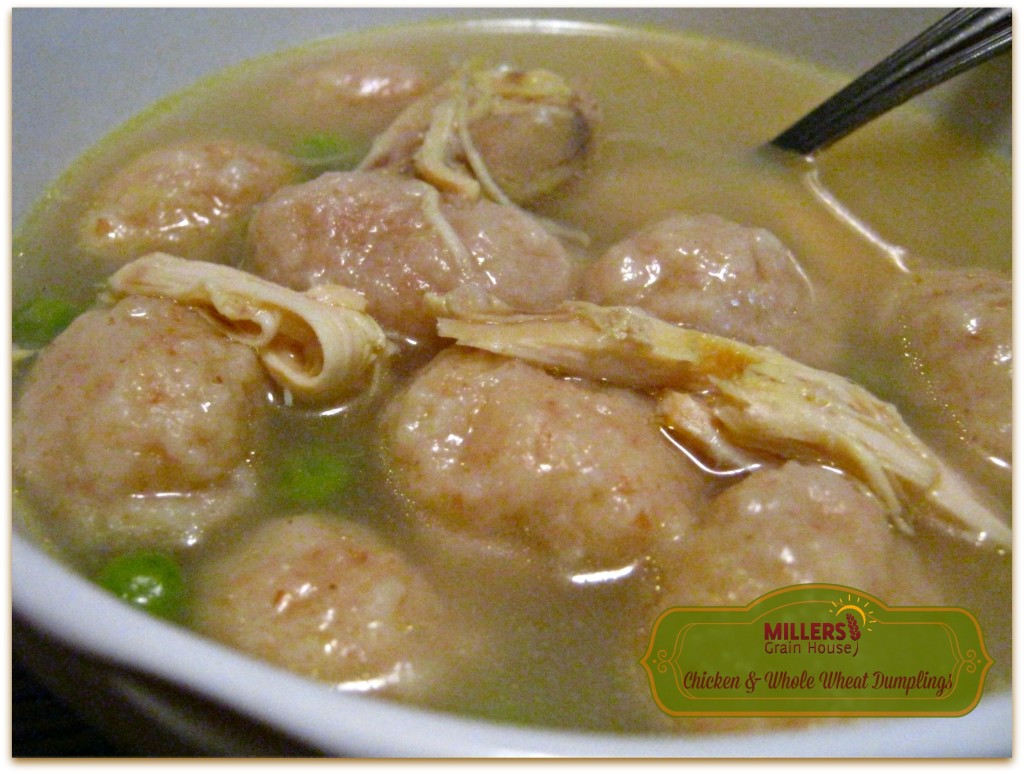 Chicken & (whole wheat) Dumplings are an absolute comfort food!  It's also a dish that helps you to use up portions of a roasted chicken, home-made stock and even some left-over veggies.  This makes it a belly-filling, budget-friendly meal for sure!
Most people don't realize that you can make tender and healthy whole wheat dumplings in a flash. Unlike white flour dumplings, the whole wheat dumplings boosts the filling factor with wholesome bran and vitamin E.
Before making the dumplings, bring a 'picked over roasted chicken' (one previously roasted and now is just some meat clinging to the bones and some skin) to boil in just enough water to cover it when it's been disassembled (split, laying as flat as possible in the base of a pot).
Bring to a boil.  Add some seasoning and salt to taste (nothing chunky yet). Allow to boil until the water resembles broth.  Not wimpy broth but seriously thick broth.  To quote a friend of mine, wimpy broth looks like: "A chicken might have just walked through the water".  Make sure it is deep with the chicken flavor.
Strain broth out through a sieve or colander and set aside while you de-bone the meat left on the chicken.
Put chicken meat and broth into a large enough pot to accommodate the upcoming addition of a pound of dumplings 🙂 .  At this time you can also add in any extra veggies or chunkier seasoning such as onions, peas, carrots, celery, etc.
Bring to a low while you prepare the dumplings.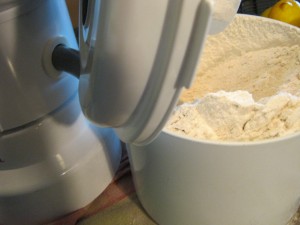 Whole Wheat Dumpling Ingredients:
2 Cups Freshly Milled Soft Flour milled in your WonderMill
2 tsp of baking powder
1/2 tsp sea salt
2 oz chilled butter
2 oz chilled coconut oil*
1 Cup low fat Milk
*If you do not have coconut oil you can use a total of 4oz of chilled butter.

Mix together all the dry ingredients with a fork or whisk in a large bowl.
Using your fingertips rub the chilled butter/coconut oil into the dry goods until the mixture looks like a coarse meal or crumbly.
Make a well in the center of the crumbly mixture and the pour in the lovely tangy buttermilk.
Mix with a large spoon to combine everything.
Now bring the pot of 'chicken soup' up to a higher boil.
You have two dumpling options now:
Use the dough as 'drop dumplings' and simply drop each by a spoonful into the boiling 'chicken soup' above.
Dust your hands and knead inside the bowl until all the flour has been picked up and roll them into balls to drop in (as pictured above).
As each dumpling is added the broth will automatically thicken with the offset of the starch. Please note – drop dumplings with thicken the broth more than balled ones and will likely be smaller dumpling pieces – but still tasty!
Once all the dumplings float to the top, you are ready to serve and enJOY the bowl of comforting, whole grain goodness!