Yes, this is another one of my recipes that are notorious for using up left overs….ssshh… don't tell anyone!  Actually my family is fully aware of this and it's recipes such as this one that have helped us stretch our food budget through the years.
I almost didn't want to share this because to me it seemed so fast and easy I barely feel like it's a recipe at all.  I also include so many 'variables' that the die-hard recipe follower may become frustrated because it's like coloring outside the lines.
Yet here it is.  Options and all.  Fast and easy as it may be.  But you don't have to sacrifice healthier options just because it's fast and easy.  Hope you will enjoy doing what I do to get the most out of leftovers and play with your food!
EnJOY…
2 Cups of chopped or deboned cooked chicken (option – 2 cans of canned chicken, drained)
1 large bag of frozen mixed vegetables such as peas, carrots, corn, cauliflower, diced potatoes, broccoli, etc.  (options – 2 cans of mixed vegetables, drained or misc. leftover mixed veggies)
2 cans of favorite cream of ? soup such as celery or mushroom or one of each –  (option – home-made cream of soup mix combined with enough water to make condensed consistency or 1 1/2 C left over mashed potatoes)
1/2 – 1 Cup Skim or Lowfat Milk
1/2 tsp garlic salt
1/2 tsp dried onion flakes or 1 TBS sauteed onions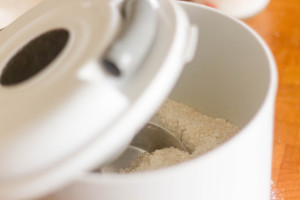 For Whole Wheat Herbed Crust…..
2 Cups of freshly milled Soft White Wheat
2 tsp baking soda
1/2 tsp sea salt
2 tsp of oregano or herbs of your choice
1/3 C Parmesan Cheese or grated sharp Cheddar.
1 TBS Organic Evaporated Cane Crystals or sugar or sucanant
1 Cup Milk (potentially a dash or two more per instructions)
1/4 C Olive Oil
Instructions…..
Spray or grease a 13 x 9 Pyrex baking pan.
Combine all filling ingredients in the pan and stir to combine.
Cover with glass lid or tin foil and place in an oven that has been preheated to 400 degrees.
Cook covered for about 10 minutes.
Meanwhile combine all dry goods from the list of crust ingredients in a large bowl and mix with a whisk or fork. Leave a well in the middle of the dry goods.
Combine all wet ingredients from the crust ingredients in a small bowl and mix well.  Now wait until almost time to pull out the Pyrex pan from the oven.
Check the oven's contents…and after filling is bubbly turn to the crust topping … Mix the combined wet ingredients into the well of the dry ingredients and mix until most (not all) lumps disappear.  It should be the consistency of a very thick pancake batter.  If it's too thick to pour over the filling – add a dash of milk at a time until it is pour-able.
Now pull the bubbly filling out of the oven to a heat protected surface.  With a spatula pour crust ingredients over the entire dish.  There will be gaps, so don't worry – just  try to disperse evenly.
Return to oven and bake until golden brown (approximately 15 minutes).
Remove to heat protected surface and let stand for 5 to 10 minutes before serving.  Pot pie is well known for retaining heat better than the tiles on the space shuttle – so don't rush this – your patience will be rewarded.  (: