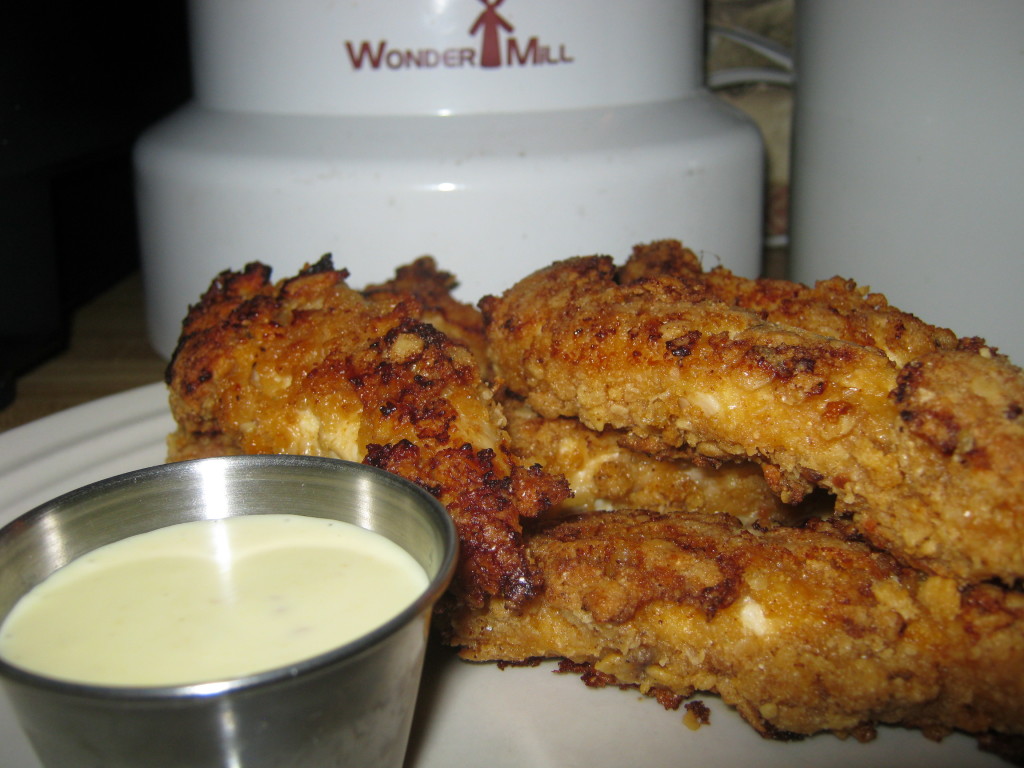 Wait? What?
You may be wondering – "What on earth is a recipe for 'Chicken Tenders' doing on a website dedicated to baking whole grains?"…well, let me enlighten you to my way of thinking.
Freshly milled flour from our Wondermill – whole grain flour – has replaced almost ALL forms of flour in our home, even in the most small quantity.  Why bother using dead, tasteless flour on a tasty morsel just because it's used only as a coating? Am I right? You know I am (: So that's how this fits on this website.
We 'oven fry' our chicken to avoid the grease, but keep all the crunch!  So this is a healthier alternative to fried chicken tenders for more reasons than the whole grain flour!
Ingredients:
1 Cup Freshly Milled Soft White Wheat
1 Cup Bread Crumbs (such as Panko or crushed crackers/matzo or home made crouton crumbs – my favorite)
1/2 tsp Garlic Salt
1/2 tsp Paprika
1/4 tsp Onion powder
2 TBS Coconut Oil
2 TBS Butter
First step: Beat the egg into the butter milk in a large bowl.
Second step: Cut up the chicken breast into equal sized slices and soak in the buttermilk mixture.
Third Step: WASH YOUR HANDS…then mix all other dry ingredients together with a whisk or fork.  Now your work station is ready.  Time to prepare the baking pans.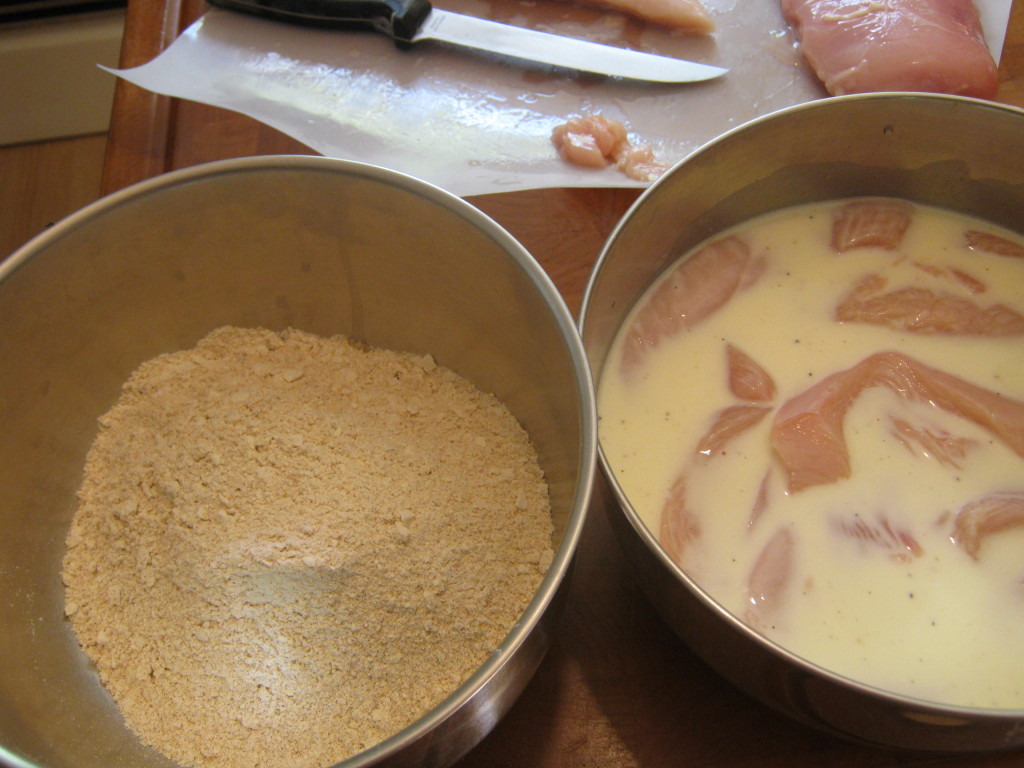 Fourth Step: Spray a Pyrex Baking Dish (or two) with non-stick oil and add to it the 2 TBS of each the Coconut Oil and the Butter (4 TBS all together, yes it is).  Put this in the oven as it heats to 400 degrees F.  Once it's melted and starts to bubble – pull it out and work fast.
With one hand in the buttermilk mixture picking up wet chicken and the other in the dry (this helps you to avoid using the same hand and getting a giant "glove of dough"by the end)  coat the soaked chicken tenders in the dry coating and lay in the popping oil of the Pyrex pan.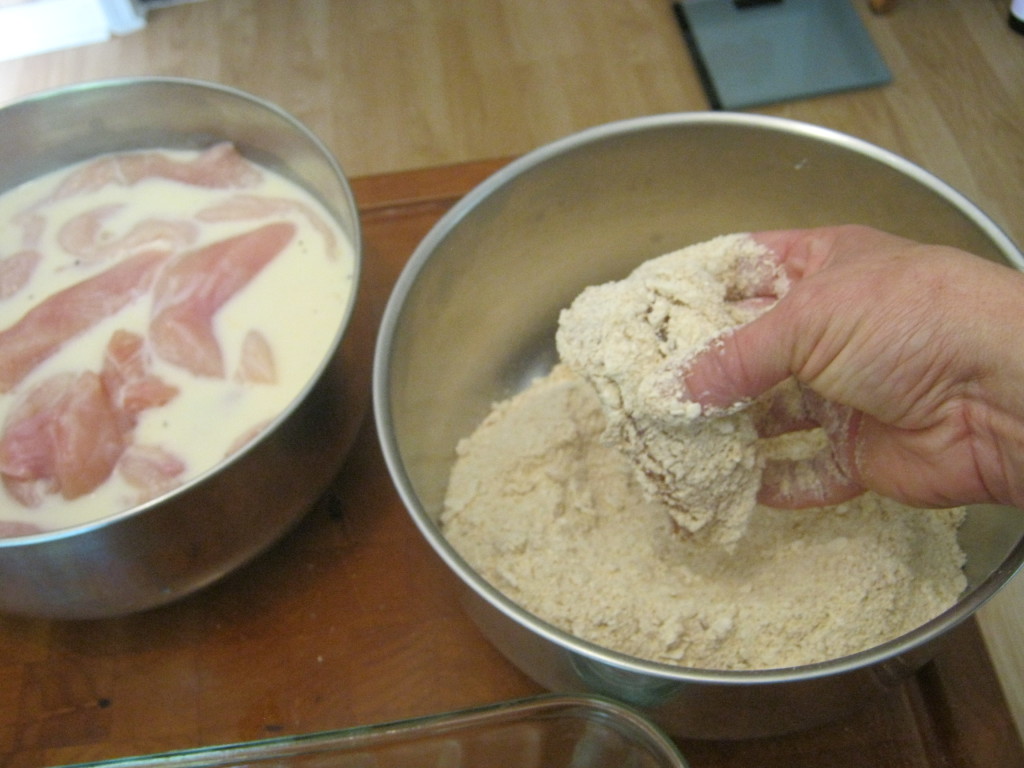 Do this until all tenders are in one layer across the bottom of the dish.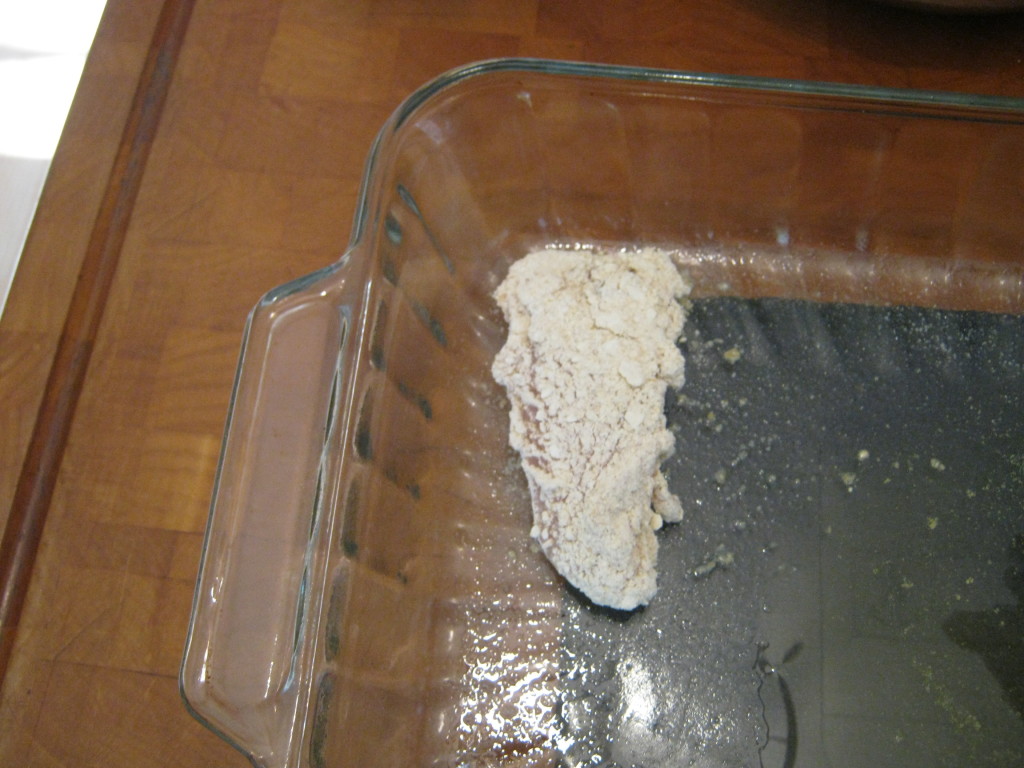 Now pop these beauties in the 400 degree oven for about 20 minutes until the bottoms are golden brown.  Once they've browned well (like the photo below) take them out and gently turn over. The tops will still be dusty – but there should still be oil in the bottom of the pan to crisp them up on the next go round.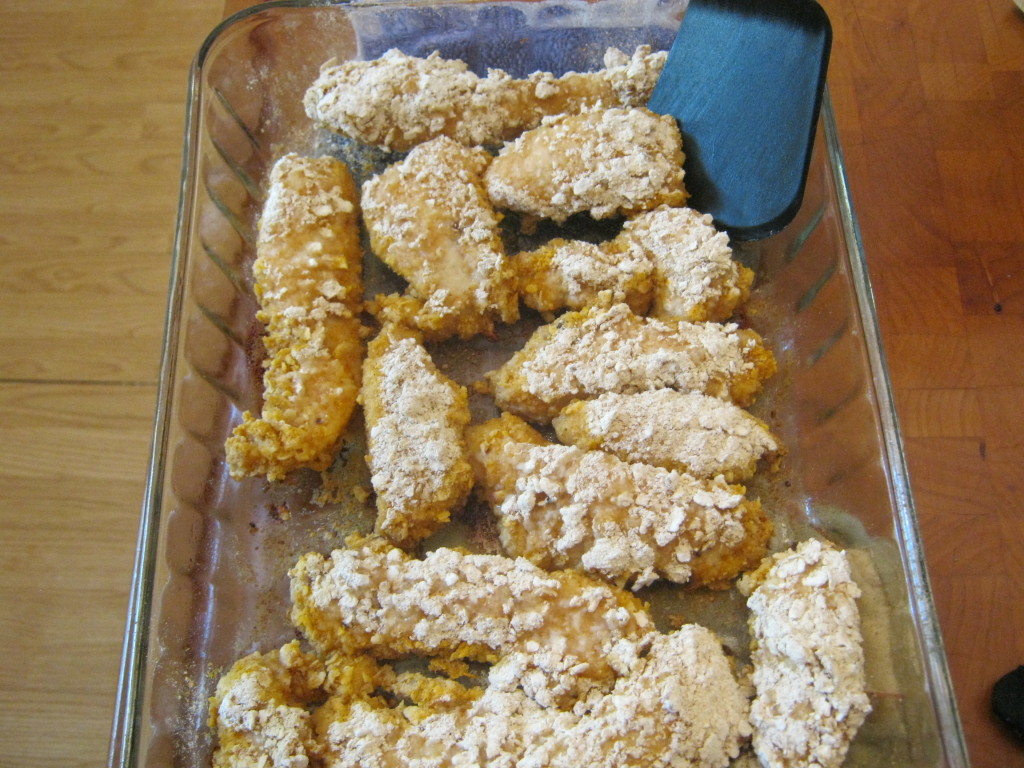 Place back in the oven after you've turned them over for about another 10 minutes.
Meanwhile combine the following in a bowl for a healthy Honey Mustard dipping sauce that has far less fat than the kind you buy at the store.
1/2 C Plain Greek Yogurt
2 TBS Course Ground Mustard
1 TBS Yellow Mustard
2 TBS Honey
1/4 Cup Mayonnaise
Dash of garlic salt
Once the chicken is done, let it rest about 5-10 minutes to avoid burning anyone and serve with the dipping sauce.  EnJOY!