Chocolate and cherry is such a delicious combination, so I had to play around with my favorite waffle recipe to come up with a way to enjoy both of those flavors!
If I'm being honest, these taste more like a dessert than a breakfast food!  That's why when I served them the other day for lunch, the girls ate blueberry waffles first and had one of these as "dessert"!
Still, the batter is made with 100% whole wheat flour.  We didn't put any syrup on them (just butter), but honey or maple syrup would be yummy!
This recipe makes six waffles, so double or triple it as needed!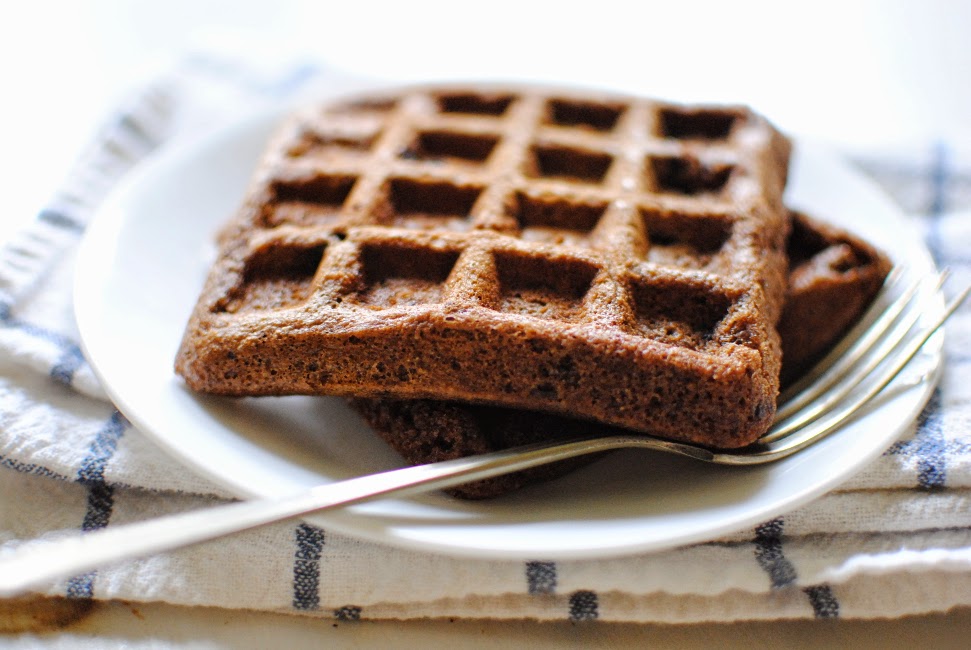 Chocolate Cherry Waffles
1 cup whole wheat flour, freshly ground
1/4 cup sucanat
2 Tbsp. cocoa powder
1 tsp. baking powder
1/2 tsp. baking soda
1/4 tsp. salt
1 Tbsp. melted butter (plus more for waffle iron)
3/4 cup buttermilk, or see note*
1/3 cup dried cherries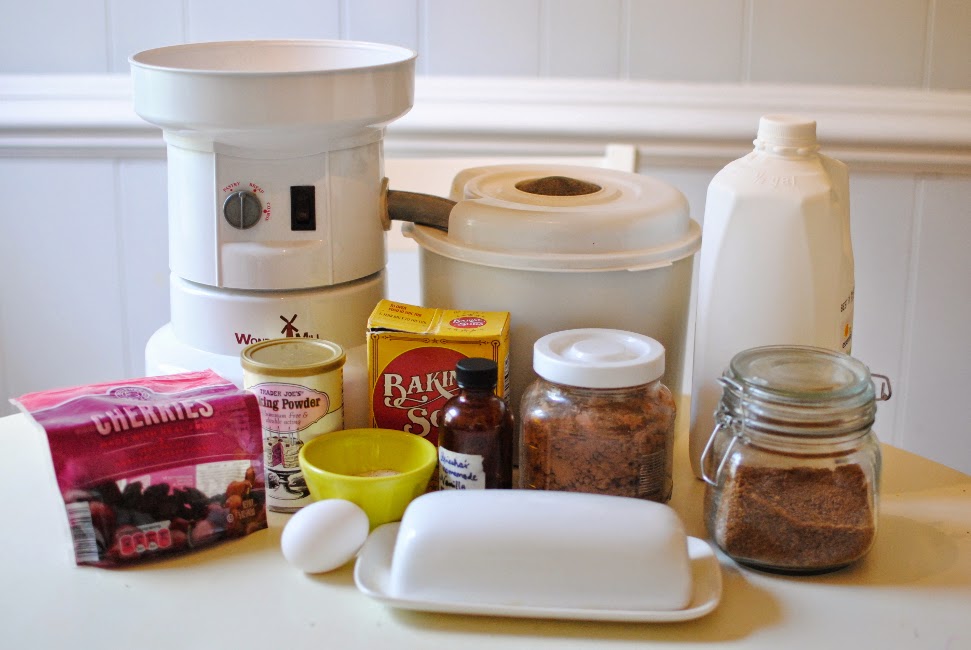 Grind wheat in the WonderMill.
Preheat waffle maker.
In a large mixing bowl, whisk together flour, sucanat, cocoa powder, baking powder, baking soda, and salt.
In a smaller bowl (or glass measuring cup), mix together 1 Tbsp. melted butter, eggs, vanilla, and buttermilk.
Add wet ingredients to dry ingredients and stir just until combined.  Fold in dried cherries.
Grease waffle iron by brushing with melted butter (or you can use cooking spray).
Fill waffle iron with batter and cook according to manufacturer's directions.  I like to underfill my waffle maker so the batter doesn't leak down the edges!
*Note: Add 2 tsp. lemon juice to a glass measuring cup, then add enough milk to make 3/4 cups.  Allow to sit for 5 minutes, then use in recipe in place of buttermilk.
Enjoy!
Makes 6 waffles.