Oh…The joys of trying to eat healthy and still have some indulgences.  Out of the attempt to 'have it both ways' this recipe was born!
Originally called "Sugar Pies" by my very southern, Appalachian born and bred, mother-in-law, I realized they are in fact an empanada.
Shhhh… don't tell her that… 
I made some healthier substitutes to her original recipe such as: whole wheat vs. white flour crusts, coconut oil & nut milk vs. butter & shortening, etc. Still, these are among the richest, most indulgent dessert you will ever enjoy! That's one reason I made them small.
Ok, I'll admit. The photo below was really one of the 'steps' in the process not the finished product.  This was the plate of shaped empanadas.  They had not yet been pan fried or oven baked.  But in my defense, I was accosted by family and guests as each of these came out of the pan and there was NO WAY to get a finished photo.  Just picture, if you will the golden brown 'done-ness' of the crusts…
Guess you'll have to make your own to see what I mean… (: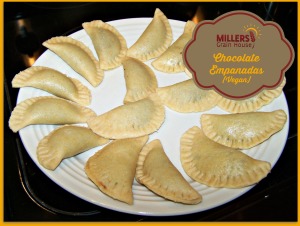 The ingredients could not be simpler: A vegan pie crust and filling.
Vegan Whole Wheat Pie Crust
Ingredients:
3/4 C Organic Raw Virgin Coconut oil (chilled)
2 C sifted, freshly milled *all purpose flour
1 t salt
1/2 C ice cold water (you may not use all of this)
First pour 3/4 C of liquid coconut oil into a Pyrex measuring cup and place in refrigerator.
Second pour 1/2 C of water and place in refrigerator (if in a rush add ice cubes but you will want to remove them before using the water)
To make the *all purpose flour mill 3/4 C of Hard White Wheat & 3/4 Cup of Soft White Wheat in your WonderMill on the Pastry setting.
Then sift 2 Cups worth of the flour into a food processor with the 'S' blade in place.
Place lid on food processor then add salt and pulse once or twice.
Remove chilled 3/4 C Organic Raw Virgin Coconut oil from the refrigerator and cube inside the measuring cup with a cold knife. Try not to touch the cubes much with your hands.  Place cubes back in the fridge if they begin to melt any before the next step.
Drop 2-3 cubes into the flour/salt mixture and pulse 4-5 times.  Continue the drop/pulse steps with 2-3 cubes of chilled coconut oil until all are incorporated and the mixture resembles a course meal or grits.
Remove chilled water from fridge (you may not use all of this)
Turn food processor on to continuous and SLOWLY drizzle a small, but steady stream of ice water down the shoot of the food processor as it runs.
Pause occasionally to see if dough begins to pull from the base and sides and form a 'ball' once it begins to 'ball up' stop the food processor.
Remove the ball of wonderful pie crust and place in a plastic bag in the refrigerator until you're ready to make the empanadas
…or you can top the best Pot Pie EVER with this or bake it as a pie crust, or well… lots of stuff….. But for now, let's make the Vegan Chocolate filling 🙂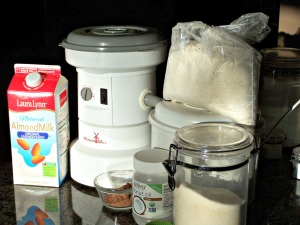 Vegan Chocolate Filling:
1/2 C Cocoa Powder
2 C Organic Evaporate Cane Crystals (Raw Sugar)
2 TBS Coconut
1/4-3/4 C Almond Milk
1 tsp Vanilla Extract (optional if using Vanilla Almond Milk)
In a sauce pan combine first three ingredients and a scant amount of almond milk.
Over a medium-low heat melt coconut oil, sugar and cocoa together stirring continually until smooth.
Add almond milk a little at a time until mixture resembles a very soft 'meatloaf' consistency (gross, I know but that's the best way to picture it).
Remove from heat.
Shaping Empanadas:
First decide oven baked or pan fried method.  If baking, preheat oven to 400 degrees F and make sure rack is centered.
Roll out pie crust into thin 1/4 inch sheet on either a foured or oiled surface.
With a biscuit cutter cut as many circles as you want.
Fill the center of each pie crust circle with 2 TBS of chocolate filling.
Wet the outer rim of the circle (that will become the inner part once folded) with one finger dabbed in water.
Fold over and crimp with fork tines.
Now that they are all finished you can line them on a cookie sheet and bake at 400 for about 20 minutes or pan fry them in a little coconut oil (very little) on the stove top until golden brown!
Enjoy responsibly…these are  addictive and really rich!