As you probably know, I love trying new whole grain recipes!  These dinner rolls made an appearance at our table recently alongside salmon, as well as an encore at lunch the following day with frittata.
They're a great little addition to a meal and an excellent way to have whole grain bread with your meal without much "fuss"!  They come together so quickly (no need to rise!) and they bake in just 8 minutes, so your oven won't overheat your kitchen.  Plus, they only require five simple ingredients (that you probably already have on hand)!
Easy 5-Ingredient Dinner Rolls    (Printable recipe here.)
    adapted from here
2 cups whole wheat flour, freshly ground
2 1/2 tsp. baking powder
scant 1/2 tsp. salt
6 Tbsp. butter
1/2 cup milk (may need a few Tbsp. more)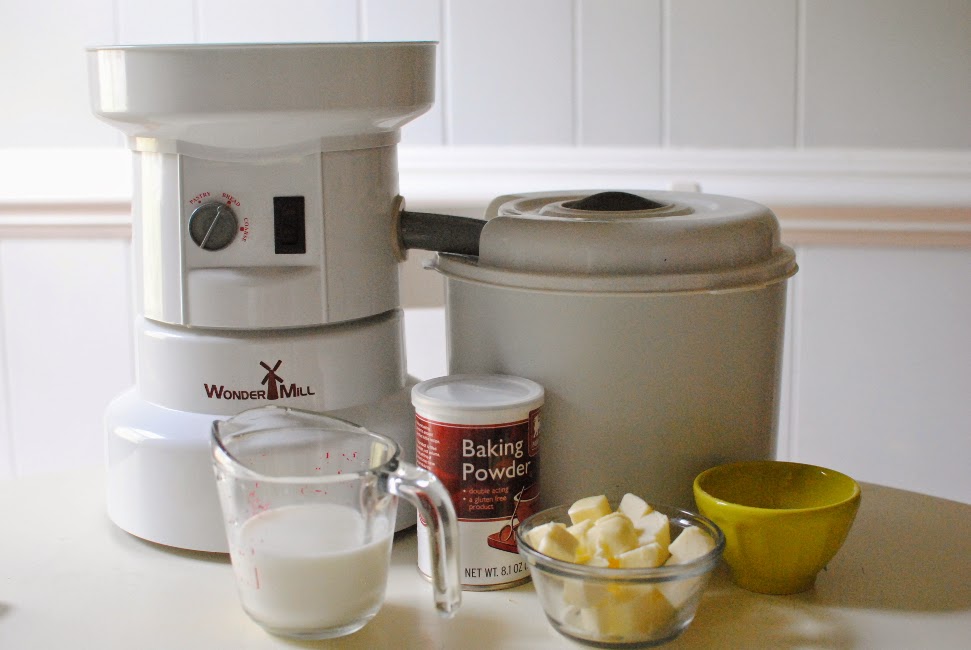 Grind wheat in the WonderMill.  Preheat oven to 450 degrees.
In a mixing bowl, whisk together flour, baking powder, and salt.  Cut in butter with a pastry cutter until butter is the size of small marbles.  Add 1/2 cup milk and stir until the mixture comes together.  Use your hands to knead the dough into a ball.  It should not be sticky, but if it's too dry, add milk 1 Tbsp. at a time until it holds together well.  Be careful not to overwork.
Form golf ball-sized rolls out of the dough and place on a baking sheet.  Bake for 8 minutes at 450 degrees.
Serve warm with butter!
Makes 12 rolls.
Enjoy!