When we started milling our own grain at home, we realized not only how much healthier it was but how much more economical it was as well.  We completely stopped buying expensive convenience foods and began making larger batches of our favorite whole grain foods to have conveniently ready at home.
Not only does this recipe (once doubled) lend itself to making more and freezing the left-over waffles for a quick toaster breakfast – it also is easy the first time as well!  The tip is about 5 minutes of prep the night before…leaving little prep the morning of!
You can choose to either mill these grains all together in your Wondermill or Wondermill Jr. Deluxe or do a combination of some milled and some whole. Either way you choose, we like the fluffy, light yet crispy exterior of the mult-grain ingredients.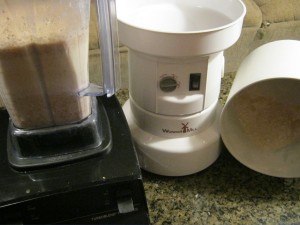 Easy, Multi-Grain Waffles
Makes about 8 – 8″ Belgium Waffles
Over Night Ingredients:
1/2 C Spelt Grains (whole or mill that 1/2 Cup)
1/2 C Brown or Sweet Rice (whole or mill that 1/2 Cup)
1/2 C Rolled Oats (or mill 1/2 C of oat groats – but not the rolled oats)
1/2 C Milled Hard White Wheat (Substitute Millet or Quinoa for Gluten Free Waffles)
2 C Non-fat Buttermilk
1/3 C Canola Oil
2 TBS Organic Sugar
2 Eggs
1 TBS Vanilla Extract
1/2 tsp Sea Salt
Put all the above ingredients in a blender or VitaMix and take for a short spin (about 1 min) before putting in the refrigerator over night.
Add Morning Ingredients:
1 tsp Baking Soda
2 tsp Baking Powder
Wake up, pour your coffee, heat your waffle iron and then add the above ingredients to the blended mixture while the mixture is running in the blender…run until smooth. You may want to adjust the consistency a bit by either adding more buttermilk or more milled flour.  It should be a slightly thin pancake batter.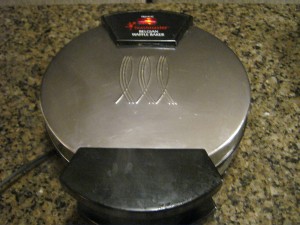 Once your waffle iron is heated, thanks to the handy dandy pouring feature of the blender, just pour until about 1/2 full…close the lid and proceed as normal until you've produced a fluffy yet crispy.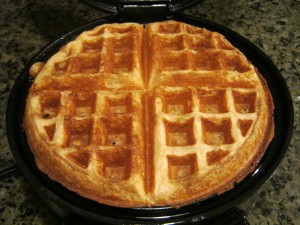 Once the left-overs are cooled, you can store them in a freezer bag with wax paper between them and take them out like the 'eggos' of old.  They work great in the toaster or toaster oven straight from the freezer!
________________________________________________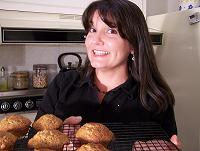 Donna Miller is a teacher, author, sought-after speaker and trainer. She has been a both guest and host on internet and broadcast radio talk-shows and in television interviews.
She is the hostess of "Your Preparation Station" on Preparedness Radio Network. She and her husband are the Organizers of WNC Preparedness Group in Asheville, NC.  She is an Adjunct Instructor for Frontier Christian University. She teaches local classes & ladies retreats for people to learn hands skills.
She and her husband are the founders of Millers Grain House and, Your Preparation Station and are on the board of PREPARE Magazine.
Joseph and Donna have been happily married for 27 years and have three adult children, and one daughter in-law.
________________________________________________