Double Whole Wheat Pie Crust
Makes two deep dish pie shells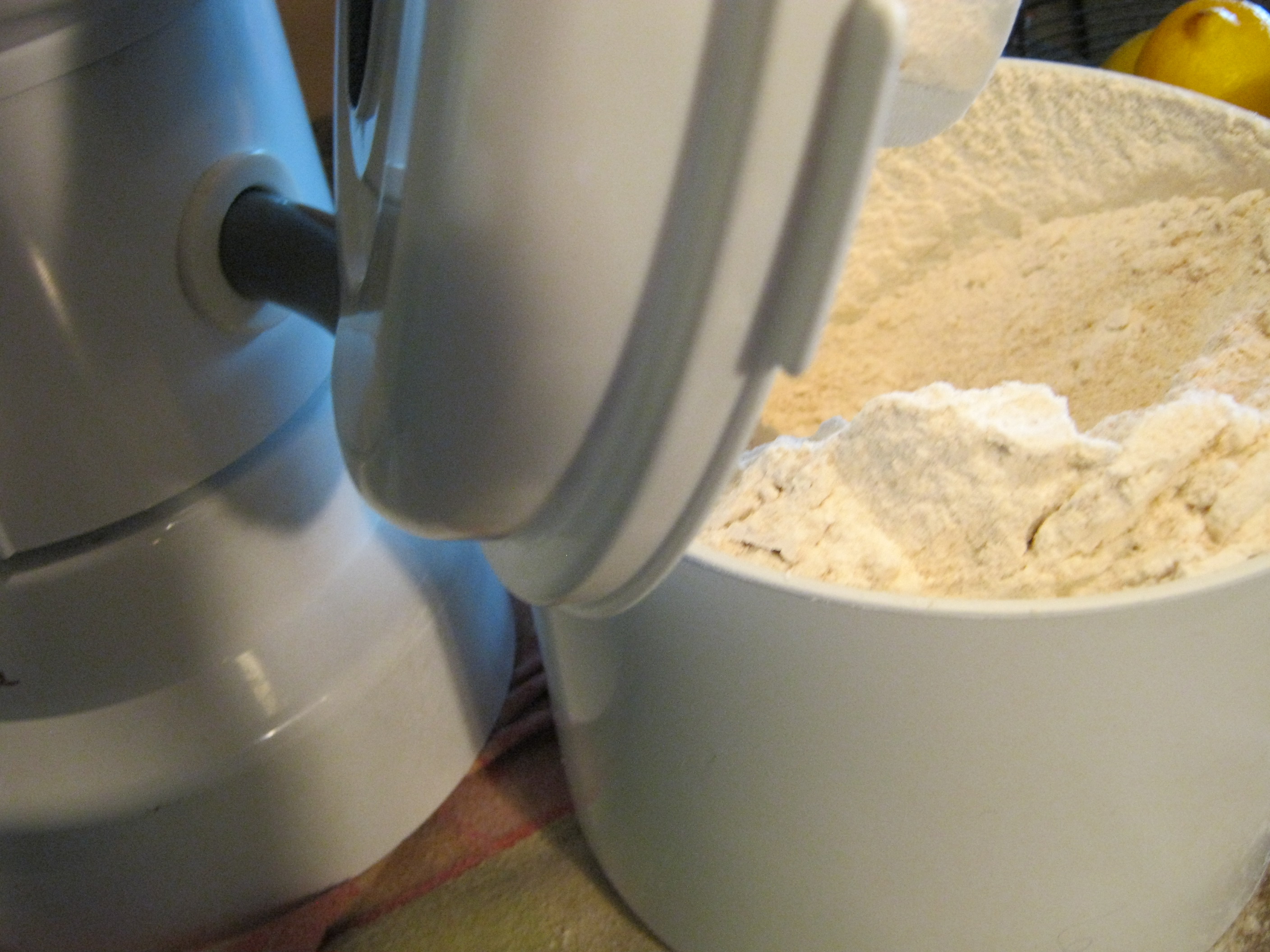 Ingredients
1 Cup Freshly Milled Hard White Wheat Flour (sifted)*
1 1/4  Cup Freshly Milled Soft White Wheat Flour (sifted)*
1 tsp sea salt
1/3 C cold, hard butter
1/3 C cold, hard coconut oil
6-8 TBS very cold water
Sifting takes out some (not all) of the husk helping the crust hold together better.  It is optional, but keeps crust from crumbling too badly if not sifted.
Combine flour and salt in a bowl.
Cut in cold butter and cold coconut oil (at the same time) until fine and crumbly
Ad water one TBS at a time while stirring with metal spoon to combine.
When dough forms a loose (still slightly dry) ball stop adding water.
Hand knead just slightly in bowl until all of it sticks together.
Too dry (not sticking) add another TBS cold water.
Too wet (gooey) add a TBS flour.
Divide dough into equal halves, wrap in saran wrap and refrigerate for 15-30 minutes*
Just before baking the pie…. roll out on floured surface and use as directed in pie recipe.
For an empty shell – usually it bakes at 375-400 for 15 minutes.
If wanting only one crust – please note this recipe freezes well in plastic wrap for an easy ready made crust next time.
Cube the butter & coconut oil first

Keep butter & coconut oil in the fridge until the last minute.

Pulse food processor "S" blade to cut in butter/oil.

Use same crust to make "Pop-tarts" just bake flat.

Use crusts in muffin tins for smaller servings.

Use for both sweet and savory pies or top a pot pie.

Make several and pop them in the freezer.

Bake directly from freezer to oven for crispiest crust.