Every now and then, I get on a real "Greek food" kick, where I pretty much put hummus and feta cheese on everything. I recently learned how to make flatbread, which has been a delicious addition to our "Greek fests"!
This bread is chewy and filling, but still puffy and perfectly browned. It's great for making an open-faced sandwich (see recipe below!) or even as the base for a simple, broiled pizza.
I know you'll enjoy making it!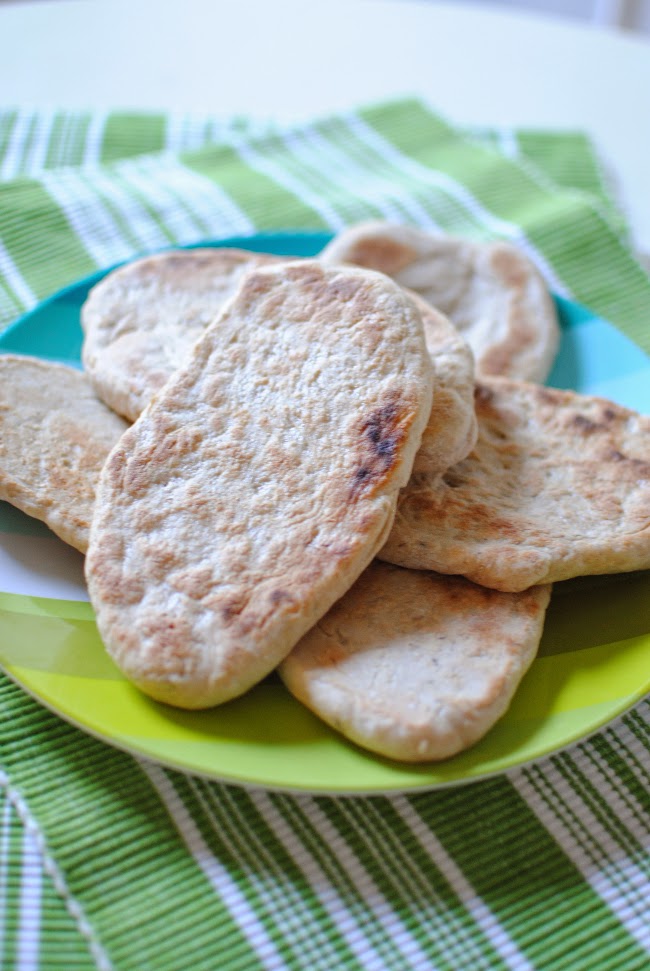 Flatbread
    adapted from here
2 1/4 tsp. yeast (1 packet)
1/2 tsp. sugar
3/4 cup whole wheat flour, freshly ground
1 cup unbleached all-purpose flour
1 tsp. Kosher salt
1 tsp. dried thyme
3/4 cup warm water
1 tsp. olive oil
Grind wheat in the WonderMill.
In a mixing bowl, combine yeast, sugar, flours, salt, and thyme.  Whisk together.
Add water and stir just until the dough begins to stick together.  Knead dough on a floured surface until it forms a ball that is smooth and elastic.
Using the tsp. of oil, coat a bowl with oil and place the ball of dough inside.  Cover, and let rise until doubled (about an hour).
When dough has risen, divide dough into 6 equal portions.  Roll out into ovals.
Heat a large pan over medium heat (do not oil).  Add the dough rounds (I did three at a time) and cook on one side until puffy and lightly browned.  Flip once and cook until the other side is lightly brown as well.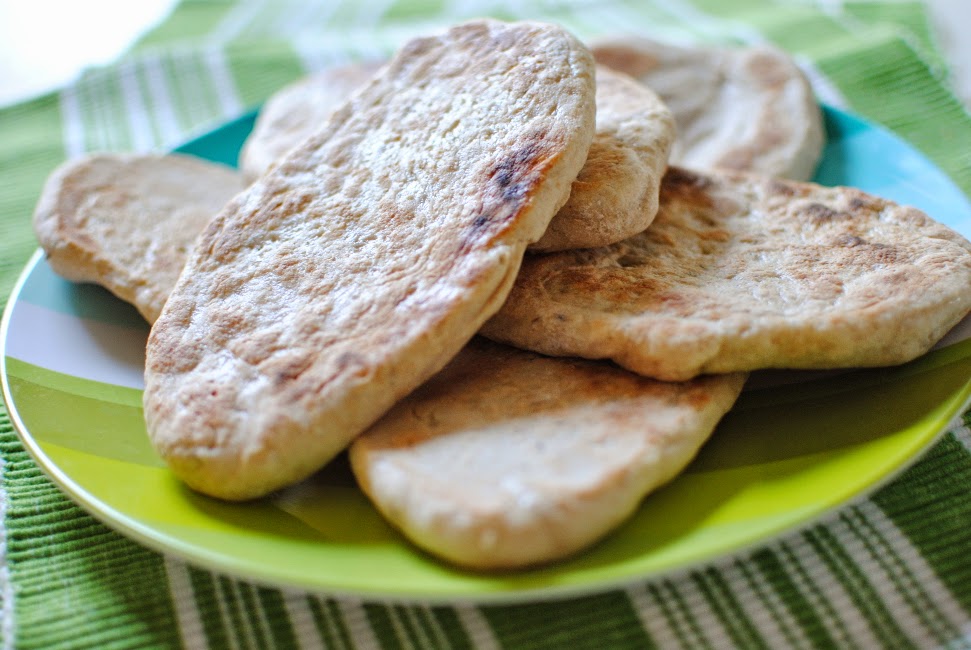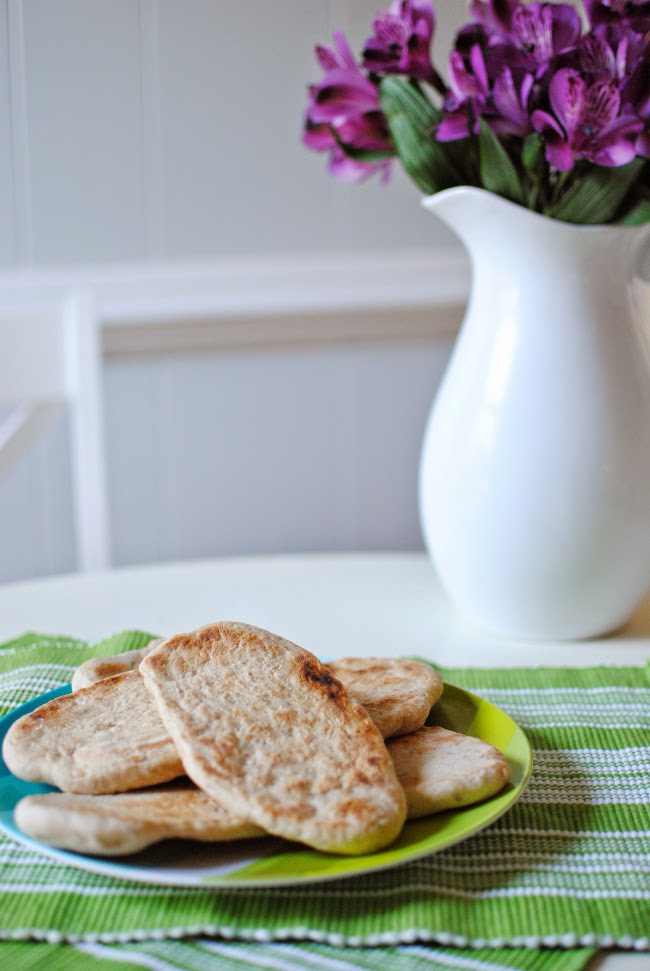 Use the flatbreads to make this delicious meal: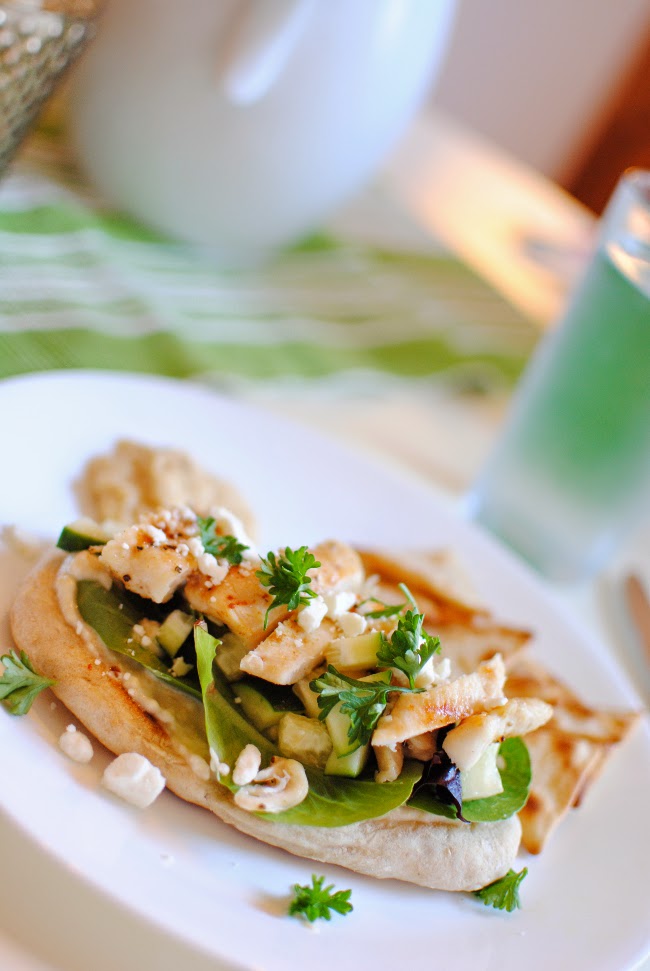 Quick Dinner: Greek Chicken Flatbreads
    adapted from Better Homes & Gardens
1/2 cup roasted garlic hummus
1/2 cup plain Greek yogurt
flatbread (see recipe above)
spinach or baby romaine
grilled chicken, sliced
chopped cucumber
chopped tomatoes
(optional) chopped onions
crumbled feta cheese
Combine hummus and yogurt in a small bowl.  Spread over the flatbreads.  Top with spinach or baby romaine, sliced grilled chicken, cucumber, tomatoes, onions, and feta cheese.  If desired, sprinkle with parsley.
Serve with additional veggies, hummus, and pita chips!
Enjoy!