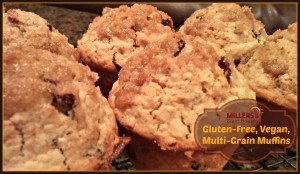 Don't let the name fool you – these are actually quite good muffins.  And if you are trying out gluten-free, vegan foods these are so much better that they'll blow the 'store bought' muffins right out of the cupboard. 🙂
The trick is using things to 'moisten' the muffin such as the brown sugar, the puree and the liquid sweetener along with the richness of the coconut oil.  This helps these not to be dry and boring like most of the gluten-free and vegan baked goods from the store.
Gather all your goodies and tools and let's begin playing with our food!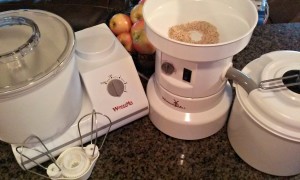 Ingredients:
3/4 Cup Fresh Milled Brown Rice Flour
3/4 Cup Fresh Milled Oat Groat Flour
1/2 Cup Fresh Milled Other Gluten Free Grain Flour (Millet, Amaranth, or Teff, etc)
2 TBS Aluminum Free Baking Soda
1/2 tsp Sea Salt
1/2 Cup Organic Brown Sugar
1 tsp Cinnamon
1/4 tsp All Spice or Nutmeg
Up to 1/2 Cup of Dry Options such as nuts, raisins, etc.
3 TBS Honey or Agave Nectar
3 TBS Fruit Puree (applesauce, prune puree, pumpkin, mashed banana etc)
1 Cup Almond or Rice Milk
1/2 tsp Vanilla Extract (omit if using vanilla milk replacement)
2 TBS Ground Flax Seed
1/4 Cup Melted Coconut Oil
First Mill Each grain separately in the WonderMill on Pastry Setting.
Next in the WonderMix , combine all the dry ingredients ( first 9 including the dry mix in additions) and spin a few times with the four blade batter whisks until combined.

In a separate bowl or very large measuring cup (4 cup size) combine the remaining ingredients (including and especially the ground flax seed).
Mix them well with a fork and let the mixture sit for 5 minutes before proceeding.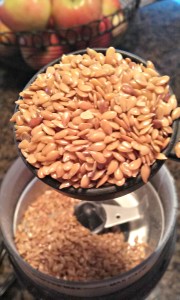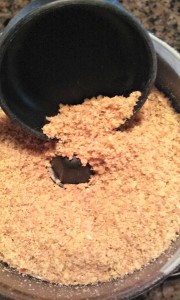 Side Note:  Grinding flax seed is easy in a coffee grinder or the Wondermill Jr. using the steel burrs.
Ground flax seed is the binder that acts as an egg replacement for many vegan recipes.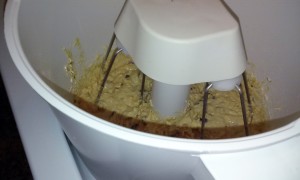 Now return to the dry mixture and add ALL the wet mix at the same time into the WonderMix while it is on low.
Let it spin around just a few times until the mixture is well combined.
Spray muffin tins and begin to preheat oven to 400 degrees F.
Fill each tin 2/3 of the way full with mixture. Fill any empty muffin spots with water for even heat distribution while cooking.
Bake for 20-23 minutes.
Remove muffins from tins and allow to cool on wire wracks.
While muffins are warm, let me suggest that you mix some molasses in with coconut oil and 'butter' the muffin to enJOY!