Why make pasta at home when you can easily buy it at the store? For the same reasons to make fresh, homemade and whole grain breads, tortillas, bagels, muffins and everything else you can! Fresh, fresh, fresh! The taste is absolutely fabulous and once you try your own homemade whole grain pasta you will never be satisfied with anything else.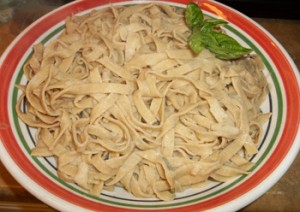 Kamut is an excellent choice for 100% whole grain pasta because it is a light, mild-tasting, high-protein ancient grain (many people who cannot tolerate modern wheat can use organic Kamut) and it performs perfectly for pasta. The pale yellow color and mild taste is great for people just starting out with whole grains, or who do not care for more "flavorful" whole grains.
I used fresh organic basil and oregano because this is what is growing in my herb garden. If it were in the Winter, I would use my own dehydrated herbs. You can use any fresh or dried herb your family prefers, but it's wonderful to have the herbs IN the pasta.
In this instance, fresh garlic is not the best choice because it is too chunky, (unless you puree it with liquid until smooth) and will rip the pasta as it is being rolled out. Either puree fresh garlic, or use your own dehydrated garlic powder or store-bought.
Make a bunch and freeze the extra!
Herbed Kamut Pasta
Makes approximately 2 pounds
Dry ingredients:
Whole grain Kamut berries (4-5 cups of flour)
1 1/2 teaspoons real salt
2-3 Tablespoons fresh basil, diced (or 1-2 Tablespoons dried basil)
1 Tablespoon fresh oregano, diced (or 2 teaspoons dried oregano)
1 teaspoon dried garlic powder
Wet ingredients:
4 large eggs, beaten
2 Tablespoons extra virgin olive oil
Water, as needed 1/4 cup – 1/3 cup 
Mill whole grain Kamut into flour using the WonderMill or Wonder Junior Deluxe.
In a large mixer bowl, place 4 cups fresh-milled Kamut flour and remaining dry ingredients.  Mix well. Add eggs and olive oil and begin mixing (by hand, mixer or food processor). While mixing drizzle in enough water to make a stiff, but pliable dough. Knead about 5 minutes or until smooth.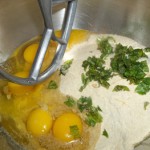 Dust pasta dough with flour, place in container with lid, or wrap in plastic and let it chill in the  fridge for about an hour. Remove from fridge 30 minutes before ready to roll our dough.
Divide dough ball into 8 equal portions. Use one at a time, keeping the remaining portions covered to avoid the dough drying out.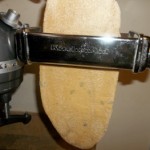 On a floured surface, flatten each 1/8th with your hand and run it through a pasta roller at widest setting (or use a rolling pin) until long. Adjust the pasta roller settings to be closer and run the long sheet of pasta through the next several setting, dusting each time prior to rolling. When pasta sheet is thin, lay it on a clean bath towel. Repeat with remaining portions.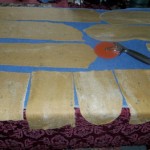 Let dough sit for about an hour to dry lightly (it cuts better when partway dry).
Cut each dough sheet in portions about 6-8 inches long. Take each portion and run it through the cutter of your choice, or cut into noodle strips with a pizza cutter. Drop the cut noodles onto the towel and toss with some additional flour. Repeat until all the dough sheets have been cut into noodles.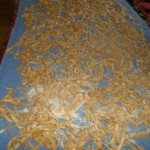 Bring water in a large stockpot to boil, add 2 Tablespoons salt. Add the fresh pasta and stir lightly to prevent sticking. Cook only a few moments, fresh pasta cooks FAST! Check the texture of the pasta by tasting it and checking to see if the inside is clear. Only cook until al dente.
Drain pasta noodles, toss with real butter, taste and adjust seasonings. Add cheese as desired. Garnish with additional fresh basil.
B'Teavon! (Bon Appetit!)