I've always had a hang-up with homemade soft pretzels… they can take ALL DAY to make!  I have seen so many recipes that require multiple restings/rise times that add up to about 3+ hours start-to-finish just for a pretzel!  BUT, this recipe is SUPER easy and only takes 30 minutes start-to-finish!
The resulting soft pretzels are more like rolls in texture than mall pretzels (since they're not boiled), but they are totally delicious and make a great snack!  Kids can also help make them, which is fun too.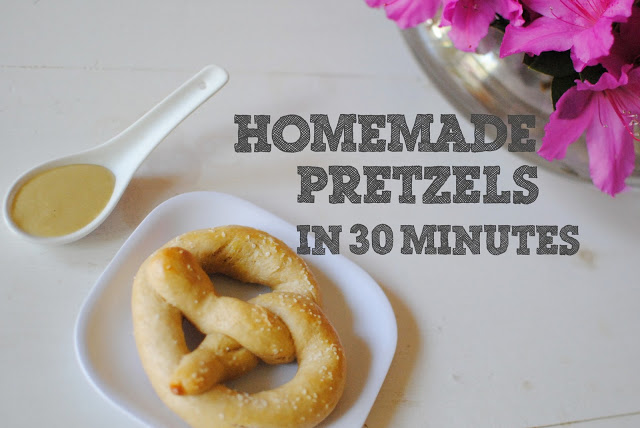 Homemade Pretzels in 30 Minutes
adapted from here
1 1/2 cups warm water
2 1/4 tsp. yeast (or 1 packet)
1 tsp. salt
1 Tbsp. sucanat or sugar
2 cups whole wheat flour, freshly ground
2 cups unbleached all-purpose flour
additional flour for dusting surface
1 large egg
kosher salt or course sea salt for sprinkling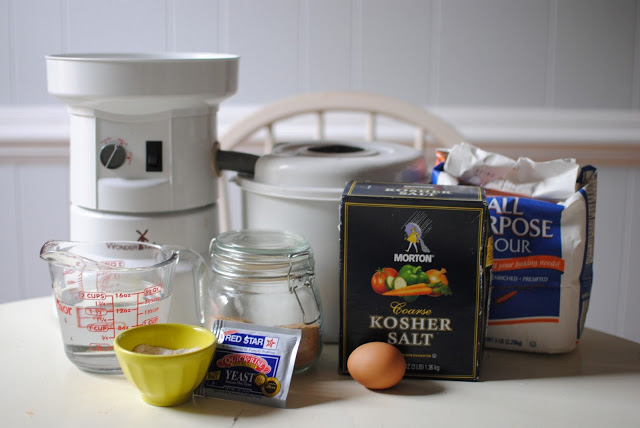 Grind wheat in your WonderMill.  Preheat oven to 425 degrees.  Line a cookie sheet with a silpat mat or parchment paper.
In a large mixing bowl, combine warm water and yeast and stir until dissolved.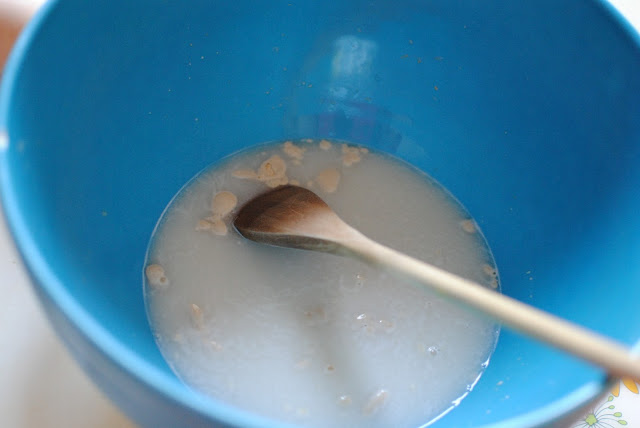 Add salt and sugar; mix again.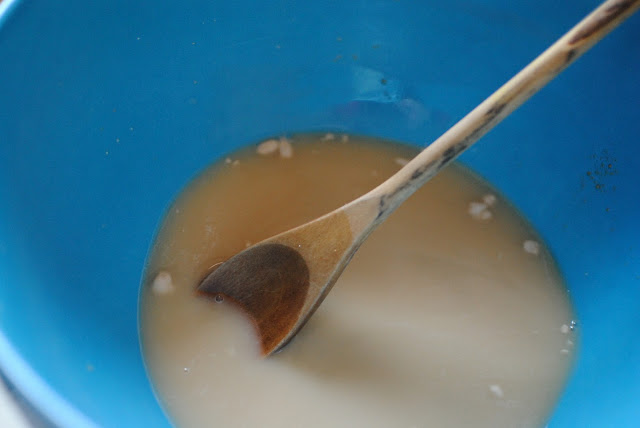 Add flour one cup at a time, stirring well after each cup is added.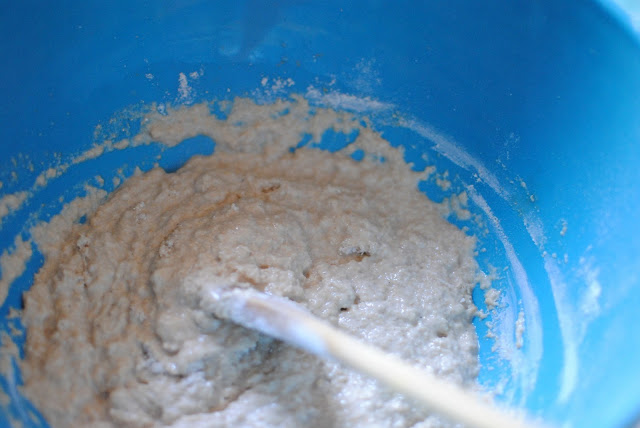 Add up to 1/4 cup extra flour if needed so that a nice ball of dough forms and bounces back a little when you poke it with your finger.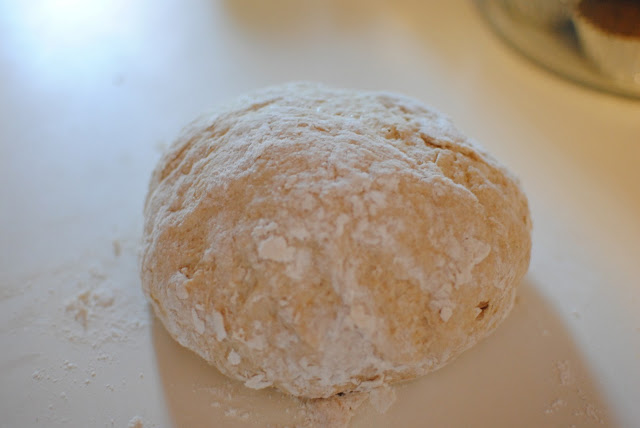 Turn dough onto floured surface and knead for 5 minutes, adding additional flour as needed to keep from sticking.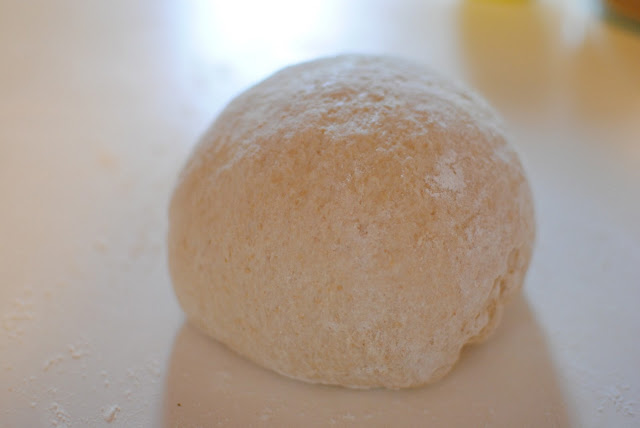 Cut dough in half, then cut each half into 5 equal sections, forming 10 balls total.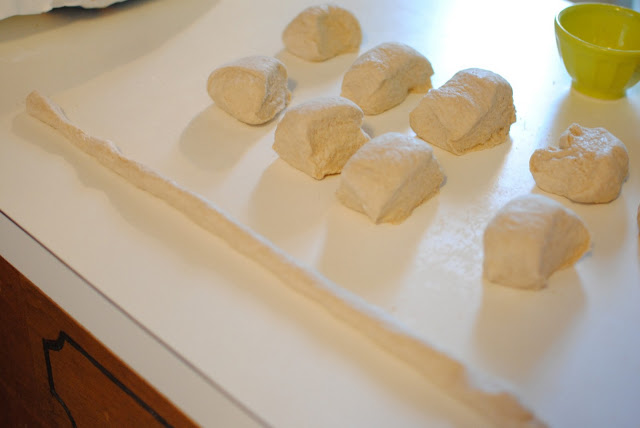 Roll each ball of dough into a long "snake" and form into a pretzel shape.  Place on baking sheet.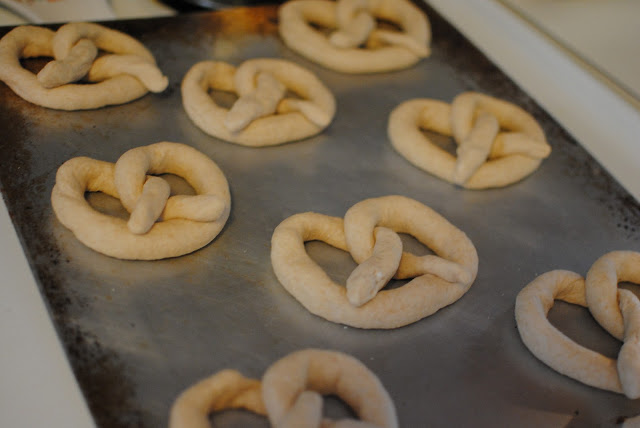 In a small bowl, beat egg.  Dip each formed pretzel into the egg wash, coating both sides.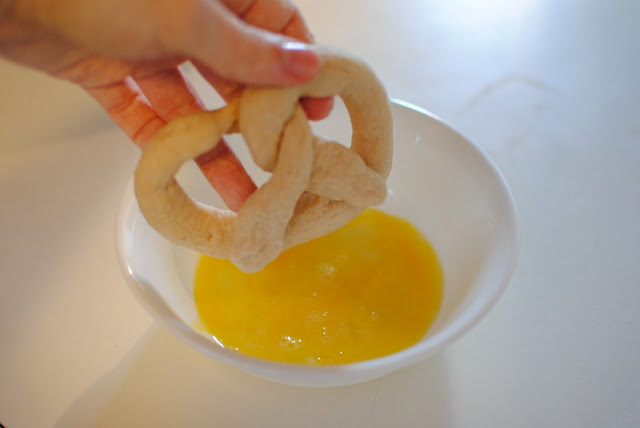 Return to baking sheet.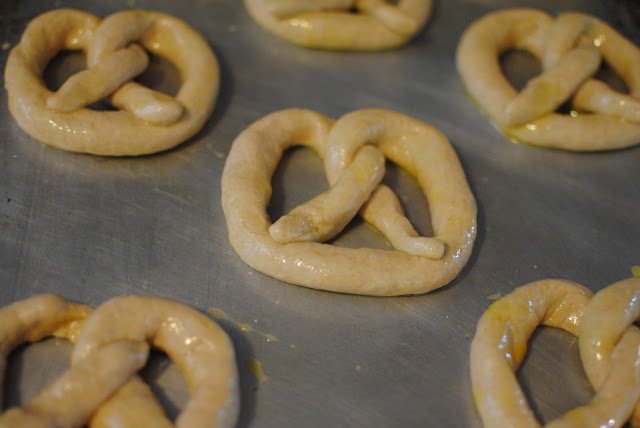 Sprinkle pretzels with kosher salt.  Bake for 10 minutes, turning the oven to broil for the last few minutes to brown the tops nicely.
Allow to cool slightly (or to room temperature).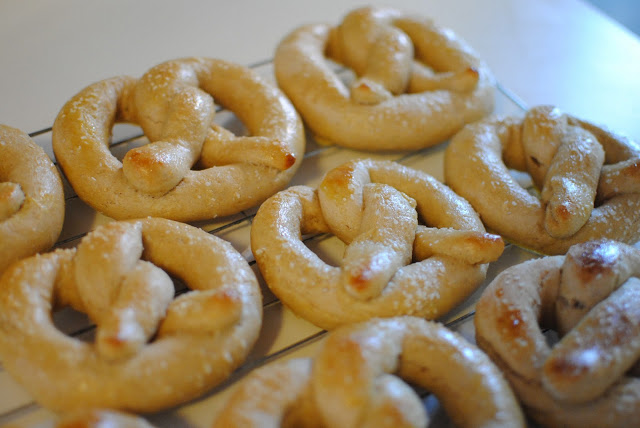 Serve with honey-mustard sauce, if desired.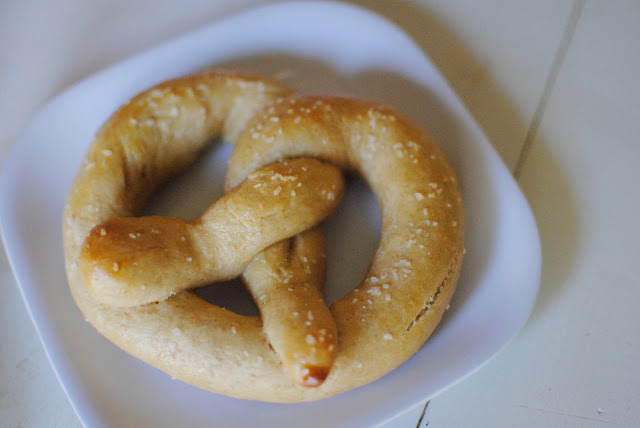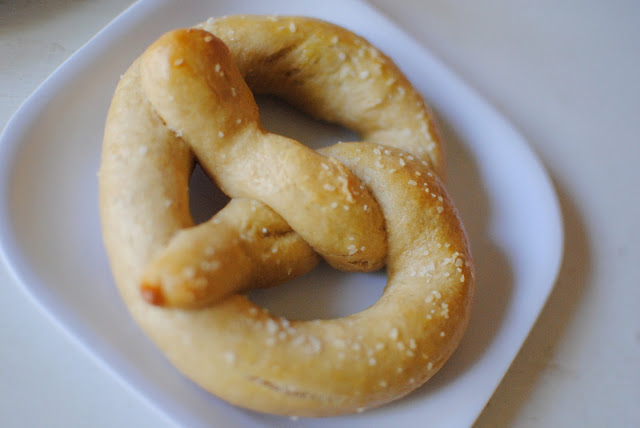 You can also make sweet pretzels by sprinkling with cinnamon sugar instead of salt.
Enjoy!