Despite the name, these cookies can be made allergy-friendly (dairy-free, egg-free, nut-free) just by subbing the nut butter with sunflower butter!  So while the photos show almond butter, you can easily substitute Sunbutter (we like the Trader Joe's brand)!
Things I love about these cookies: they are whole grain, they use honey instead of refined sugar, and they include a healthy fat (coconut oil).  They are also simple to make!
It's easy to whip up a quick batch of these yummy cookies today!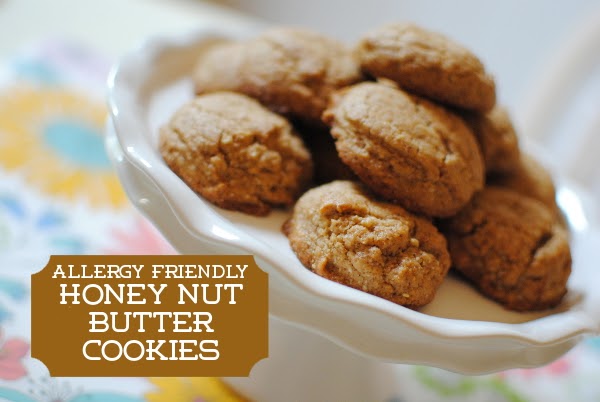 Honey Nut Butter Cookies (dairy-free, egg-free, can be nut-free)
(adapted from here)
1 1/4 cups whole wheat flour, freshly ground
1/2 tsp. baking soda
1/4 tsp. sea salt
1/2 cup smooth nut butter (almond butter, peanut butter, or allergy friendly: sunflower seed butter)
1/2 cup honey
3 Tbsp. coconut oil (liquid)
1 tsp. vanilla extract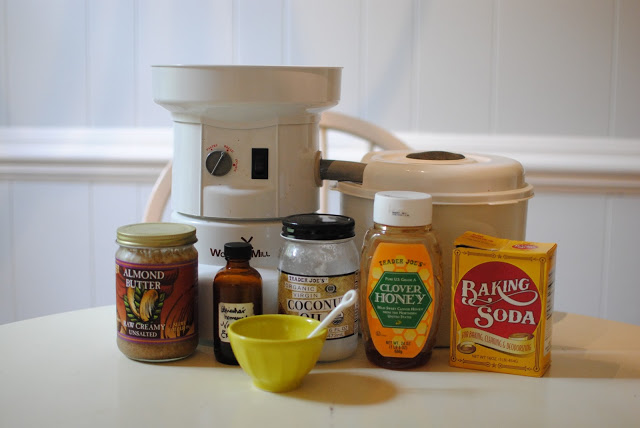 Grind wheat in the WonderMill.
Preheat oven to 350 degrees.  Line a baking sheet with parchment paper or a silpat baking mat (my preference).
In a bowl, stir together flour, baking soda, and salt.
In a separate bowl, whisk together nut butter, honey, coconut oil, and vanilla.
Add liquid mixture to dry mixture and mix just until all the flour is incorporated.
Using a cookie scoop, form balls from the dough and place on the cookie sheet.
Bake for 10 minutes, then allow to cool for 2 minutes before removing to a wire rack to cool completely.
Enjoy!