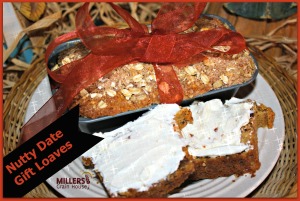 Nutty Date Gift Loaves
Fall is absolutely my favorite time to bake.  The minute the leaves turn their fall colors my oven starts to work over time. And with Thanksgiving (my favorite) around the corner, I look for ways to share the gift of home-made, fresh-milled goodies.  Smaller loaves are the perfect gift.
This recipe can have any puree base flavor you'd like (or have on hand): applesauce, pumpkin puree, prune puree, banana puree (what I used) or butternut squash puree. Other than a slightly differing base flavor, the recipe will turn out great!
Nutty Date Gift Loaves
Smaller loaf pans make this a great gift.
Ingredients
1 Cup Hard White Wheat Flour ground in a Wondermill or Wondermill Jr. Deluxe
1 Cup Soft White Wheat Flour
½ tsp salt
½ tsp cinnamon
2 tsp baking powder
½ Cup Fruit Puree of your choice
½ Cup Organic Sugar
¾ Cup Almond Milk
1 Egg
¼ Cup Coconut oil in liquid form
½ tsp vanilla extract
½ C Chopped Dates
¼ C Chopped Pecans (or walnuts)
Rolled Oats
Cinnamon & Sugar Mixed
Instructions
Combine first 5 ingredients in one larger bowl
Stir to mix and set aside.
Combine next 6 ingredients in a separate bowl.
Stir until smooth, then set aside.
Make a 'well' in the middle of the dry mixture
Pour all of wet mixture into dry mixture bowl
Stir to just mixed, may be lumpy.
Add nuts & dates and lightly mix together
Do not over stir or loaves will be hard - keep batter lumpy.
Prepare small loaf pans with spray.
Pour equal amounts of mixture into pans (left over batter makes great muffins)
Sprinkle top of batter with oats and cinnamon/sugar mixture
Bake at 400 for 20 minutes.
Remove to cool in pan on wire rack.
Remove from pan when cooled, wrap and give as gifts.
 These make a great snack or breakfast served with cream cheese!
Best Blessings and enJOY!
Donna Miller