A  Three-For-One tutorial! This is a fun, fruity and far-out recipe that can be used for all sorts of great shapes, loaves, lattice-loaves, rolls and filled varieties. Have a good time in the kitchen and be sure to play with your food!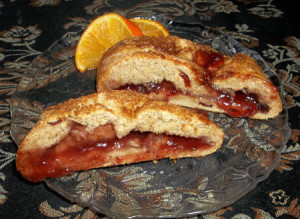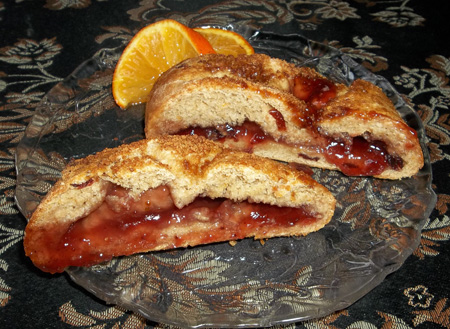 First up is the Orange Cranberry Whole Wheat Bread recipe:
Mill whole wheat flour in the WonderMill. I prefer Prairie Gold hard white wheat berries.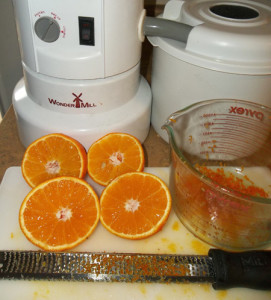 Place sponge ingredients in a mixing bowl or mixer bowl.
2 cups warm water (110 degrees)
1 Tablespoon SAF instant yeast
1 teaspoon organic apple cider vinegar
2 cups white whole wheat flour, freshly-ground
Mix well, cover and let sit at room temperature for 30 minutes, or until bubbly.
Add in:
2 cups of orange juice (110 degrees)
Zest of 2 oranges
1/2 cup extra virgin olive oil, melted virgin coconut oil or melted butter (each bring a different flavor to the bread)
1/2 cup raw honey
1/4 teaspoon pure almond extract
1 teaspoon salt
1/2 cup vital gluten
1 cup dried cranberries
Additional white whole wheat flour
Optional: organic cinnamon and coconut sugar and fruit-sweetened jelly of your choice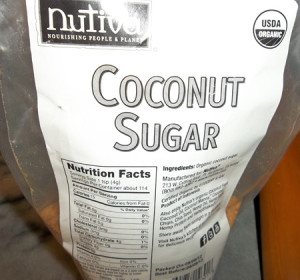 Mix in the ingredients saving the additional flour for last. Mix well by hand, mixer or manual dough whisk (I use a Danish one). Add in only enough flour to create a dough that pulls away from the sides, yet is still supple. Knead the dough until no longer sticky. If you turn the dough out to knead by hand, do not add more flour as you knead, use a lightly oiled surface.
Cover dough and let it rise until doubled.
Knead the dough lightly to remove air bubbles. Divide the dough and portion depending upon desired use. I weigh my dough, for example, my loaves are 1 pound 8 ounces and rolls are 4 ounces.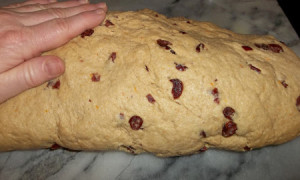 Shape the dough into loaves, rolls or prepare for filling. When breads are shaped, sprinkle them with cinnamon and coconut sugar if desired.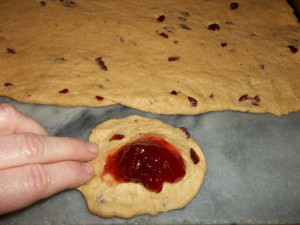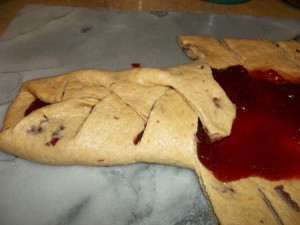 Preheat oven to 350 degrees. Let shaped loaves, rolls etc. rise about 30-40 minutes. When risen, bake 30-35 minutes for loaves, lattice loaves and 20-25 minutes for rolls and filled rolls.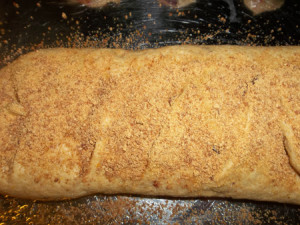 Remove breads to a cooling rack and let cool completely before slicing.