These "Outrageous Omega Cookies" are Vegan, Raw, made with Whole Grains and also Gluten Free.  How's that for hitting a lot of different eating styles?  Pretty good, huh?  Not to mention my omnivorous, chocolate-chip-cookie-loving husband raved about them for days after they were gone! I'd say they are a hit!  I hope you'll try them no matter your dietary needs.
Calling these "Outrageous Omega Cookies" may seem like a really weird name, I know.  But that's just what they are to me; the 'end all' cookie loaded with healthy omega oils (not greasy). They are outrageous too.  I think you will agree even if you're not vegan, or need to be gluten free or on a raw diet. By the way, they can be baked too if raw is not your 'thing'.
Great, now I've made myself want them again just typing about them.
Enough talk; let's make cookies!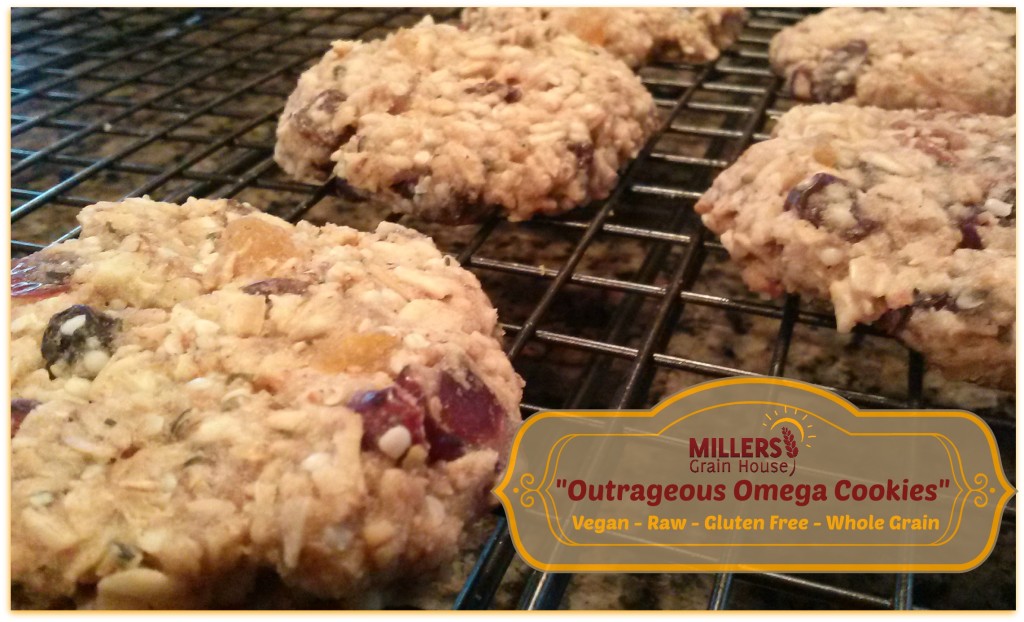 Ingredients:
1/4 Cup Unsweetened Plain Almond Milk (Using Vanilla, omit vanilla extract)
2 TBS Ground Flax Seed
1 tsp Chia Seeds
1/4 Cup Rice Flour
1/4 tsp pure vanilla extract
1/4 tsp Sea Salt
1/4 tsp Aluminum Free Baking Powder
1/2 tsp Cinnamon
1/4 Cup Extra Virgin Raw Cold Pressed Coconut Oil in solid form (under 76 degrees)
1/2 Cup Brown Sugar or Sucanant
1 Cup Toasted Gluten Free Rolled  (Old Fashioned) Oats
1/4 Cup Chopped and/or Dried Fruits of Your Choice
1/4 Cup Chopped Nuts of Your Choice (Suggest Walnuts for even more Omega 3s)
2 TBS Hemp Hearts
This looks like a super long list of ingredients for someone who prefers making simple ingredient dishes, but trust me, all the pieces of this puzzle fit together for one outrageous cookie!
*To toast rolled oats spread them on a dry cookie sheet and place in a 350 oven for 5-10 minutes.  Allow to cool completely before using.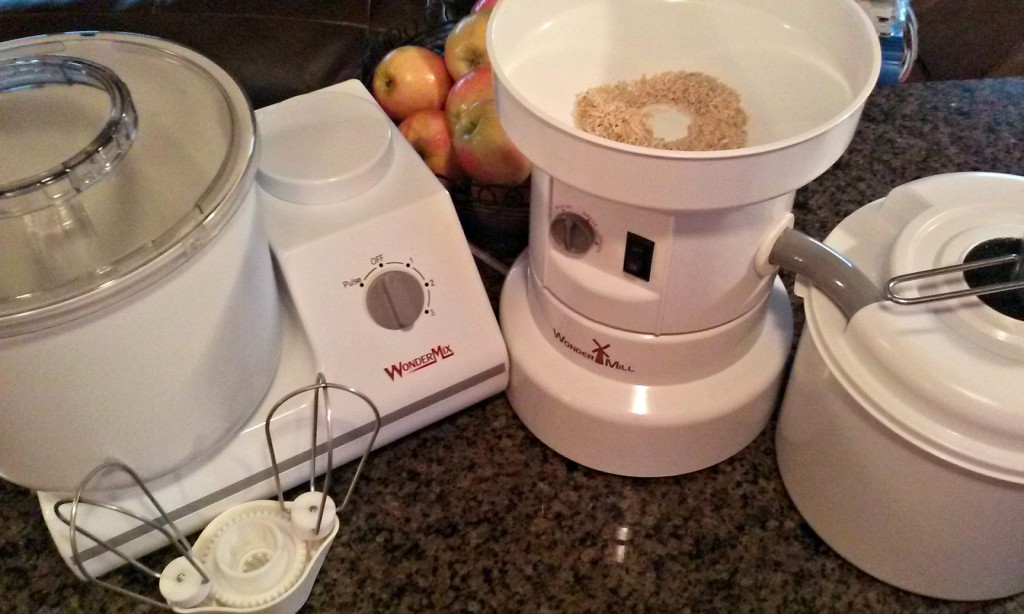 So let's start by gathering everything together and make sure there is enough of each ingredient on hand.  Wouldn't that be a bummer… you get all excited to have these amazing cookie and you're missing something!  🙁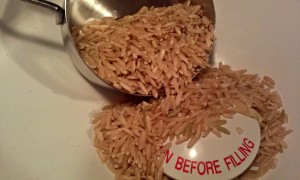 Ok, but you're not. Phew!
So simply mill about 1/4 Cup of whole brown rice in our Wondermill or Wondermill Jr. Deluxe set on pastry setting.
There will be a tad excess but not much.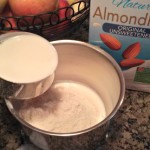 Then, in a small bowl, mix the 1/4 Cup of Freshly milled Rice flour in with your Almond milk.  Mix until well incorporated.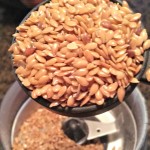 After mixing that in, add the 2TBS of Freshly Ground Flax Seed (which you can grind in a coffee grinder or with the steel burrs of a Wondermill Jr. Deluxe).
Remember it needs to be ground flax seed, not the whole seed.  Because when flax is ground it helps to make the binder that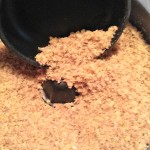 replaces the egg. Also, the Omega Oils  are absorbed into your system better when they are ground.  Flax seed alone can 'move right through' whole. 🙂
Now add the Chia Seeds to the Almond milk and stir.  Take a little break from 30 minutes to a couple of hours and walk away from your Almond Milk, Rice Flour, Ground Flax & Chia mix.  But check back from time to time.
Remember this is a raw cookie (or it can be baked) so no need to fret the refrigeration.
Your mixture is ready when the chia sees have plumped a bit and the rice flour no longer seems 'gritty' – the Almond Milk Mix seems more like a pancake batter consistency.
Add to the Almond milk Mixture the salt, vanilla, cinnamon and baking powder.

Although the ingredient list seems extensive, this was one of the fastest batches of cookies I've made thanks to the WonderMix.  So I highly, highly recommend using it (and often!)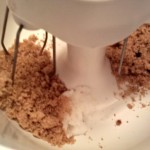 Cream together the Coconut Oil (in solid state) and brown sugar or sucanant until, well creamy.
Now add the spiced & salted Almond/Flax/Chia/Rice Flour mixture and blend until creamy.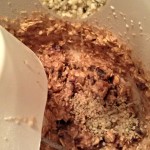 Now you add all the dry goodies: Toasted oats*, Nuts, Dried Fruits (we used apricots, cranberries, raisins and dates), nuts (we used pecans and walnuts) and then add the hemp hearts after all has been incorporated – just lightly combine those little tasty hearts in there.
If baking, preheat the oven to 350 with baking rack to center.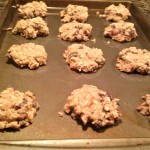 Spoon out in equal rounded TBS size, slightly flatten and put on a greased a cookie sheet. These won't 'spread' much but you do want the edges to get done so give them some room.
Bake for 9-12 minutes and remove to a wire rack to cool.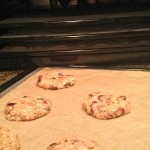 If making the raw version, simply spoon out on parchment paper onto an Excalibur Dehydrator shelf.   Pack a little to hold shape.
Dry on 110 degrees for a minimum of 8 hours.  I am not a patient woman and it was all I could do to wait over night.  But they will do best if dried about 12- 18 hours. Remove to a wire rack until cool.
Immediately store in an airtight container…or eat!
I like that better – yes EAT and enJOY !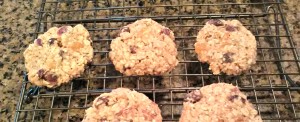 These are Raw & Baked Cookies Side by Side
A little bit of science about the Omega Oils in the ingredients:
1 oz of flax seeds packs in 6388mg of Omega 3 (nearly 6 times the RDA) & 1655mg of Omega 6.
1 oz of chia seeds packs in 4915mg of Omega 3 but just 1620mg of Omega 6. They are also loaded with calcium (1oz=18% RDA), fiber, and manganese.
1 oz of Hemp seed hearts will provide 1100 Omega 3 and 2700 Omega 6 which is great Omega 3 to Omega 6 ratio.
Just 1/4 cup of walnuts provides 2.5 g of the Omega 3 essential fatty acid and ellagic acid which contains antiviral and antibiotic properties and is now found to have anticancer properties as well.
No wonder the name "Outrageous Omega Cookies" fits!  Hearth health, cancer fighting and vegan, raw and gluten free!  They're even outrageously delicious.

For free whole grain recipes emailed to you each month, please consider signing up for my Newsletter Here
Best Blessings,
Donna Miller