I made this recipe for Easter weekend and I loved how it turned out!  It's not a "quick" recipe, per se, since there are steps spanning a two days, but the hands-on time is minimal and the result is worth it.  I love being able to make a nice breakfast for overnight guests without spending much time in the kitchen that morning (read: more time with my guests!).
You start by making the cranberry orange bread, which Drea's adaptation of my Foolproof Whole Wheat Bread recipe.  Then you cube the bread, add some milk & eggs, and leave it in the fridge overnight.  The next morning, bake it and enjoy a lovely warm breakfast!
This would be a great Mother's Day breakfast.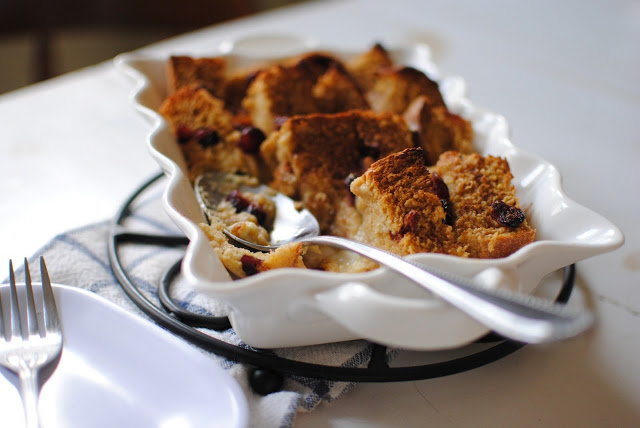 Overnight Cranberry Orange French Toast Bake
For the bread:
3 1/2 cups freshly milled whole wheat flour (hard white)
1 cup warm water
2 tsp. yeast
2 Tbsp. honey or sucanat (both work well)
1 1/2 tsp. sea salt (I use Real Salt)
2 Tbsp. olive oil
1/2 cup freshly squeezed orange juice
zest from 1 orange
dried cranberries (I used around 1/2 cup, but it's up to you)
For the French toast bake:
4 eggs
1 cup milk
1 tsp. vanilla extract (I use homemade)
additional cranberries for sprinkling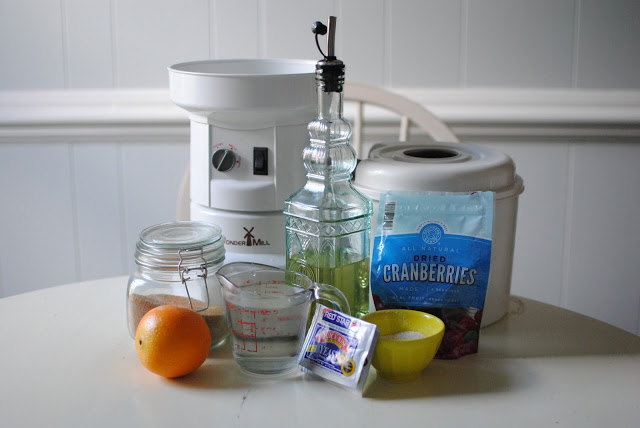 (For photos of the bread-making process, see this post.
Using your WonderMill, grind slightly more than 2 1/2 cups wheat berries to yield 3 1/2 cups of flour. In the base of a stand mixer, combine warm water, yeast, honey, sea salt, olive oil, orange juice, and orange zest.  
As always, with measuring flour, spoon flour into a measuring cup and level off the top using the flat side of a knife.  Dump the flour into the bowl of the mixer as well. Set mixer to knead (on mine, "2") and let it do it's thing for a few minutes.  You'll know it's finished with this step when everything is thoroughly combined.  Dough may be sticky.
Cover with a towel and let rest for 45 minutes.After the dough rests, sprinkle flour onto the counter and knead the dough until you can easily shape it into a loaf.  Add a little flour, since it may be sticky, but be careful not to add too much.
Add cranberries to the dough as you knead it, working them through the dough.  Shape dough into a loaf and place in a greased loaf pan.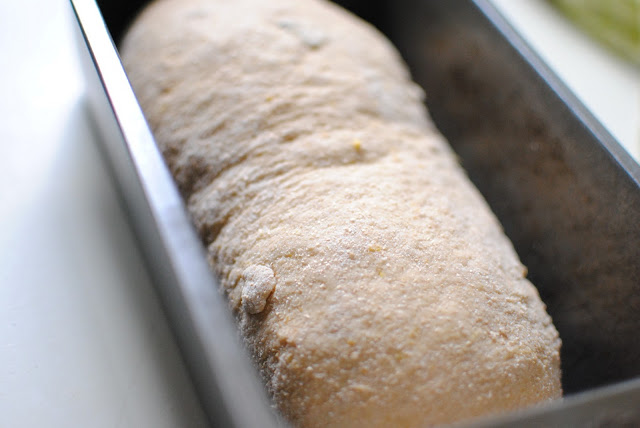 Cover the loaf pan with plastic wrap and place in the fridge for a cold rise for 2 hours.  Remove the loaf from the fridge after 2 hours and let it sit on the stove while the oven preheats to 350 degrees. Remove plastic wrap and bake loaf for 35 minutes at 350 degrees.  Allow to cool in the pan for 5 minutes before removing to a wire rack to cool completely.
When bread is cool, slice into thick (1″) slices, then cut each slice into 9 cubes.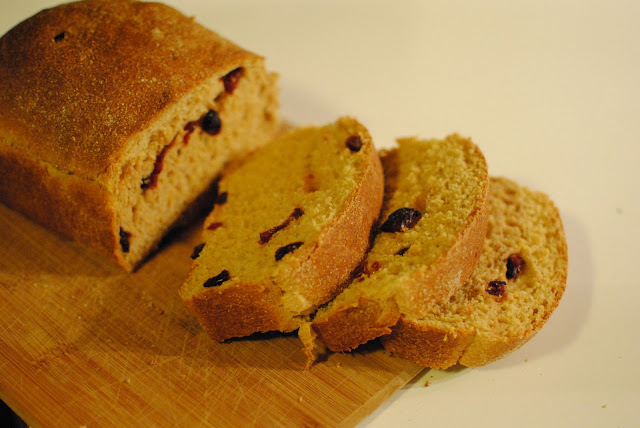 Place the bread cubes in a greased baking dish (I used a smaller baking dish and two little ramekins for "personal size" bakes, but a 9×9 would work great).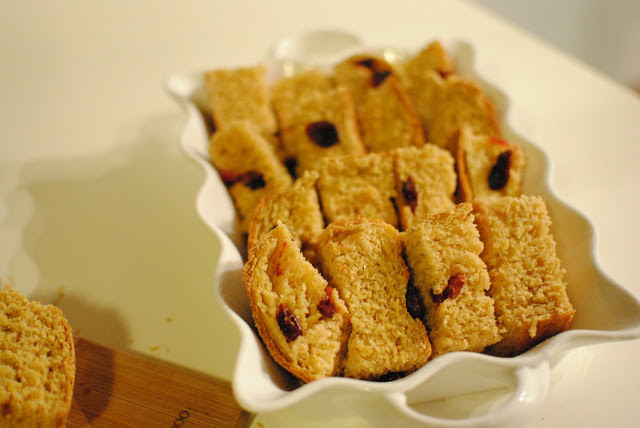 In a mixing bowl, beat together 4 eggs.  Add 1 cup milk and 1 tsp. vanilla.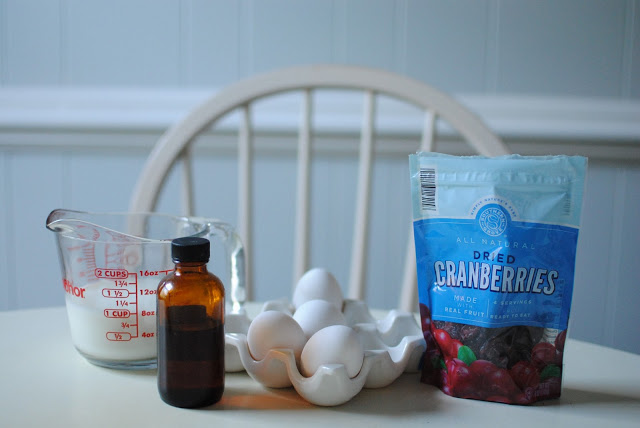 Pour egg mixture over bread cubes in baking dish.  Sprinkle with additional cranberries.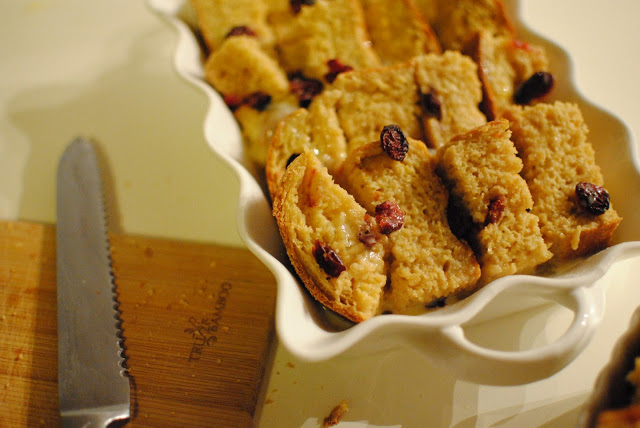 Cover with plastic wrap and leave in the fridge overnight.
In the morning, preheat the oven to 350 degrees.  Bake French toast for 25-35 minutes, or until set (check at 25 minutes) and golden brown.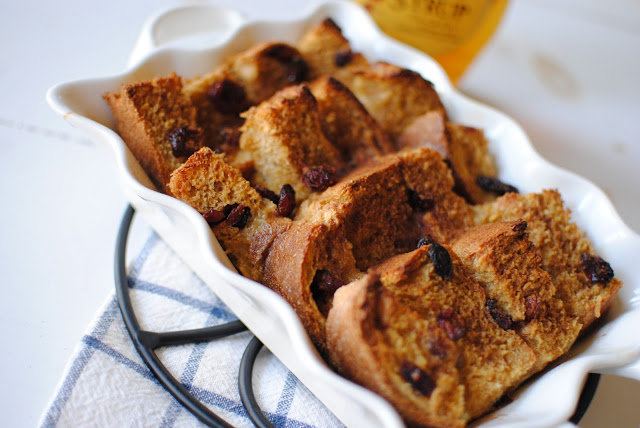 Serve with 100% pure maple syrup.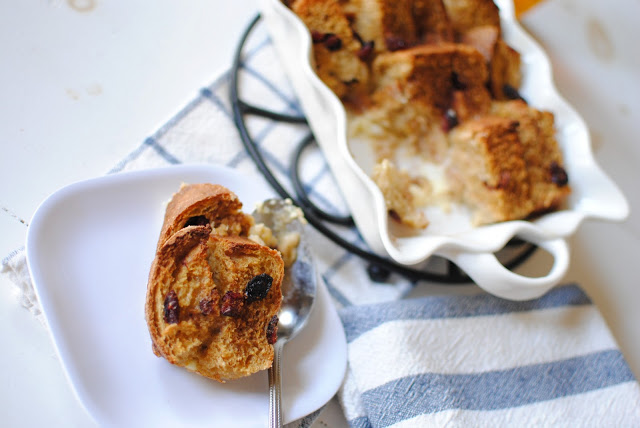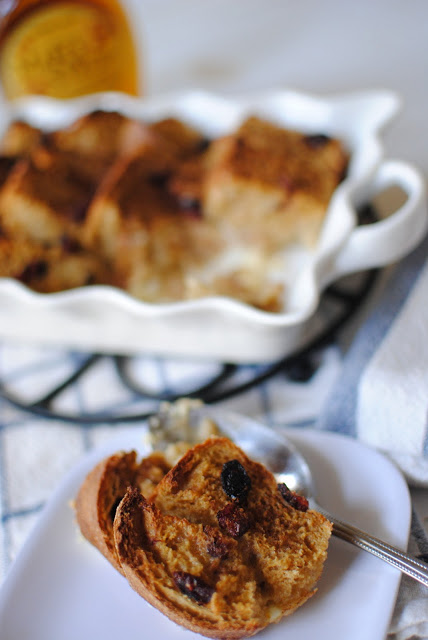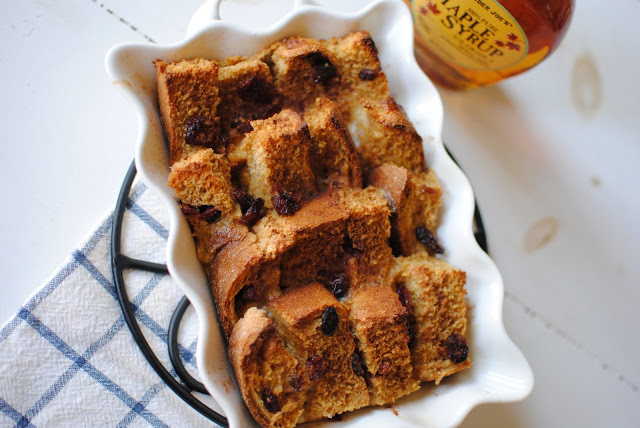 Enjoy!