Sometimes I want simple, easy, quick-to-assemble cookies with clean, traditional tastes. This is my go-to recipe for whole grain, peanut butter cookies that satisfy the sweet cravings, but they are not overly-sweet. Our daughters love to make this recipe because it's easy, easy to make and tastes delicious! Try it and you'll love it!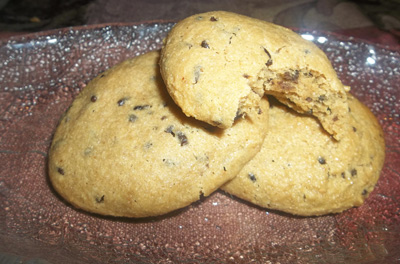 Peanut Butter Chocolate Chip Cookies
1 cup natural peanut butter
1 cup raw honey
1 large egg (pastured)
1 1/2 teaspoons pure vanilla (preferably homemade)
1/2 teaspoon baking soda
1/2 teaspoon baking powder
1/2 teaspoon salt
2 cups white whole wheat or Kamut flour, freshly ground
1/4 cup mini chocolate chips (we use non-dairy)
Mill wheat or Kamut berries in WonderMill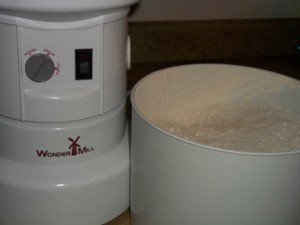 In a mixing bowl, place the peanut butter, honey, vanilla and beaten egg. Stir well to incorporate the ingredients and lighten the mixture. In another bowl, mix the baking soda, baking powder, salt, flour and chocolate chips.  Add the wet to dry ingredients and stir to mix.
Drop batter by rounded teaspoons onto a greased baking sheet, or roll a rounded teaspoon of dough into a ball and place on a greased baking sheet. Bake in a preheated 350 degree oven for 10-12 minutes or until gently browned. Do not overbake, Remove pan from oven and let cookies remain on baking sheet for 5 minutes before transferring to a cooling rack to cool.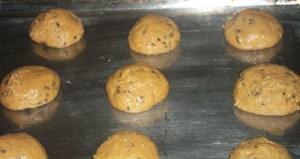 Enjoy with a nice glass of homemade almond chia milk!