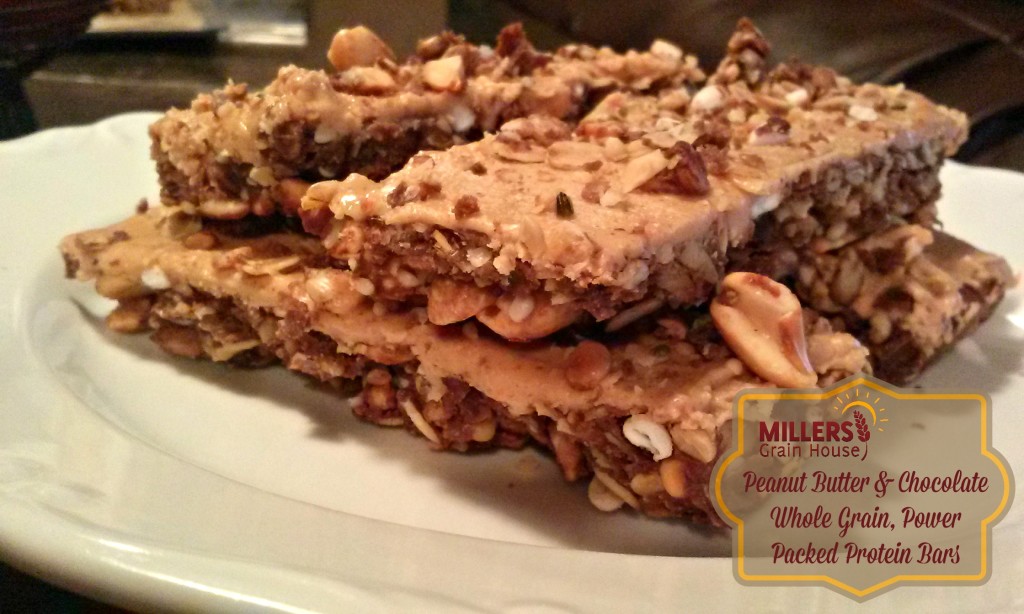 You'll be amazed at how easy it is to make your own tasty protein bars at home.  This recipe is a good base for you to play with and add in what you like to make this convenient and healthy snack for your family.
This recipe is gluten-free and vegan.  You don't have to make it that way, but this one happens to fit both of those dietary needs.
First, gather all your ingredients so you'll know if you need to make substitutions or changes:
Ingredients: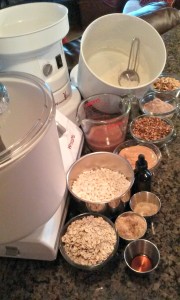 3/4 Cup Chocolate Almond Milk
Stevia to taste
1/4 Cup of Rice Flour (milled on Pastry in your Wondermill)
1 TBS Ground Flax Seed
1/2 Cup of Chocolate Protein Powder (in this case Vegan)
2 TBS Brown Sugar or Succanat
1 tsp Vanilla Extract
1/2 Cup Peanut Butter
1/4 Cup Melted Coconut Oil
1/2 Cup Peanuts
1/2 Cup Pecans or Toasted Sun Flower Seeds
1 Cup Natural Crisped Rice Cereal

1 Cup Gluten-Free Rolled Oats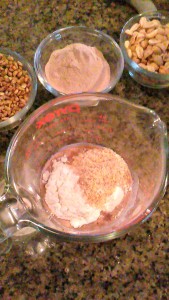 First, as with many gluten-free recipes, soaking the rice flour is important to avoid the gritty texture of the flour.  Also since this is vegan, the ground flax seed needs to be soaked as well.  So we mix together the following ingredients:  Chocolate Almond Milk, Stevia (usually about 12 drops liquid), Rice Flour, Ground Flax Seed.   Now let this all sit mixed together for at least 1/2 an hour.
Once the mixture has become thick and the rice flour seems less gritty, add it into your WonderMix.  Then add in the Protein Powder, Peanut Butter, Sugar, Vanilla, Coconut Oil, all nuts and oats (Everything but THE RICE CEREAL) and combine using either one of the mixing beaters.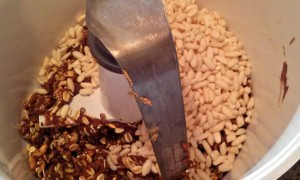 NOW that all  of that is well mixed. Remove the beaters and replace with the dough hook.  This will mix the rice cereal in without pulverizing it and allowing it to keep crisp while getting well incorporated.  Use the hook until all looks well mixed.
This should be a very dry mix when done.

Preheat oven to 350.
Now line your 13 X 9 pan with parchment paper and pour mixture into the center.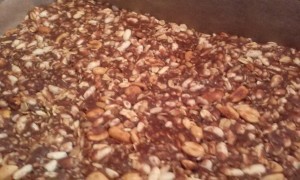 Pat carefully with greased hands to make this a dense and compact bar that should be about 1/4 to 1/2 inch thick.
Bake at 350 for 20 minutes.
You may want to pat this again as it is cooling so that as much of it sticks together as possible.
Remove and allow to cool completely before icing*.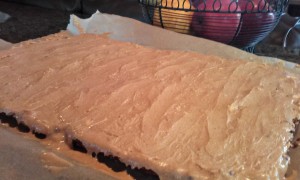 *Optional Icing – Ice by combining 1/2 Cup Peanut Butter and 2 TBS Powdered sugar. Spread on top and allow to cool to slightly hardened before cutting.
Cut with a large knife, share and enjoy!