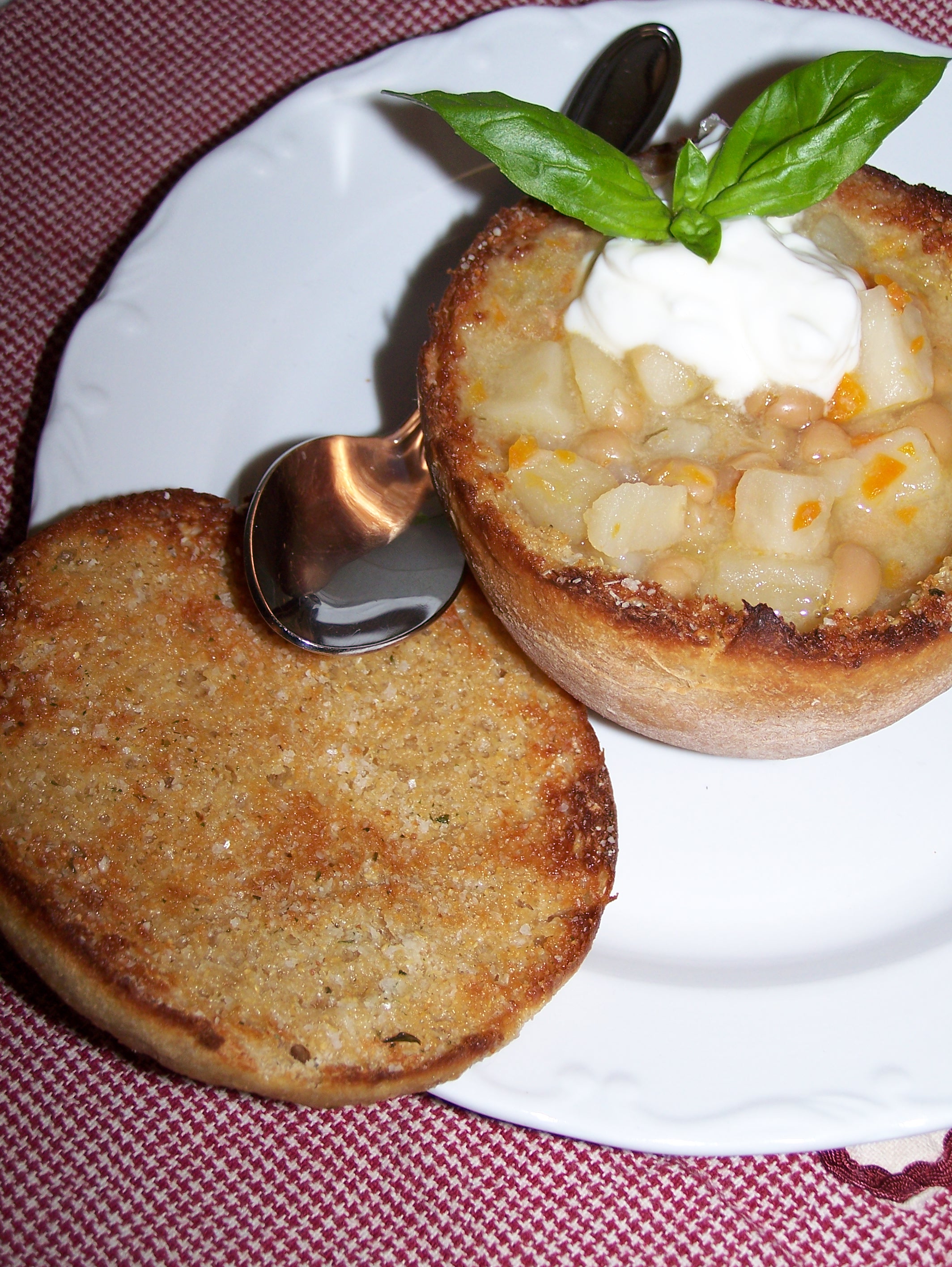 This soup is my son's all time favorite soup. So it pleases me to share it with you. Organic beans are a great source of fiber and protein.  But we don't want to forget the whole grains! So this is a two for one recipe!
I just love the presentation of this dish so, the finished picture is going at the top!
Best Blessings and enJOY!
Donna Miller of http://www.millersgrainhouse.com
~~~~~~~~~~~~~~~~~~~~~~~~~~~~~~~~
Potato-Bean Soup
Ingredients:
6-8 Cups Veg. or Chicken Broth
2 Cups Northern, Navy or Cannelloni Beans*
3 Cups Cubed Raw Potatoes
1 Large Carrot, peeled
1 Stalk Celery
1/2 – 1 Onion, Chopped
1 tsp Garlic Salt (more to taste)
Salt & Pepper to taste
1 Cup Plain Yogurt
1 tsp Dry Dill
Sour Cream (optional garnish)
Place broth and beans in the crock pot.
*If using dried beans, make sure they soaked at least over night and were drained. If using canned beans, drain and rinse before putting in the pot.
Cover potato cubes with water and cook until just tender. Drain and smash about half of them with the back of a spoon or potato masher. Then put in crock-pot.
To make nice small 'veggies' put the carrot, celery and onion through the food processor using the S-blade.
Saute in a little olive oil until they are slightly see through and then add to the crock-pot.
Add the other seasonings (garlic, salt and pepper) but not the dill yet.
Now you can leave it alone for hours!
About half an hour before serving add the yogurt and the dill seasoning. Stir.
Serve with a dollop of sour cream! YUM!
Meanwhile we can get to work on the edible bowls!
Ingredients:
1 1/2 Cup Warm Water (100-110 max)
1/8 Cup Honey
1/8 Cup Organic Sugar
3 tsp Instant Potato Flakes
1 TBS Butter (not melted, cubed or broken)
3 1/2 Cups Whole Wheat (fresh milled hard white)
1/2 tsp salt
2 TBS Gluten
1 1/2 tsp Instant Yeast
Place all ingredients in the bread machine on dough setting. When done measure and shape.
Weigh and divide into 4-6 equal sized balls.
Cover on a greased cookie sheet and let rise until doubled or up to 45 minutes.
Preheat oven to 350. Bake for 15-17 minutes. Ovens also vary so WATCH them after a while.
Let them cook on a wire rack then prepare them as bowls.
* see pictures of completed steps below*
Flip over and cut off the bottom of the bowl (this is now the top!) [first 3 examples]
Scoop out the inside of the bread (should come out in a semi-circle) then butter and garlic exposed soft bread parts. [4th example]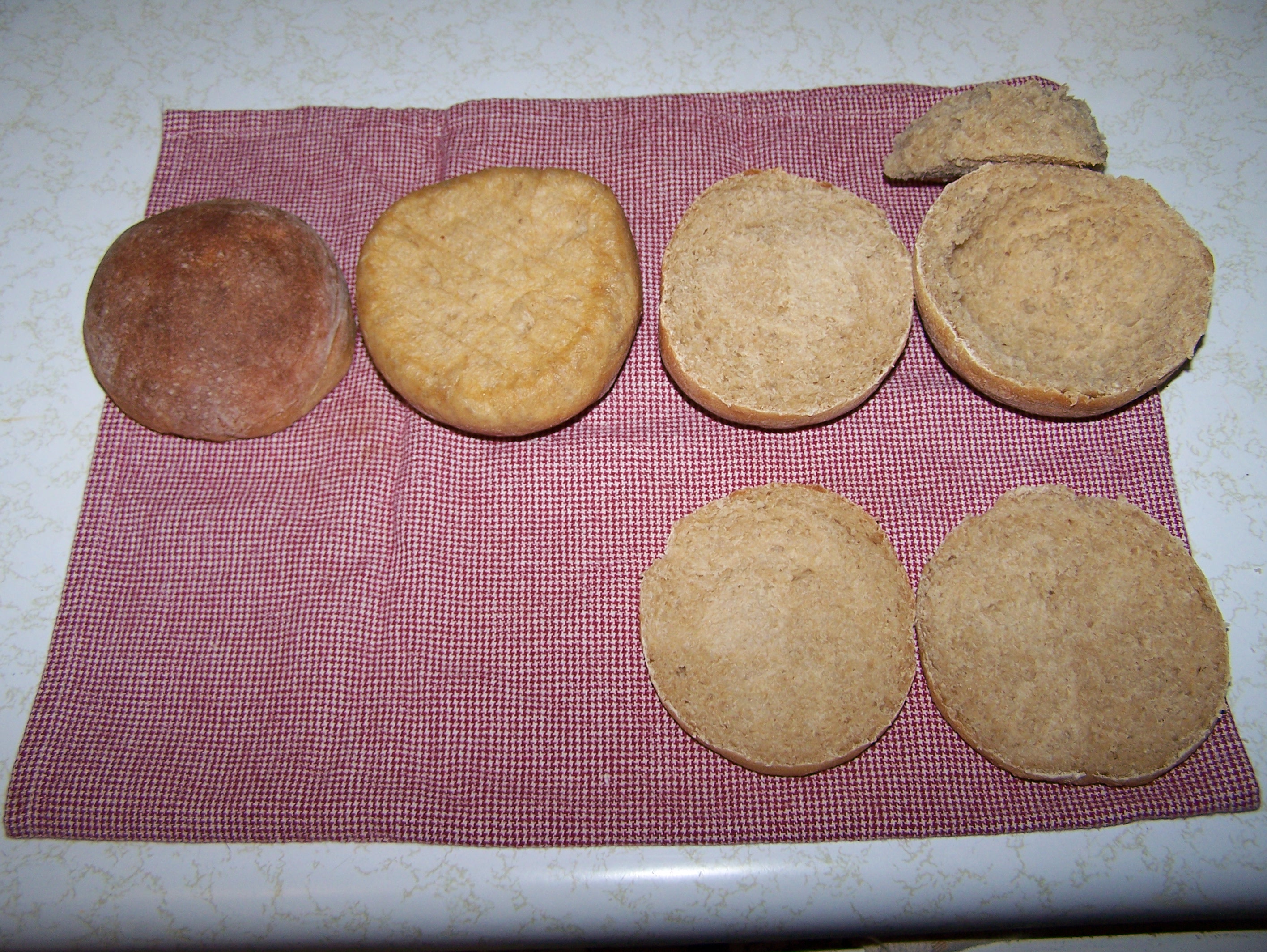 Now broil or toast these in the oven just until brown and they are ready for your soup or chili!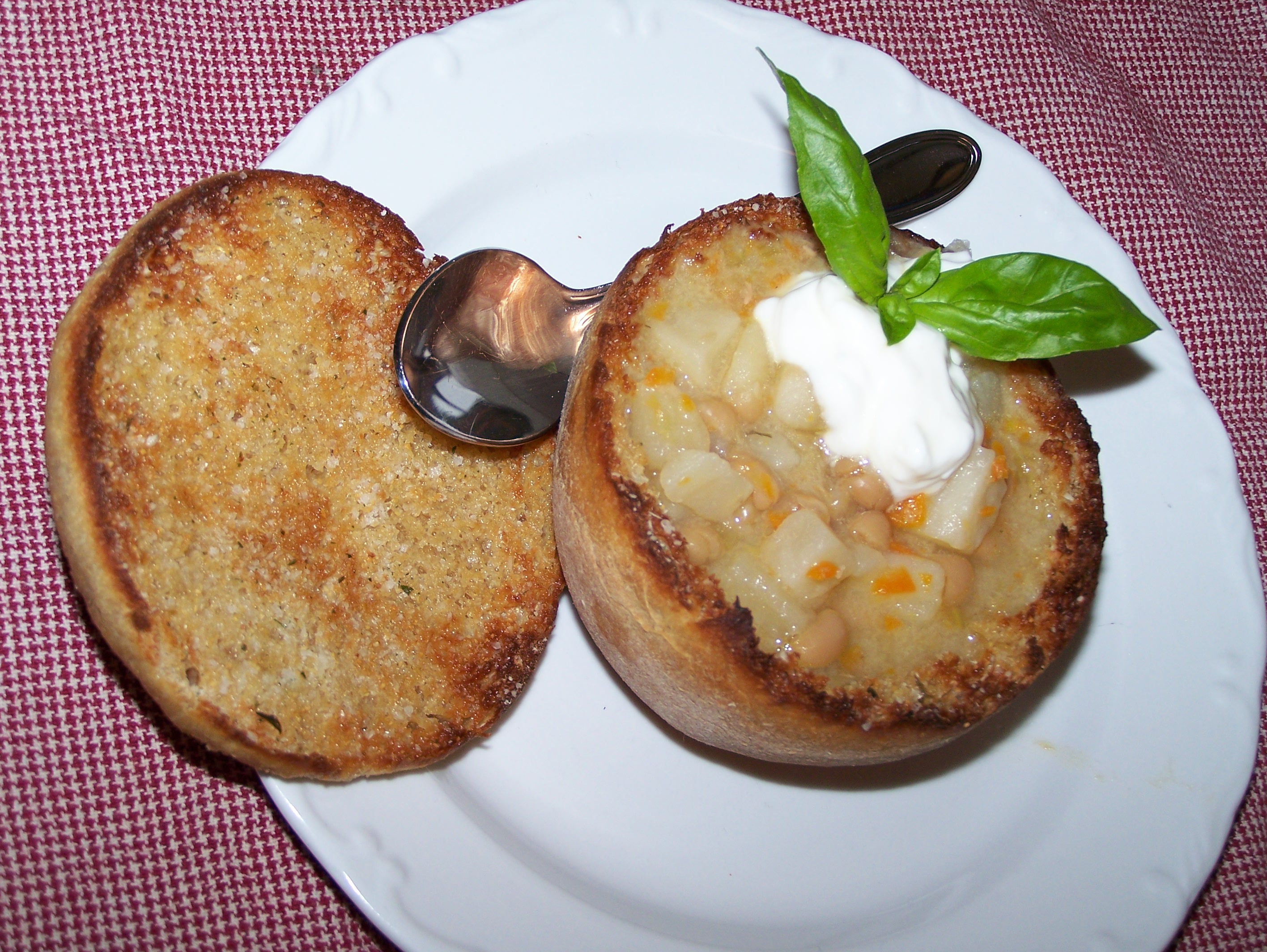 Best Blessings and enJOY!
Donna Miller