This cake is light, sweet and very versatile. Use whatever dried fruit you have on hand and whatever whole grain flour you prefer. I use Kamut in this cake because it brings a golden, mild, buttery flavor perfect for an afternoon snack or a simple dessert with fresh fruit or real whipped cream.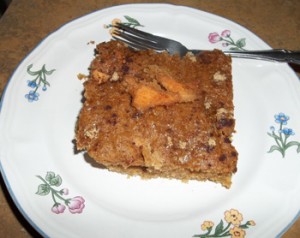 The perfect cake to use from your Real Food Storage plan, it is dairy-free and egg-free and relies solely on pantry goods.
Quick and Easy Snack Cake
9 x 13 pan
Serves 12 -15
Mill whole Kamut berries into flour using the WonderMill or Wonder Junior Deluxe.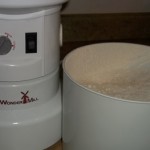 2 cups Kamut flour, freshly-ground (or whole wheat pastry flour)
1 1/2 teaspoons baking soda
1/2 teaspoon salt
2 teaspoons cinnamon
3/4 cup sucanat or brown sugar
1 cup dehydrated apples (or any other dried fruit)
1/2 cup organic virgin coconut oil, melted
1 teaspoon pure vanilla extract (preferably homemade)
2 cups unsweetened applesauce (preferably homemade)
Preheat oven or Sun Oven to 350 degrees. Mix dry ingredients in a large mixing bowl.
In another bowl, whisk wet ingredients until smooth.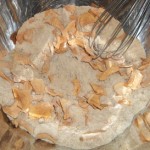 Stir wet ingredients into dry and lightly mix until just combined. Do not overmix.
Pour batter into a greased 9 x 13 pan. Bake for 30 minutes or until center of cake tests done. Cut into squares.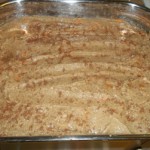 B'Teavon! (Bon Appetit!)