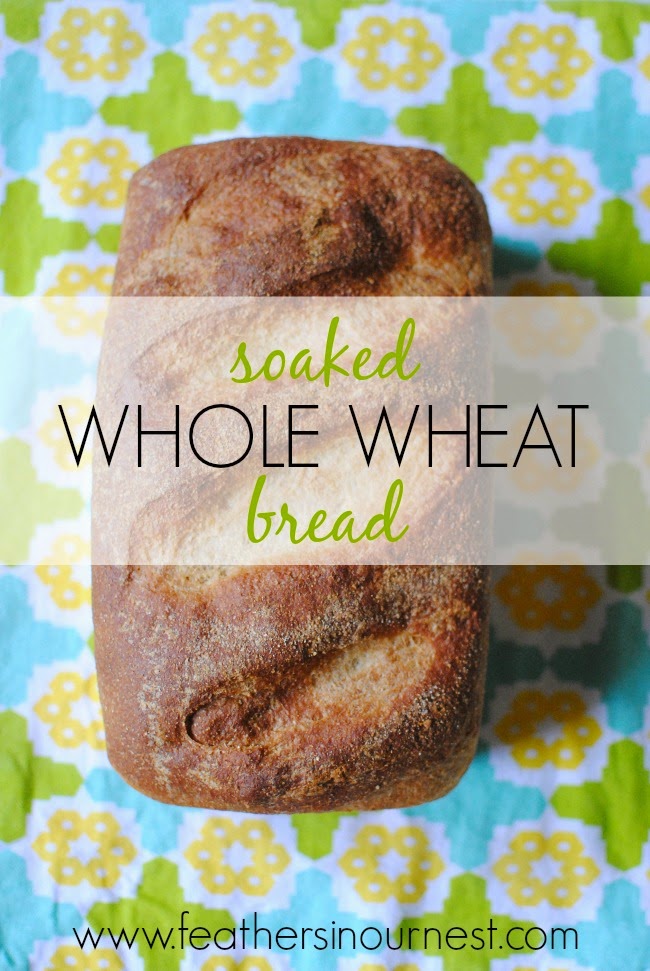 For the last few weeks, I've been working on adapting my foolproof whole wheat bread recipe to be a "soaked" recipe.  If you're not familiar with this concept, soaking involves combining the flour with an acid (like yogurt, whey, cultured buttermilk, or vinegar) for a 12-24 hour soak in order to reduce the phytic acid in the grain.
Up to this point, I have not soaked my grains on a regular basis, nor to I intend to do so all the time.  But I wanted to adapt my recipe so that others who do soak their grains could use it, and I wanted to start introducing grains to our son (we waited until he turned one).  I am starting to feed him soaked grains because the soaking makes them more digestible (grains are one of the hardest things for the body to digest, and little tummies need some extra help at the beginning!).
I have made this recipe this way at least eight times, and it's always turned out well (except for the one time I was in a hurry and forgot to add the salt!).  Your bread will be affected flavor-wise by the kind of yogurt you use.  I've used three different kinds of yogurt (homemade, crockpot version; homemade, counter-top version; and storebought plain Greek) and each one imparts a slightly different flavor to the finished loaf (though you may not even notice it).
Soaked bread tastes a little more like sourdough bread than my regular recipe.  If you're not having any issues with digesting grains, you may want to stick with that recipe.  But if you find that your body does better when your grains are soaked, sprouted, or soured, you might enjoy this recipe!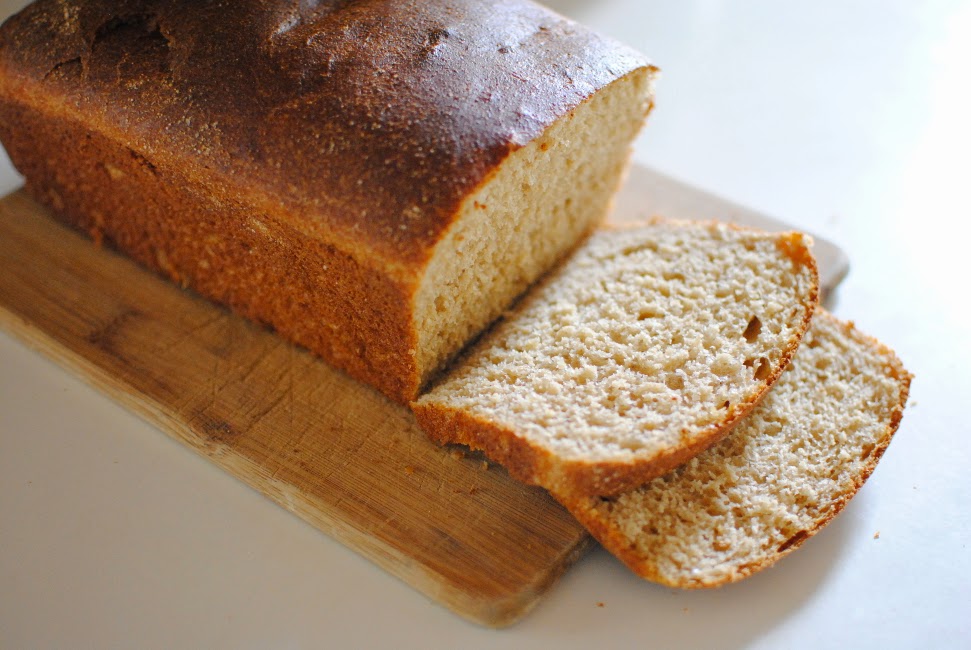 Soaked Whole Wheat Bread Recipe     (Printable recipe here.)
3 1/2 cups whole wheat flour, freshly ground
1 1/2 cups warm water
2 Tbsp. yogurt
2 1/4 tsp. yeast (or one packet)
1 1/2 tsp. sea salt
2 Tbsp. sucanat
2 Tbsp. wheat gluten
2 1/2 Tbsp. olive oil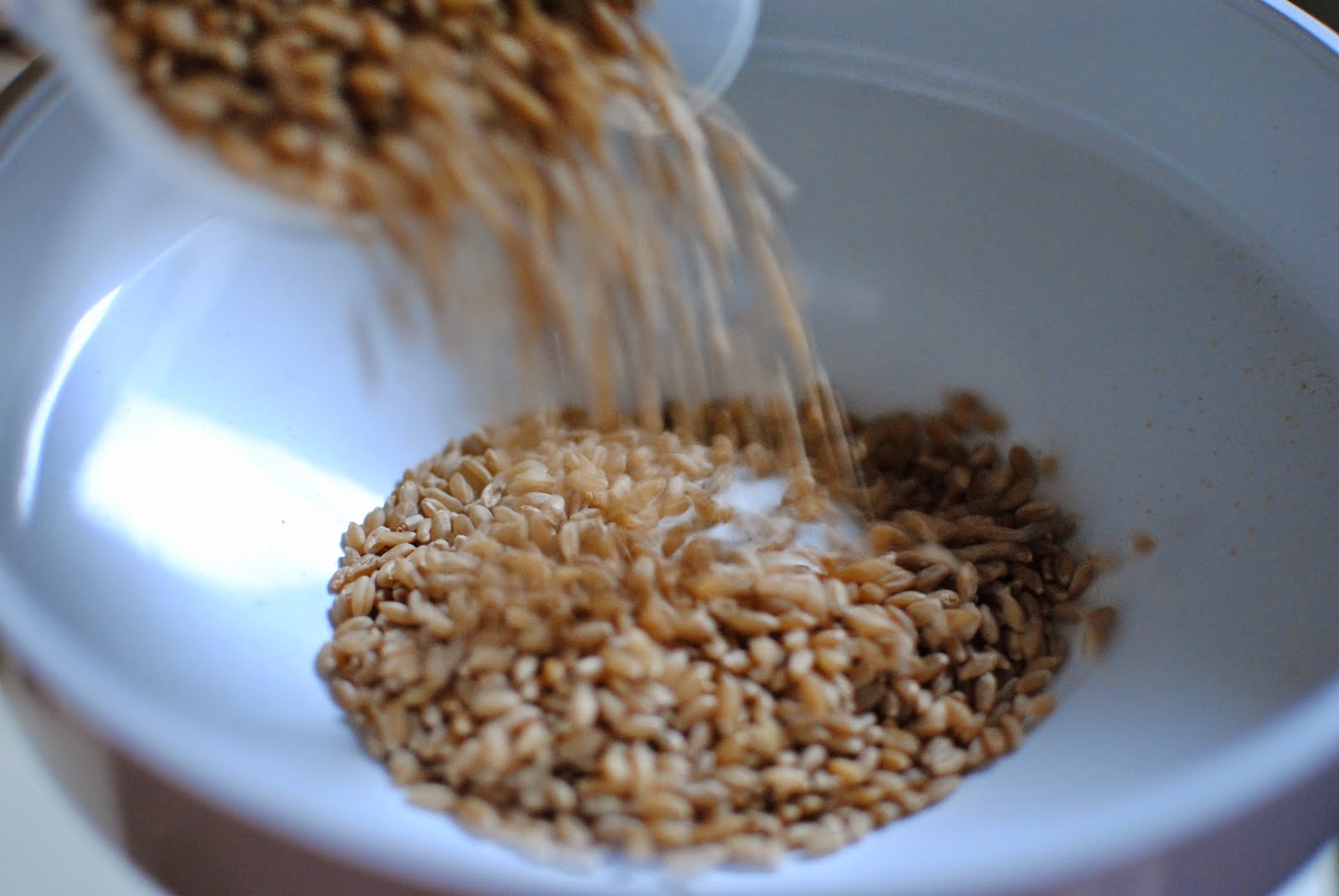 The night before you want to bake bread, grind your wheat in the WonderMill.
In a glass or ceramic bowl, combine flour, water, and yogurt.  Cover, and let soak at room temperature overnight (12 hours).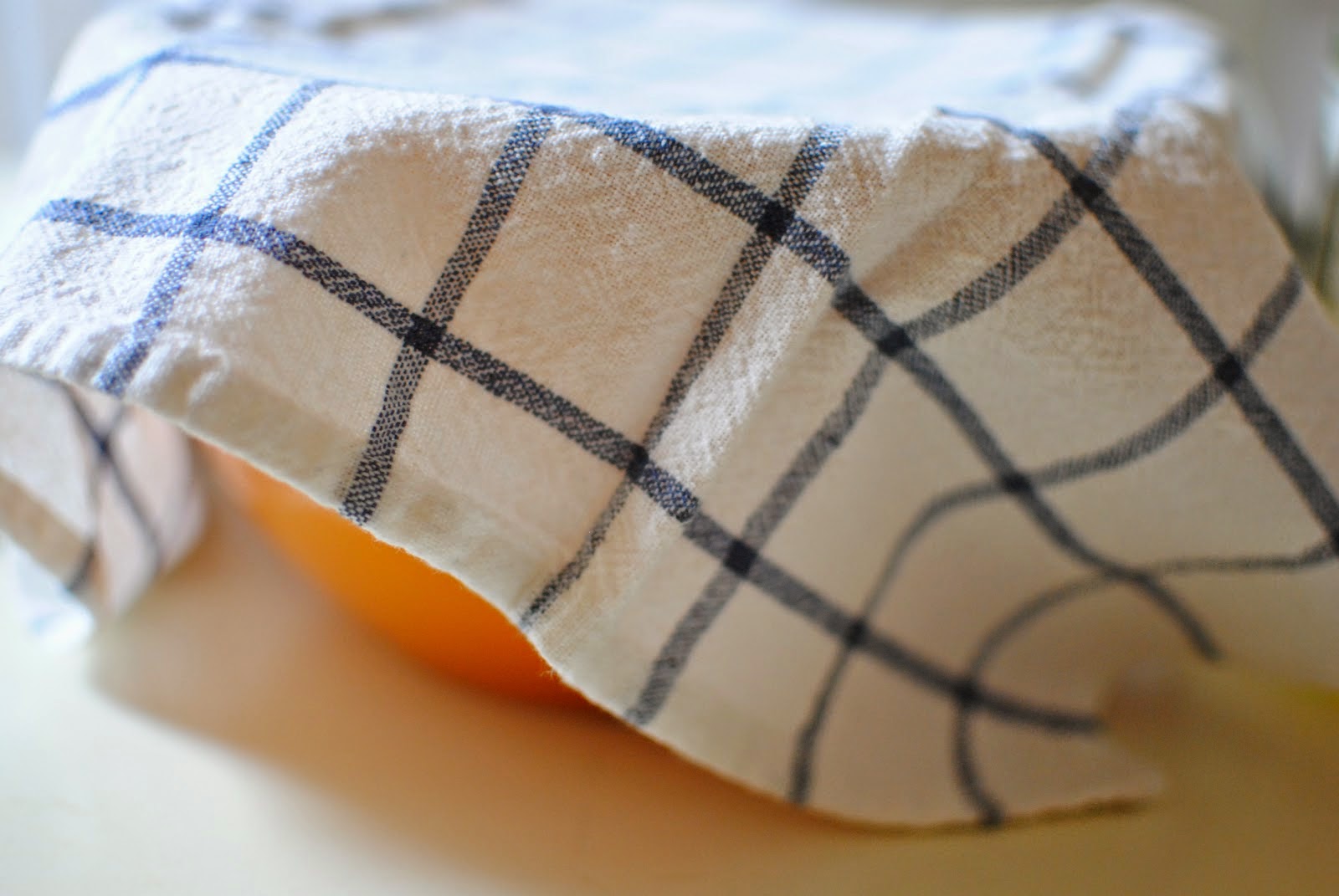 In the morning, uncover the bowl and put the soaked dough into your stand mixer.  Add yeast, salt, sucanat, gluten, and olive oil.  Using the dough hook, mix for a few minutes until well-incorporated.
Cover bowl and let rest for 45-60 minutes.
Grease a loaf pan.
After rest, oil the countertop and your hands and dump the dough onto the surface.  Knead the dough a couple of times, then roll it up into a loaf shape.
Place the dough into the greased bread pan.  Slash the top of the loaf and cover with plastic wrap.
Place pan in the fridge for 2 hours.
Towards the end of the refrigerator rise, preheat the oven to 350 degrees.
Remove the loaf from the fridge, take off the plastic wrap, and allow it to sit on top of the preheating oven.
Bake for 34-35 minutes.  Let loaf sit in pan for 5 minutes, then remove to wire rack to cool completely.
*If you're wondering what the actual "schedule" looks like when soaking bread, here is what mine is usually like:
8:00 PM Grind wheat and start soak
8:00 AM Add other ingredients
8:15 AM Rest
9:00 AM Shape loaf
10:50 AM Preheat oven
11:00 AM Bake loaf
11:35 AM Remove loaf from oven
11:40 AM Remove loaf from pan and cool
This schedule allows me to use the bread for lunch that day, if needed.  It slices best when completely cool, but it's doable after 45 minutes or so.
Enjoy!