Gingerbread is an aromatic and deeply flavorful cookie, with many variations, including spicy version. Every year, rolling out and baking pudgy gingerbread men is a family tradition with the girls, filled with music, laughter and baskets of fun. Some years we use dairy-free chocolate chips for the eyes and buttons, but this year we chose dried cranberries, which compliment the gingerbread flavor.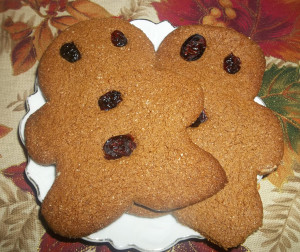 If you like crispy, crunchy gingerbread cookies, add 3 minutes or more to your baking time.
SOFT WHOLE WHEAT GINGERBREAD COOKIES
Yield: 16 – 32 cookies depending on size
Mill hard white wheat berries in WonderMill or Wonder Junior Deluxe
2 cups hard white wheat flour, freshly ground
1/2 cup coconut sugar or sucanat
1 teaspoon baking powder
1 teaspoon baking soda
1/2 teaspoon salt
1 1/2 teaspoons ground cinnamon
1 teaspoon ground ginger
1 /4 cup expeller-pressed coconut oil, softened
1 large egg, beaten
1/4 cup molasses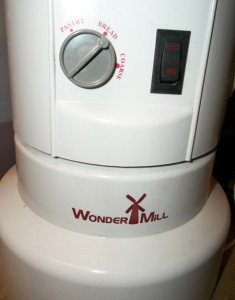 In a mixing or mixer bowl, place all the dry ingredients. Stir and mix well.
Add in the wet ingredients and stir to incorporate until dough is smooth. Dough should be soft. If dough is too dry, add in 1-2 teaspoons apple juice, orange juice or almond milk.
Cover and place bowl and dough in the fridge for at least 30 minutes to overnight.
Preheat oven to 350 degrees. Prepare baking sheets by spreading olive oil mixed with lecithin, OR covering baking sheets with unbleached parchment paper.
On a floured surface, roll out cookie dough to about 1/4 inch (roll thinner for crispy cookies), and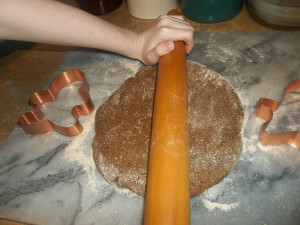 lay the cookies on the prepared baking sheets about 1-inch apart. Place  dried fruit, nuts or chocolate chips on each cookie as decorations, or you can decorate with a glaze or frosting after the cookie has baked and cooled.
Bake for 10+ minutes depending on how thin the cookies are and what texture is desired. Make sure cookie is completely cooked though.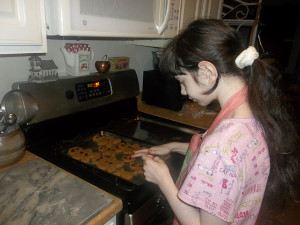 Transfer cookies to a wire cooling rack. Let cool and eat!
B'Teavon! (Bon Appetit!)