Apology:  Sadly, I don't have step by step pictures of these awesome cookies because, well 1. There were a lot of steps and I wasn't sure it was going to work out and 2. The finished product was absconded faster than the camera could be located.  So, I have only the image of my trusty WonderMill as I milled the flour for this experiment.
Nothin' says 'LOVE' like starting off the day with something warm and homemade in the tummy, especially on a cold winter day.
Mornings can be amazingly busy, weird and sometimes down right funny (in hindsight anyway) around our house, but when the kids told me they wanted to leave the house at 5:00 AM to go work out together, I kind of felt like a 'bad mom' because there was NO WAY I was going to get something homemade or warm in them before they left the house. I mean, come on. Be real.
What was I to do?
Well, after wrestling with my own perfectionism and annoying ideals of what a 'good mom' should do, I got to work. Then out of my test kitchen came the answer to at least the homemade part…(: …I  relaxed on the 'warm' part…Whole Grain Breakfast Cookies.
Cookies for Breakfast? Sure! Sounds like a treat to start off the day to me.  Cookies and milk, cookies and coffee, cookies and juice. A nice plan.
These quick, grab and eat-on-the-run Whole Grain Breakfast Cookies work great for rushing out the door late for work (or too early for any other human person to be coherent at some pre-dawn hour) and are full of nutrients, whole grains, good carbs and proteins to satisfy you while breaking your overnight fast.
They also work well as an afternoon snack. 🙂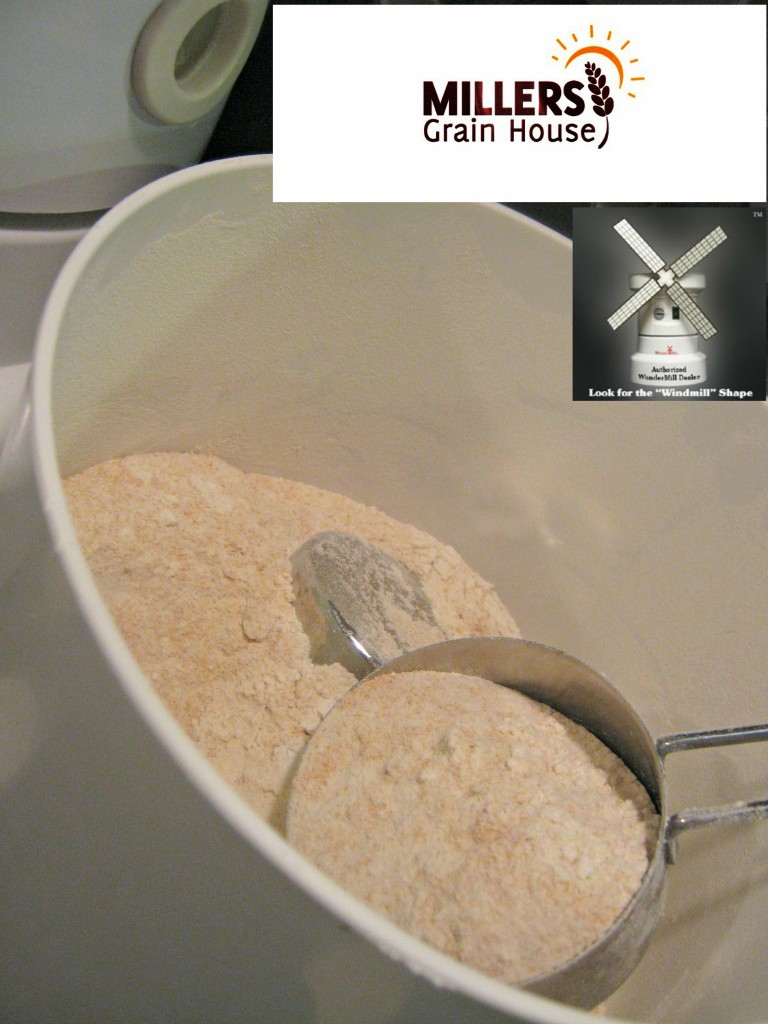 WHOLE GRAIN BREAKFAST COOKIES
Time:  35 minutes total
Special Utensils and Items Needed:
Parchment paper
Cookie Sheet
2 mixing bowls
Measuring spoons and cups
 Ingredients:
3/4 cup fresh milled soft wheat flour
1/2 cup fresh milled hard wheat flour
1/2 teaspoon baking soda
1 teaspoon cinnamon (optional, but use some spice)
1/2 teaspoon ground nutmeg or allspice
1/2 teaspoon salt
2 tablespoons of butter, melted
1/4 cup canola oil
1/4 cup sucanant or brown sugar
1/4 cup ecosweet organic cane crystals
1 egg
1/4 of any puree fruit or veggie (think baby food)*
1 teaspoon vanilla extract
2/3 cup whole rolled oats (toasted)**
1/3 -1/2 cup chopped nuts of your choice
1/2 cup of bran breakfast cereal or the crumbs from the bottom of the bag ***
1/2 cup dried fruits of your choice
* applesauce, apple butter, mashed bananas, or a jar of baby food foods like carrots, pineapple-banana, etc….get creative to add nutrition.
**Toast oats and nuts together on a cookie sheet once oven is preheated for about 8-10 minutes while mixing other ingredients.
*** Raisin bran if you like raisins or just the all bran cereal without fruit or grape nuts work well too.
Steps:
Preheat oven to 35O degrees being sure the rack is in the middle of the oven.
Watch those toasted oats and nuts carefully. Set a timer.
In the 'dry' bowl – put flours, baking soda, spices, and salt. Use whisk or fork to mix while dry.
In 'wet' bowl – combine butter, oil and sugars using a mixer until well mixed and fluffy looking. Beat about 1 minute. Add egg, fruit/veggie puree and vanilla then beat an additional 30 seconds.
Now mix flour into the 'wet' bowl and beat about 30 seconds only (don't over mix – we don't want tough cookies).
Now stir in (not beat) with a fork or spoon the nuts, oats, cereal and dried fruit until just combined.
This cookie dough does not look like chocolate chip dough – it is 'looser' and more wet.
Line the cookie sheet with parchment paper.
Drop batter in 3-4 tablespoon size dollops on paper with 3 inches between each. Wet hand and gently pat any hills down to level out cookie.
Bake about 12 minutes on center rack. When done, leave them on the sheet for 1 -2 minutes to cool, then transfer to a cooling rack. That will crisp up the bottom but not the whole cookie.
Repeat with remaining batter.
Makes about 12 good sized cookies for a fast and wholesome breakfast on the go.
It is my sincere hope that you try and enJOY these! Please leave a comment and let me know how they turned out! Or even better send me a picture on my facebook page and I'll add it here and give you props! 🙂
Best Blessings!
Donna Miller