Since transitioning our family to real food and whole grains, I have struggled to find a pie crust recipe that was delicious, flaky, and made with 100% whole grains!  This past weekend my daughter turned one and we celebrated with a "cutie pie" themed birthday party.  I experimented on all our guests by making wheat and spelt pie crusts, which, fortunately turned out GREAT!
The key to a beautiful, flaky pie crust is not mixing in your butter fully (you want to see flecks of butter in your dough when you roll it out).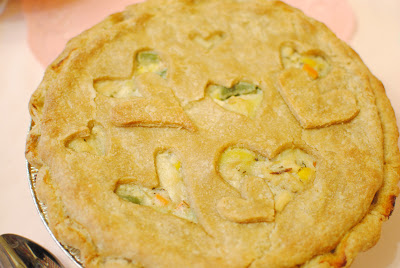 Whole Grain Pie Crust
adapted from here
2 1/2 cups whole wheat or spelt flour, freshly ground (I've used wheat and spelt and liked both)
1 Tbsp. organic evaporated cane juice (or sugar)
1 tsp. sea salt (like Real Salt)
2 sticks butter, chilled
up to 1 cup ice water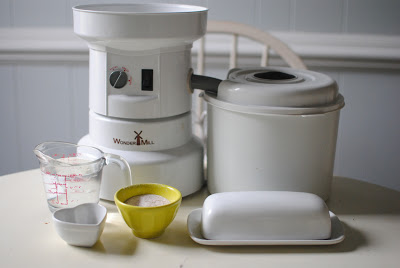 Grind wheat or spelt in the WonderMill.
In a mixing bowl, combine flour, evaporated cane juice, and sea salt using a whisk.
Cut butter into cubes and add to the dry ingredients.  Using a pastry cutter, cut in the butter until the lumps resemble large peas.
Add 1/2 cup very cold water and mix with a rubber spatula.  Add water, 1 Tbsp. at a time, as needed until crust comes together but is not sticky.
Place dough onto a sheet of plastic wrap, form into a disc, wrap up, and place in the fridge.  Let dough chill for 2 hours.
When dough is chilled, sprinkle flour on your work surface.  Divide dough into two halves.  With a floured rolling pin, roll it out.  Smitten Kitchen has a great tutorial for rolling out a pie crust.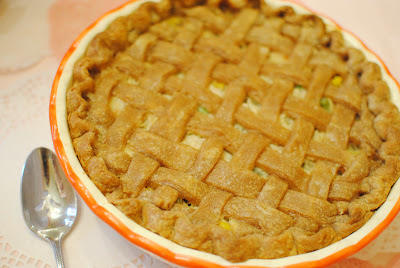 Place crust in pie tin, fill with chicken pot pie filling, and top with the second crust.  (You can also use this recipe for a sweet pie, shown below.)  I like doing a lattice weave or something fun like that.
Bake as recipe directs.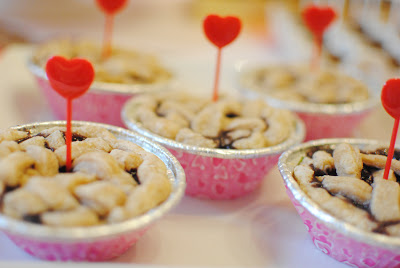 mini blueberry pies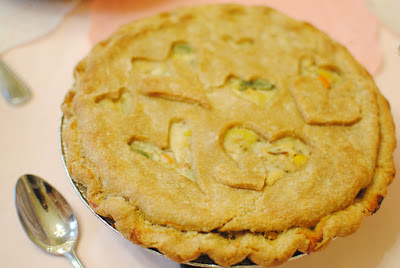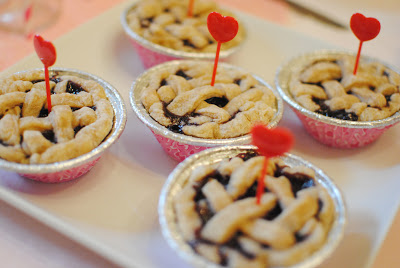 Enjoy!