This is a warm and inviting breakfast for the holidays or any time that you have just a smidgen of left over pumpkin puree. It's a nice change from plain waffles and fills the morning air with the warm spices and reminders of Thanksgiving.
Best Blessings and enJOY!
Donna Miller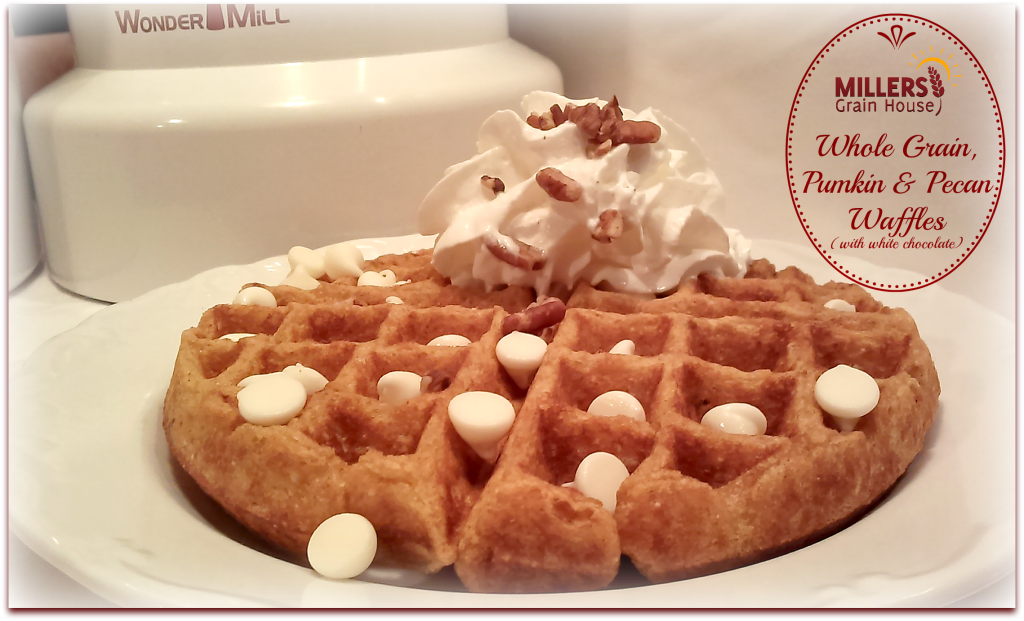 Whole Grain, Pumpkin and Pecan Waffles
Makes 4 to 5 eight (8) inch Belgium Style Waffles
Ingredients:
1 Cup Freshly Milled Hard White Wheat
1 Cup Freshly Milled Soft White Wheat
1/2 Cup Rolled Oats
1/4 Cup Pecan Pieces
1/2 teaspoon Sea Salt
1/2 teaspoon Baking Soda
1 teaspoon Baking Powder
1/2 teaspoon Pumpkin Pie Spice
1 3/4 Cup Buttermilk
1/4 – 1/2 Cup Pumpkin Puree*
3 Tablespoons Melted Coconut Oil
1/2 teaspoon Pure Vanilla Extract
2 Eggs
2 Tablespoons Raw Sugar
* If using 1/2 C Pumpkin Puree you may wish to decrease Buttermilk to 1 1/2 Cups.
Instructions:
Mill grains (separately) in your Wondermill or Wondermill Jr. Deluxe
In medium bowl or your new WonderMix combine the last 7 ingredients (wet, sugar and spices) and mix with whips or fork until smooth.
In a separate bowl combine the first 7 ingredients and mix lightly.
If using the WonderMix combine dry into wet ingredients and mix until just blended.  If by hand, make a well in the center of dry bowl and pour all liquid into center and mix by hand until just blended.
EITHER METHOD be careful not to over mix and make a tough waffle.
Let sit while preheating waffle iron. Batter should become bubbly.
Avoid remixing once batter has sat – just scoop out without mixing.
Once preheated, spray waffle iron with oil or non-stick spray and pour in approximately 3/4 Cup of batter.
Once light goes off or on (depending upon your model of waffle iron) or steam begins to 'slow' remove waffle and place on a rack or cooling tray in a warm (175-200 degree) oven until all waffles are done.
Serve with whipped cream, white chocolate (or semi-sweet) morsels, syrup and butter if desired.
These also freeze well if you want to double the batch and place them in the freezer with a wax or parchment sheet between them to avoid sticking together.  Then simply toast directly from freezer in a toaster oven or on a wire rack for 8-10 minutes at 300 degrees and top accordingly.