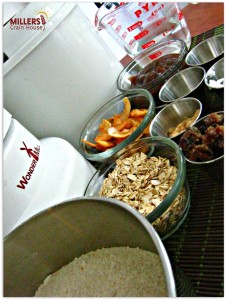 June 3rd is National Applesauce 'cake' Day.  Well, I wasn't feeling 'cake' so I decided to make Whole Wheat Applesauce Bread!
This hearty bread with whole oats and whole grain lends itself to being a french toast that will sure to be a hit or just a great whole grain snack with cream cheese or peanut butter spread on a toasted slice.
Hope you enJOY and keep playing with your food!
Ingredients are pictured to the left.
First finely mill 3 cups of hard white wheat in your Wondermill or Wondermill Jr. Deluxe.  Now gather all of the players together before beginning this recipe.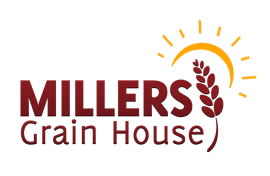 Whole Wheat Applesauce Bread
Makes a 1.5lb loaf
Ingredients:
1 Cup warm water (100 degrees)
1/2 Cup Applesauce (or Apple Butter)
1 TBS Coconut Oil – solid
2 TBS Brown Sugar or Succanat
1/2 tsp Cinnamon*
1/4 tsp Mace*
1/4 tsp All Spice*
1 1/2 tsp Instant or Bread Machine Yeast
3 Cups Freshly Milled Hard White Wheat
1/2 tsp Sea Salt
1/3 Cup Old Fashioned Rolled Oats
1/4 Cup dried Apple Sices
1/4 Cup Chopped Dates or Raisins
Shaker of Cinnamon & Sugar (Topping)
Egg Wash
*Omit Spices if using Apple butter
For sake of time I did use the bread machine on the dough setting for this one.
Place first first 8 ingredients in the bread machine (or mix in a large bowl if making bread by hand).
Mix the salt IN with the flour and top off the liquid in the bread machine and start the dough setting. If by hand, mix flour/salt mixture into liquid 1 cup at a time until fully blended and the need to hand knead is apparent.)
About half way through the process, or on a bread machine with the nut/fruit beep – toss in almost all the oats (save some to top), dates/raisins and dried apple pieces.  Continue through the dough setting on the machine.  By hand, knead until it bounces back (about 5-8 more minutes) and place in a warm place to rise to double size.
Punch down and shape loaf.  These also make great breakfast rolls.
Brush the top with egg wash and sprinkle remaining oats and cinnamon sugar on the top.
Let rise again until loaf or rolls have doubled in size.  Now bake.
Preheat oven on 350 degrees F.
Bake based on your chosen shape:  Full loaf – 20 to 25 minutes.  Rolls – 15 to 20 minutes.
Let cook completely before slicing.