I've never done well with sour dough. Not sure why.  So I've always experimented with ways to give simple loaf bread more depth of flavor.  Just like the Buttermilk Bread & Potato Bread (previous posts of mine here) I tried to raise the fermentation process by making Whole Wheat "Beer" Bread.
Now for those who will not partake or buy actual beer itself, the non-alcoholic beer actually works great! So you can get this same crusty, rich taste without having to purchase beer if you prefer not to.
Admittedly, in the one pictured below, I made a mistake and hit the wrong cycle on the bread machine (I always use 'Dough Only' until this error) and it baked IN the machine (gasp!)  But it still tasted great!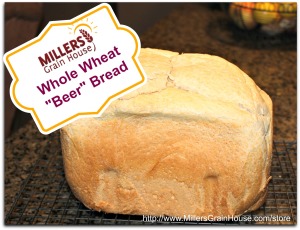 Whole Wheat "Beer" Bread
The 'easy' way to add fermented flavor to your bread.
Ingredients
1 Cup Beer (non-alcoholic works great) Room Temp
2 TBS Brown Sugar
1 tsp Active Yeast


1⅓ Cup Freshly Milled Hard White or Hard Red Wheat Flour
½ Cup Milk
1 Egg
2 TBS Olive Oil
2⅔ Cup Freshly Milled Hard White or Hard Red Flour
1 tsp Sea Salt
1 tsp Active Yeast
Instructions
First, Mill your Flour in the Wondermill or Wondermill Jr. Deluxe
Gather first three (3) ingredients.

Cover with plastic wrap and leave in warm (75-85 degree) area for 12-24 hours
Upon returning, it should look very bubbly and smell very yeasty

Add this starter to the bread-machine
Now add remaining ingredients
Set dough setting and let knead.
When machine is done, remove and shape into loaf.
Let rise 25-30 minutes
Bake at 350 F for 18-20 minutes
Remove from pan, let cool, slice and enjoy!