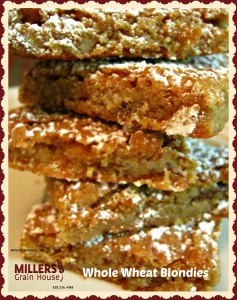 It's rare that I get this excited about a dessert.  Seriously.  You can keep your brownies and chocolate …but if caramel is on the menu, it's mine and I'm not likely to share.
Just sayin'. (:
That's why I get so excited when National Blondie Day (May 9th's Food Holiday) rolls around.  It's an excuse to make this chewy, caramel dessert if ever there was one! Not like I need an excuse – but it helps me sleep at night have one.  (:
And as a BONUS – This recipe uses only one bowl and one baking dish for the Blondies and one saucepan for the caramel.  So the mess with this decadent dessert is minimal.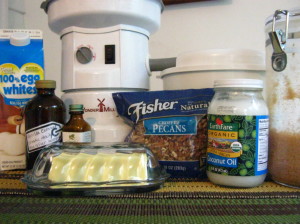 Gather all ingredients before you start.
So you'll know if you have to substitute or make adjustments before the magic begins!
Blondie Ingredients:
1/4 Cup Melted Butter* (unsalted if you have it)
1/4 Cup Melted Coconut Oil (extra virgin cold pressed full-flavor is our favorite)
1 Large Egg (or 1/4 Egg Whites)
1 1/2 teaspoon of Vanilla Extract
1/2 teaspoon of Almond Extract
1/8 teaspoon Sea Salt (if using unsalted butter, but if butter is salted omit this salt)
1 Cup Freshly Milled Soft White Wheat
1/2 Cup Chopped Nuts of your choice (I like pecans)
* 1/2 Cup of Melted Butter can be used if you do not have or care for Coconut Oil
Let's make the Blondies first…
Mill Soft White Wheat in your Wondermill or Wondermill Jr. Deluxe to get one cup of flour.
Preheat your oven to 350 degrees F, prepare an 8×8 baking dish with either non-stick spray, parchment paper or butter. Set aside.
In a medium to large bowl stir together melted butter, melted coconut oil and brown sugar until smooth.  It may appear a little clumpy but that's the coconut oil that causes that – keep stirring it will smooth out more in the next step.
Add in 1/4 Cup of flour at a time and keep stirring after each to be sure it is fully incorporated and smooth.
Pour the batter into the prepared baking dish and bake in center of oven for about 25 minutes (3 minutes less if dark pan, 3 minutes more if clear glass pan)
When toothpick inserted into the middle comes out fairly clean, remove from oven and cool the pan on a wire rack.
Cut into 9 – 16 squares and serve alone or with whipped cream and Caramel Sauce.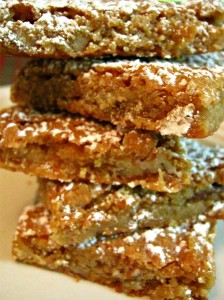 These really are good enough without the Caramel Sauce but, why stop at 'good enough' when the easy recipe below tops things off and takes us into Caramel Overload… So let's go for it….
Caramel Sauce Ingredients:
1 Cup of Brown Sugar (packed)
1/2 Cup milk (half and half makes it best, but I've used as low as 2%)
4 Tablespoons of butter
Pinch of Sea Salt
1 teaspoon Vanilla Extract
In a small to medium sauce pan over medium low heat stir together the brown sugar, butter, milk and pinch of sea salt.  (NO VANILLA EXTRACT YET)
Keep an eye on this and keep whisking as it cooks for 5-8 minutes. That's part of the key to creamy caramel. Don't let it 'bubble' too much but rather just cook smoothly.
Add Vanilla Extract and continue to stir and cook for 1 more minute.
Remove from heat and cool to the touch.
Pour over – well – anything –  and enJOY! (: