Seriously?  Is that possible?  Yes indeed!  A whole wheat cake mix is easy and tasty so why not enjoy both your cake and be able to eat it too!
Since the other day was National Boston Cream Pie day (which is not really a pie by our normal thoughts of pie with crust, etc. but is in fact is a cake) I decided we 'needed' to do something in honor of this National Food Holiday.  I'm a total sucker for Boston Cream Anything so this was a great excuse to get in the kitchen and play with my food and make up these tasty Whole Wheat Boston Cream Cupcakes!
EnJOY…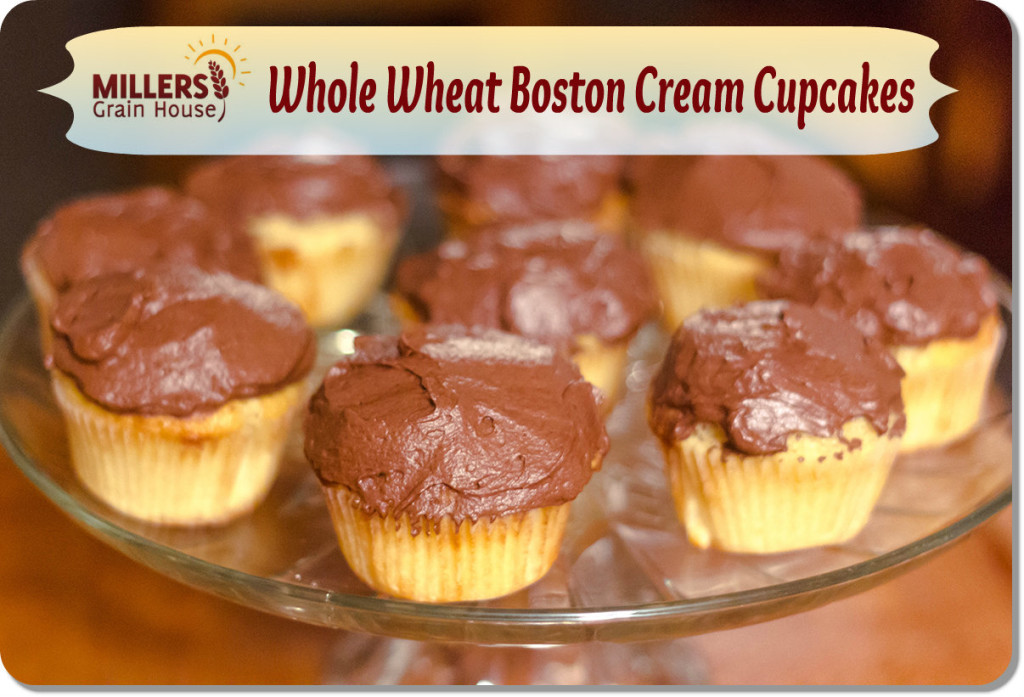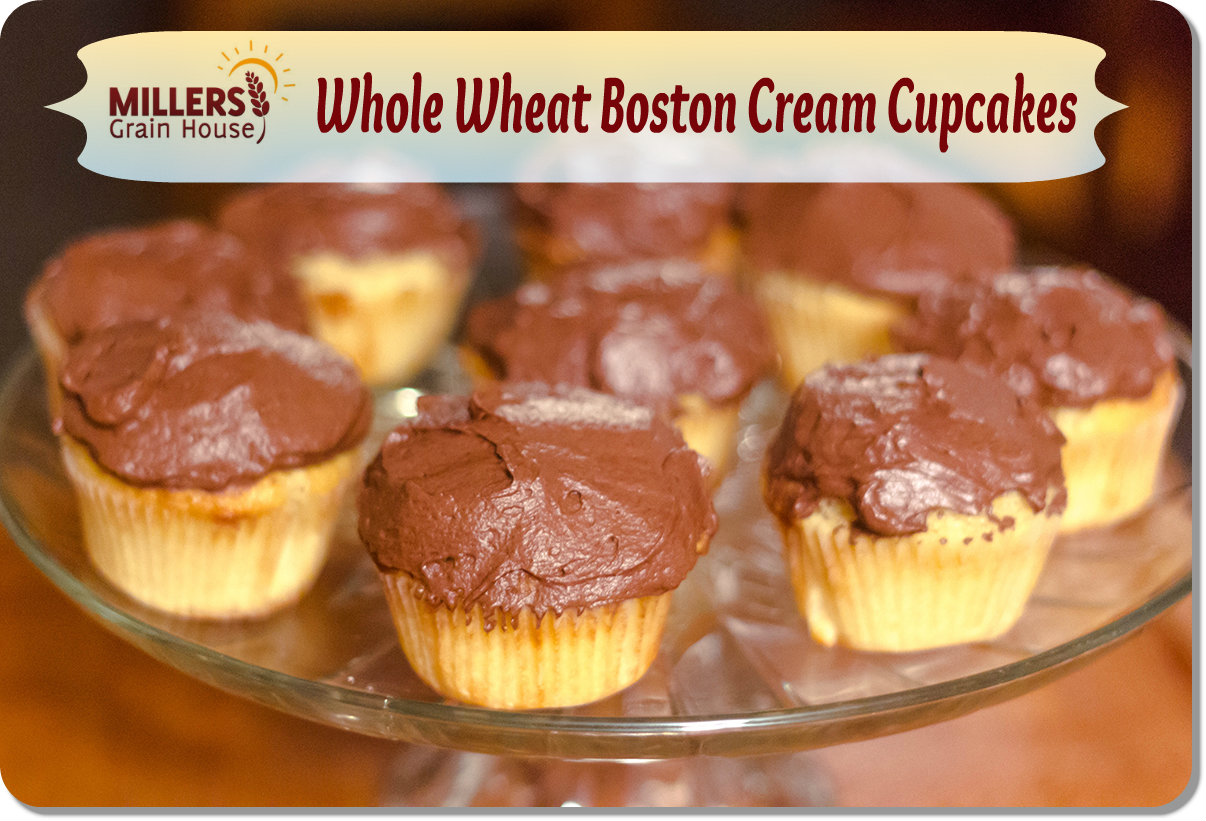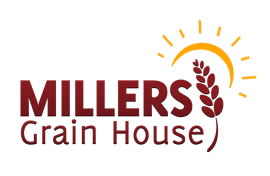 Whole Wheat Boston Cream Cupcakes
Approximately One Dozen Cupcakes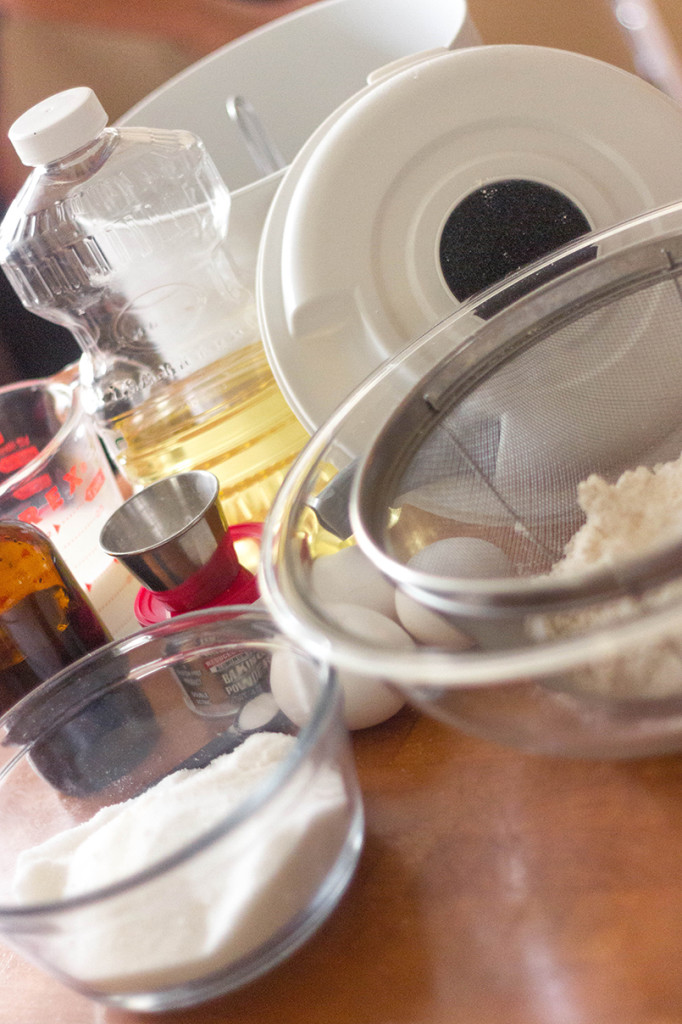 Cupcake Ingredients:
2 1/2  Cups Freshly Milled Soft White Wheat (sifted)
1 Cup Organic Evaporated Cane Crystals (Natural Unbleached Sugar)
3  teaspoons Aluminum Free Baking Powder
1/2 teaspoon of Sea Salt
1 teaspoon of Organic Vanilla Extract
¼ Cup Coconut Oil or other light oil in Liquid State
3 Eggs
1 1/2+ Cups Lowfat Milk (nut milks work too)
Cupcake Instructions: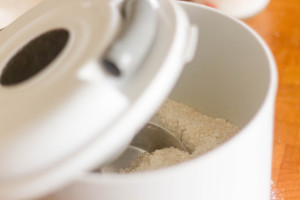 I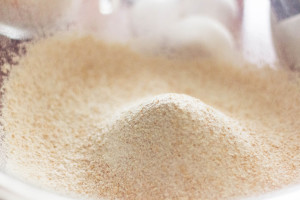 nto a large bowl. sift the freshly milled four to remove some of the husk and bran and aerate the flour for a light fluffy (whole wheat) cake – no that is not an oxymoron.
Now combine all other dry ingredients into the sifted flour and mix gently with a wire whisk to evenly disperse the salt, baking powder and sugar through out the flour.  Set aside.
In a small mixing bowl combine all wet ingredients oil, vanilla, eggs and 1 1/2 cups milk and blend with a fork or whisk until combined well and eggs are fully beaten. Save a little milk aside to add into mix if it seems too thick…that is why the + sign in the above ingredients list.  Fresh milled flour is more susceptible to atmospheric moisture so you may need to tweak the liquid.
Make a well in the dry mixture and add all of the liquid at once.  With a whisk or electric beaters mix on low for 1 minute until smooth.
Pour by 1/4-1/3 Cup amounts into muffin tins prepared with cupcake wrappers.
Bake at 375 for 12-15 minutes until golden brown.
Once baked remove to wire rack to cool completely and await this luscious filling…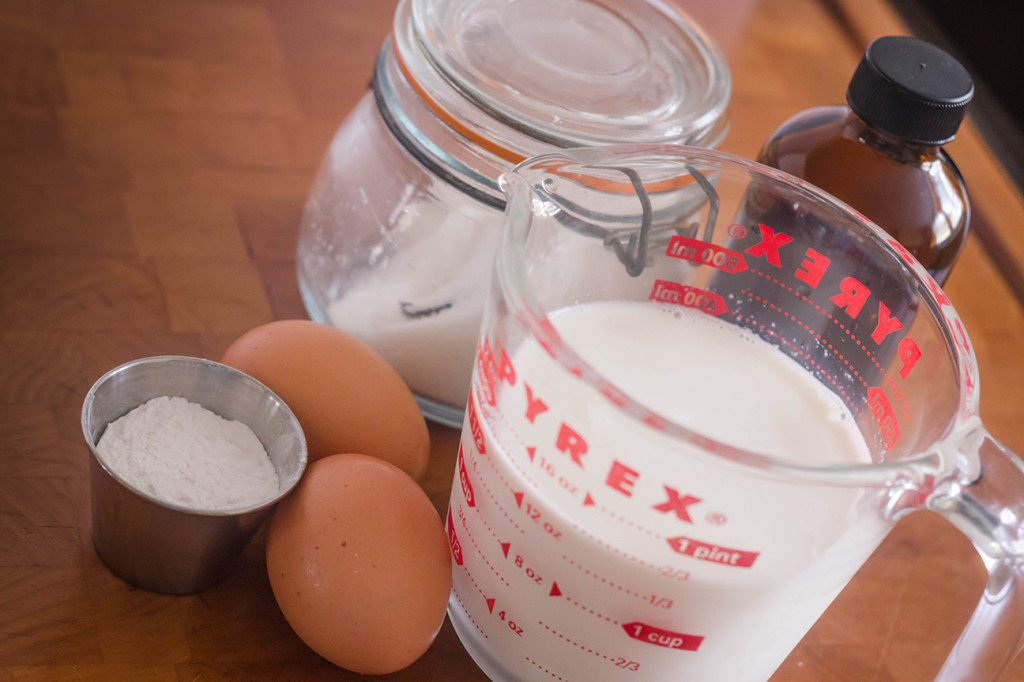 Filling/Pudding Ingredients:
2 Large Egg Yolks
1 1/2 Cups Milk (whole works best but 2% and nut milk work too)
1/3 Cup Eva ported Cane Crystals (Sugar or Succanant)
2 Tablespoon Rice flour (ground fine in your Wondermill)
1/8 teaspoon Sea Salt
2 teaspoons of Vanilla Extract
Filling/Pudding  Instructions:
In a bowl, beat egg yolks together with a whisk, add milk and continue betting until well combined.  Set aside.
In a medium sauce pan, combine sugar, rice flour and sea salt and mix slightly to combine.
Gradually stir  egg yolk/milk mixture into the saucepan with dry ingredients until all combined.  Move to stove top.
Place on a burner set to medium or medium-low and cook stirring continually (dairy burns easily – keep it moving – keep it low – take it slow).  Cook until mixture begins to thicken and comes to a low boil.  Cook (still stirring) at the boil for 1 minutes.  Remove from heat…
Once removed from burner – add vanilla and stir to mix throughout.
Cover with plastic wrap and refrigerate for 2 hours until cold.
Easy Chocolate Frosting Ingredients:
1 1/2 Cups Powdered Sugar
1/2 Cup unsweetened Cocoa
1/2 stick butter, softened
2 tablespoons milk
1/2 teaspoon vanilla
Chocolate Frosting Instructions:
Whisk together powdered sugar and cocoa in a bowl and set aside. In another bowl combine 1/2 cup of sugar/cocoa mixture with butter and 1 tablespoon cream. Beat with electric mixer or by hand until smooth. Add another 1/2 cup of sugar/cocoa and another 1/2 tablespoon of cream, beating well. Continue until all ingredients are combined and frosting is fluffy. Lastly beat in vanilla.
Refrigerated only if there are left overs after icing the cupcakes as this will become hard to spread once cold.
Assembly  Instructions:
Fill a  strong plastic baggie or cake frosting bag with filling/pudding mixture.  Use the frosting tip with the largest hole on the end of the bag.
Take a cupcake in one hand, hold bag of filling in the other.  Insert the frosting tip deep into the center of the cupcake.  While applying slight pressure to the bag turn the cupcake in a circular motion. As filling starts to peak out of the top (continue slight pressure) and slowly remove to fill.
Repeat with each cupcake.
Frost after filling.
Eat and enjoy the fact that you can create a Whole Wheat Boston Cream Cupcake with wholesome and REAL ingredients that you want and none of the artificial dyes, flavors or preservatives you don't!
Best Blessings!
Donna Miller
For more fun whole food recipes – sign up for my newsletter HERE