This bread recipe was born out of a desire to mix the rich, warm flavors of chocolate and cinnamon with the smooth flavors of 100% whole wheat and honey years bread. I first developed this combination using my Whole Wheat and Honey Challah with great success, but I also wanted to have a version without eggs. The result hit it big with our taste-testers.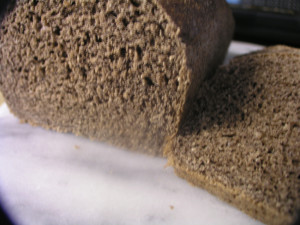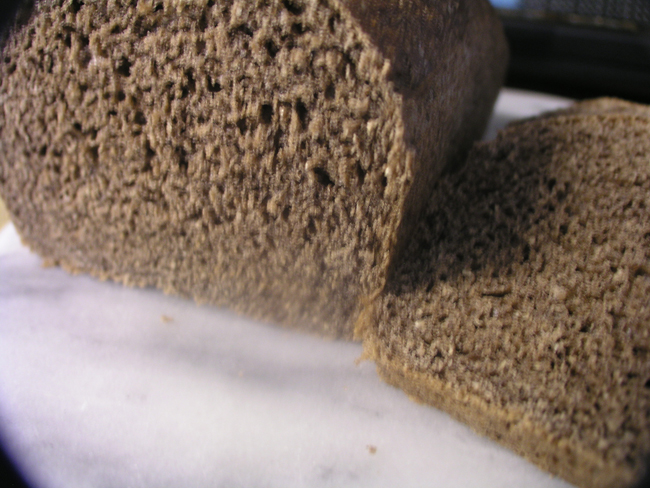 Dairy-free and using only raw honey as the sweetener, this bread is a healthier alternative, but provides the chocolate and bread satisfaction we crave.
This recipe is my large batch, for my batch baking and freezing, but if it is too big for you, cut the recipe ingredients by half. I use an Ankarsrum Original Mixer to mix and knead the dough, but it can be done by hand as well.
Mill hard white wheat berries into flour using the WonderMill grain mill. Set flour aside.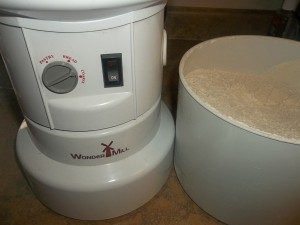 Whole Wheat Chocolate Cinnamon Yeast Bread
(Yield 5 loaves, each approximately 1 1/2 pounds)
Ingredients:
5 cups of warm water, 110-120 degrees
1 tablespoon organic apple cider vinegar
2 tablespoons instant yeast
5 cups hard white whole wheat flour
1/2 cup extra virgin olive oil, or oil of choice
1/2 cup honey
1/2 cup vital gluten
1/2 cup unsweetened cocoa powder, dark
2 tablespoons organic cinnamon powder
1 teaspoon salt
Additional hard white wheat flour
Egg wash: 2 large eggs beaten with 2 tablespoons of water
In mixing bowl or mixer bowl, place the warm water, apple cider vinegar, 5 cups of flour and yeast. Mix until everything is dissolved. Cover and let sit at room temperature until bubbly (about 30-45 minutes).
Stir down the yeast mixture and add in oil, honey, gluten flour and salt and mix well. Start adding in additional flour in 1 cup increments until the dough pulls away from the sides of the bowl and pulls together. Knead by mixer for 5-7 minutes, or 10 minutes by hand until the dough is no longer sticky, but smooth and supple.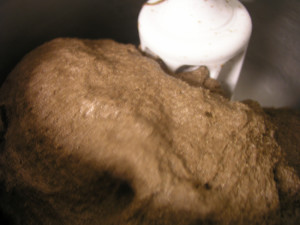 Cover the bowl and let dough rise until doubled, about 30 – 60 minutes. With oiled hands, remove bread dough from bowl and place onto a lightly oiled surface. Knead the dough for about 30 seconds to remove air bubbles and separate the dough into 5 equal portions (they should each weigh about 1 1/2 pounds). Cover the portions not being used so they don't dry out.  Preheat oven to 350 degrees.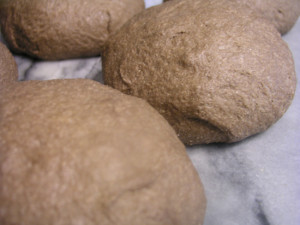 Roll each portion into a loaf shape and place each loaf into a greased* (see my Healthy Hack) loaf pan, cover the loaves and let them rise about 45 minutes or until risen and domed. Brush tops with egg wash which is 2 whole eggs beaten with 2 tablespoons of water.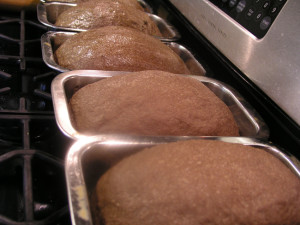 Place loaves into preheated oven. Bake until done, about 30-35 minutes. Remove the loaves from the pans and place them on a cooling rack. Cover the warm loaves with clean kitchen towels so they soften as they cool.
These are delicious as is, or toasted with real sweet butter and a cuppa steaming tea, or spread with your favorite homemade jam or cream cheese. Your organic peanut butter and jelly sandwiches will never be the same once you try them on your homemade Whole Wheat Chocolate Cinnamon Yeast Bread, try it today!
Enjoy!