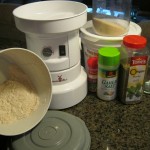 These are such an easy and exciting addition to any dinner (or pot luck) that it feels like you're eating out instead of having homemade! And the best part is with the fresh whole wheat flour from the Wondermill – and the oil that replaces the butter, they are FAR healthier than any that you could get at the Seafood Place that made them 'famous' to begin with… Hope you enJOY!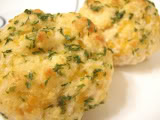 CHEDDAR & GARLIC HERB BISCUITS
Makes about 12-18 depending on size
Pre-heat oven to 400 degrees
Grease a cookie sheet
Dry Ingredients:
1 Cups freshly milled Hard White Wheat Flour
1 Cup freshly milled Soft White Wheat Flour
1 TBS Aluminum Free Baking Powder
1 1/2 tsp Garlic Salt (may adjust to 1 if too strong)
2 TBS Organic Evaporated Cane Crystals
Wet Ingredients:
1/4 Cup Organic Canola Oil
1 Cup Milk
Add ins:
Up to 1 1/2 Cups Shredded Sharp Cheddar Cheese
2 TBS Fresh Chopped Parsley

or

1 TBS Dried Parsley
Combine all dry ingredients with a whisk or fork in a large mixing bowl.
Combine wet ingredients in a small bowl or measuring cup.
Make a well in the dry bowl ingredients and pour in wet mix.
Mix until just combined (still will be lumpy, don't over mix or you get a tough biscuit)
Then lightly mix in the 'add ins' until just combined.
Drop by 'ice-cream scoop' or large spoon size on greased cookie sheet.
Bake on middle rack for 10-12 minutes.
Let cool (just a little) on a cooling rack.
Enjoy with a salad or grilled fish or even with a slice of meat in the middle for a quick 'sandwich' at lunch.