These are by far the very favorite treat to serve to my family and guests for breakfast. They are so good, that no one even thinks about how healthy they are! They ask because they can't believe it (o:
I hope you enjoy sharing these with your family this coming month. Food does not exactly equal 'love' but…when you take the time to make it not only tasty but also healthy, it sure comes close!
~~~~~~~~~~~~~~~~~~~~~~~~~~~~~~~~~~~~~~~~~~~~~~~~~~~~
Healthy (and still tasty) Whole Wheat Cinnamon Buns
with Cream Cheese Frosting
~~~~~~~~~~~~~~~~~~~~~~~~~~~~~~~~~~~~~~~~~~~~~~~~~~~~
(Makes two round 9-inch cake pans of approx 8-9 Twirls per each pan)
First find and then make the following changes to my Virtually 'Fool Proof' Simple Loaf Bread Recipe found HERE
Use Prairie Gold Hard White Wheat milled in your Wondermill or Wondermill Jr.
Add to the following to the wet ingredients:
1 tsp Vanilla Extract
1 (more) TBS Organic Eco Sweet Sugar
1 Egg
Proceed with instructions for the Loaf Bread until the dough has risen once, been punched down and then ready to be formed.
Meanwhile, back at the ranch, while the dough is rising, make the filling and cream cheese frosting (recipes below)! YAY!
Forming Cinnamon Buns:
Divide dough in exactly half.
Roll out into two rectangular jelly rolls approximately ½ inch thick.
Spread filling (recipe below) to cover all three edges but the back (should be a long side) leaving a one inch seam.  Leave this uncovered with the mixture so the twist will seal when rolled.
Beginning with the longer edge that has mixture covering it mostly (leaving the more bare edge to seam last), roll the dough in to form a long tube of the twists. This gives you two tubes of sweet twisted goodness!
Cut with dental floss by putting the string under the tube, bringing both ends up and crossing atop the tube and puling.  Then place the cut twist in a greased 9 inch circular cake pan. Make sure they edges are touching.
When baking these fresh, let rise for approximately 30 minutes before baking.
Bake at 350 for 12-18 minutes (keep an eye on them). When done, take them out to only slightly cool in the pan and spread the Cream Cheese Frosting on the top. Serve FAST before the neighbors smell these and invade for breakfast.
~~~
Fast tip: To make a busy morning special:  Make this ahead and cover with wax or cellophane to fit down right on the roll tops. I also like another layer atop the whole pan secured with a lid or rubber band. Put in the fridge, in the pan as soon as they are shaped.  In the morning, take out of fridge and place a cool oven on center rack (with one rack all the way on the bottom for pan to hold boiling water) fill a pan of boiling water on the lower rack. Allow rolls to rise for 30 minutes.
Remove rolls and pan of hot water from oven and preheat to 350.
Bake 15-18 minutes until golden and gooey!
Ice as usual!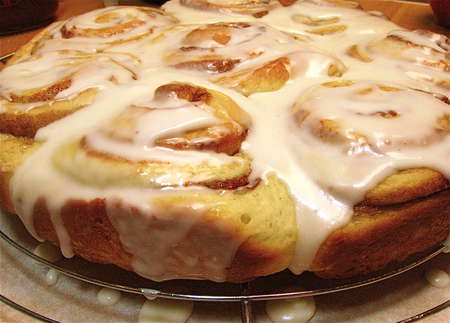 ~~~
Freezing Tip: I like to freeze one pan of these to use at a later date.  Cover tightly with cellophane right ON the dough itself. I also like another layer atop the whole pan secured with a lid or rubber band and then also place the entire pan in a large plastic bag. Freeze until ready to use.  Yes, that is three layers of 'sealing' (o:
When ready to use thaw first overnight in the fridge and then follow directions for Fast Tip (above) but leave the hot water pan IN if you've frozen the Cinnamon Buns – this helps to keeps them moist!
Bake 15-18 minutes until golden and gooey!
Ice as usual!
~~~
Filling Recipe:
1 C softened butter or margarine (or healthy butter mix from our youtube channel – http://www.youtube.com/user/thewheatguy
½ C Organic Sucanat (or brown sugar)
¼ C Organic Evaporated Cane Juice Crystals (or sugar)
¼ tsp Vanilla Extract
½ C Chopped Pecans (optional)
Blend all together until mixed and set aside to spread on the rolled out dough later. Half of the mixture is used for each rectangle.
~~~
Cream Cheese Frosting Recipe:
1 package of softened Nuefatchel (lower fat) cream cheese
3 TBS Milk or Almond or Rice Milk (for thinner frosting, increase this liquid after mixing and testing consistency)
3-4 TBS Organic Agave Nectar
Blend all together until mixed and set aside to spread on warm and tasty rolls (if you can avoid eating it right out of the bowl.)
I certainly hope you enJOY this recipe