I promise that I am not bragging.  Making this bread came out of trying something and it was a happy accident that it actually turned out so well.  I must say it has become one of my top favorite recipes.  So much so that I have named it the generic name of 'holiday' bread so I can justify making it at any holiday I choose – no matter what time of year.  (:
Hope you enJOY it too!
Best Blessings!
Donna Miller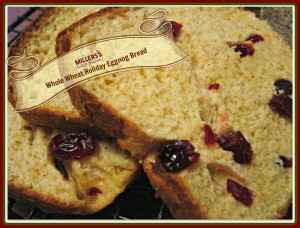 Whole Wheat Holiday Eggnog Bread
Makes 2lb loaf
Ingredients: 
1.5 Cup Light Eggnog – warmed to 110 degrees

1/2 Teaspoon Vanilla Extract

1/4 Teaspoon Rum Extract

1/4 Cup Organic Sugar

1 Tablespoon Coconut oil

1/4 teaspoon Nutmeg

3 1/2  Cups Freshly Milled Hard White Wheat from your Wondermill

1/2 teaspoon Sea Salt

1 1/2 teaspoon bread machine or instant yeast

1/2 Cup Dried Cranberries (dried or candied fruit of choice)

1/4 Cup Pumpkin Seeds – hulls removed (or other nut of your choice)
Bread Machine Instructions:
Place items in bread machine in order written. Set to bread dough setting and make sure the 'fruit and nut' beep/indicator is ON!
When 'fruit and nut' beep goes off (or about half way through the whole process if you don't have a 'fruit and nut' setting) add dried fruit of your choosing. We like Organic Cranberries and Pumpkin Seeds (Pepitas).
Hand Mixing Instructions:
Mix first six ingredients and yeast in a large bowl.
Mix flour and salt in a separate bowl.
Add flour to the liquid mixture 1/2 cup at a time until mixture is too stiff must be kneaded by hand.
Now add the dried fruit and nuts, before moving it to the counter to knead.
Pour remaining flour/salt mixture onto counter and knead dough onto it for about 10 minutes or until the gluten strands are tightly formed (test by using the two finger bounce-back method).
Grease the flour bowl you just used and put dough in it, cover it and place it in a warm place  to rise until doubled in size.
After first rise or bread machine has stopped – punch down, shape into loaf and let rise in a warm place until doubled.
Bake in 350 degree oven for 18-20 minutes, checking for done by tapping top for that hollow sound.
Please note:  Due to the dairy and higher sugar content this bread has a tendency to brown quickly – if needed reduce the heat to 325 about 10 minutes into the recipe if it appears to brown too quickly and simply bake a few extra minutes.
Remove and cool completely on a wire rack before slicing.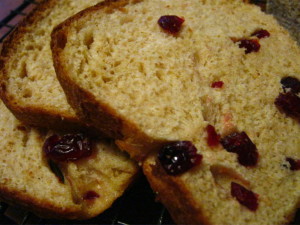 This is great toasted or as french toast! YUM!
You can also divide it up into smaller loaves as gifts.
IF it starts to go stale before the loaf gets finished (yeah, like THAT will happen) it makes a great starter for bread pudding!!