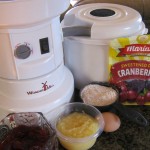 Are you laden with many odds and ends of food that you are either sick of since they're still hanging around or you just don't know what to do with them?  I'd like to help!
Here's one use for a typical left-over from the Thanksgiving fray: Cranberry Relish or Jelly
Cranberry Muffins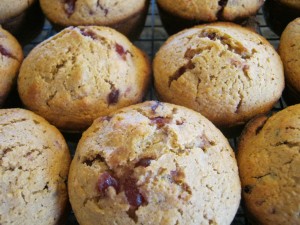 Makes 10-12 muffins
Dry Ingredients –
2  Cups Freshly Milled Flour (1/4 C Soft White, 3/4 C Hard White)
¼ Evaporated Cane Crystals
2 ½ tsp Baking Powder
½ tsp Sea Salt
¼ Cup Dried Cranberries
Wet Ingredients –
¼ Cup Oil or Melted butter
1 Medium Egg
1 Cup Milk
1/4 tsp Almond Extract
1/2 tsp Vanilla
1/2 Cup Cranberry Relish or Jelly
Two Easy Steps: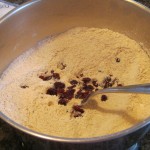 Combine all your dry ingredients in one bowl and toss to combine all, including the dried cranberries (if used).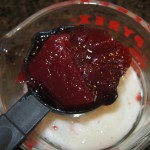 Combine all your wet ingredients in a separate bowl.
Mixing Methods:
Pre-heat oven to 400. Spray muffin tins.
In the dry bowl make a well.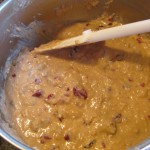 Stir wet ingredients in their container to be sure combined. Pour into the well of dry ingredients.
Mix until just combined. It will still be slightly lumpy or have some dry spots. Don't worry.
Spoon into muffin tins to 2/3 full.  Bake at 400 for 20 minutes.
Remove to cool on a wire rack. Serve warm or bag once cool to keep for days.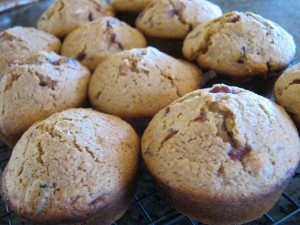 ________________________________________________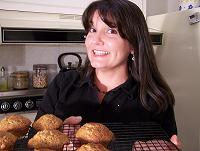 Donna Miller is a teacher, author, sought-after speaker and trainer. She has been a both guest and host on internet and broadcast radio talk-shows and in television interviews.
She is the hostess of "Your Preparation Station" on Preparedness Radio Network. She and her husband are the Organizers of WNC Preparedness Group in Asheville, NC.  She is an Adjunct Instructor for Frontier Christian University. She teaches local classes & ladies retreats for people to learn hands skills.
She and her husband are the founders of Millers Grain House and, Your Preparation Station and are on the board of PREPARE Magazine.
Joseph and Donna have been happily married for 27 years and have three adult children, and one daughter in-law.
________________________________________________