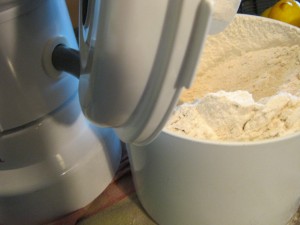 Apples and Honey go together in the Jewish tradition for welcoming in a prosperous Jewish New Year.  In the Fall, this dynamic duo of Apple and Honey often lend themselves to some wonderful treats.  This is one of my family's favorites!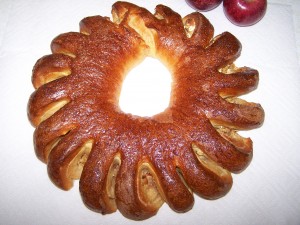 Apple and Honey Tea Ring
Ingredients:
Dough Part:
¾ Cup Milk
¼ Cup Warm Water (110-115)
1 Egg
¼ Cup Butter (cold and cubed)
3 Cups Freshly Milled Hard Wheat Flour
¼ Cup Eco Sweet Organic Cane Sugar
1 Teaspoon Fleishmann's Instant Yeast
 Filling Part:
¼ Cup Sucanat or Brown Sugar
3 Tablespoons Flour
¼ Teaspoon Cinnamon
3 Tablespoons cold butter
¼ Rolled Organic Oats (toasted)
½ Cup cooked or canned apple (or fruit of your choice)
¼ Cup Honey
Add Dough Ingredients into Bread Machine in order given, set on Dough Setting.
When the Dough cycle is complete, you will want the dough to rest after being punched down for about 10 minutes on a flat, oiled surface.
While machine is working, mix Filling ingredients starting with the first four first. Cut butter into the sugar, flour, cinnamon mixture until crumbly. Now add in the oats and fruit of your choice to finish filling. Set aside.
Grease a baking sheet and set aside.
Roll out dough to a rectangular shape on oiled surface and spread filling evenly over all but about 2 inches (lengthwise) of the rectangle's edge. Drizzle honey all over filling. Roll dough up like a snake toward the empty edge and seal by crimping. Filling should swirl inside the dough, but not be coming out the lengthwise edge.
Form into a circle, joining ends to hold in filing. Place on greased baking sheet with seem side down.
Cut slits about 1.5-2 inches apart all the way around the ring staying away from the center (so it holds together).
Cover and let rise in a warm place for at least 30 minutes or until almost doubled.
Preheat oven to 350 and center rack to middle.
Sprinkle a little remaining raw sugar on top for effect and bake for about 25 – 30 minutes (checking for hollow sound and browning) If needed cover with foil for the last 5-10 minutes to prevent browning too much.
Remove to a wire rack and serve either warm or cooled with some cream cheese frosting or almond glaze frosting.
Best Blessings and enJOY!
Donna Miller