During the holidays we have lots of family and friends into our home and I love to have comforting and homey food for them. Everyone loves chocolate cake, but this can be me non-dairy for those with dairy sensitivities. Of course, if you want, you can use dairy and the cake is just as delicious!
This recipe is a BIG BATCH and makes 4 (9-inch) cake pans, or 2 (9 x 13) baking pans full. If you don't need so much cake at once, let the extra cake cool completely, wrap tightly with parchment, then plastic, then foil and freeze until needed.
If you are having a crowd to feed, use the 2 (9 x 13) rectangular pans  and stack one on top of the other (once both are completely cooled!) and spread frosting in between and over the sides and edges. OR, use the 4 (9-inch round) cake pans and make 2 double-layer cakes, again filling the frosting in the middle, then sides and top.
Decadent Non-Dairy Chocolate Cake for a Crowd
Yield: 4 (9-inch round) cake pans OR 2 (9 x 13) baking pans
Mill whole wheat pastry (soft wheat) berries in WonderMill and set aside.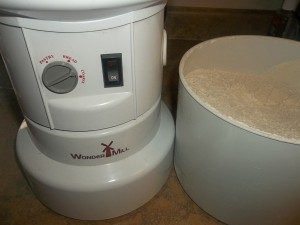 Cake: Dry
4 cups whole wheat pastry flour, freshly ground
4 cups unrefined sugar, such as sucanat
2/3 cup unsweetened cocoa powder
2 teaspoons baking soda
1/2 teaspoon salt
1/2 teaspoon cinnamon powder
Cake: Wet
2 cups organic virgin coconut oil (or expeller-pressed for milder taste, or butter), melted
1 cup homemade almond milk, (or milk of choice), with 1 Tablespoon organic apple cider vinegar added
2 cups warm water
1 Tablespoon homemade pure vanilla extract
4 large eggs, beaten
Directions:
Grease the pans and then dust with cocoa powder.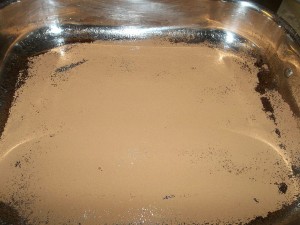 Preheat oven to 350 degrees.
In a large mixing or mixer bowl, place all the wet ingredients, except the eggs and whisk well. Slowly add in one  beaten egg at a time, while whisking, to avoid clumps.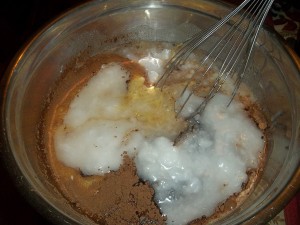 In another bowl, whisk dry ingredients together until smooth.
Slowly add the dry ingredients to the wet and mix until both are incorporated and batter is smooth.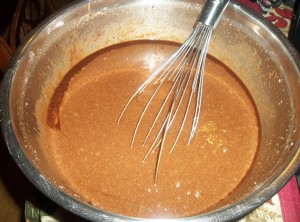 Divide batter equally between prepared pans and bake at 350 for 30 minutes, or until cakes test done in center.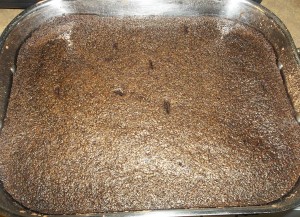 Let cool completely before removing from pans. The cakes make be very delicate. Remove to cake plates or cooling rack. You can then chill them in the fridge for easier handling.
Make frosting (below).
Frosting:
1 cup expeller-pressed organic coconut oil, softened
2 teaspoons homemade pure vanilla extract
1 cup unsweetened cocoa powder
4+ cups powdered sucanat (whiz sucanat in blender or VitaMix 1 cup at a time with 1 teaspoon arrowroot added)
2 Tablespoons almond milk, as needed
In a large mixing or mixer bowl, whisk the soft coconut oil and vanilla until fluffy. Add in cocoa power and 1 cup powdered sucanat. Continue whisking as you add the remaining powdered sucanat until a thick consistency is reached. You may need to add more powdered sucanat to get the frosting thick enough. If the frosting is too thick, add almond milk until thin enough.
Assemble your cooled cake(s), and either serve them singly, or in layers. Frost and enjoy!