My husband loves anything with garlic (and, who am I kidding? I do too!), so these garlic breadsticks are always a HUGE hit whenever I make them!  They are SO fast to make, which is awesome when I want to have bread to go with an Italian meal but only thought about it 45 minutes before dinner time.
I've made these with 100% whole wheat flour and with half all-purpose.  Both ways are good!
You can easily whip up a batch to go with dinner tonight, especially since all of the ingredients are pantry staples!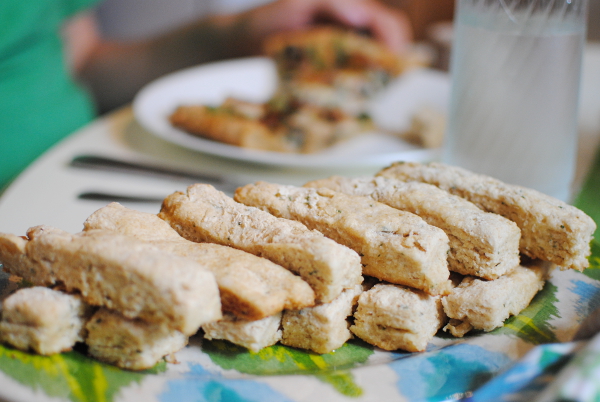 Fast Whole Wheat Garlic Breadsticks
(adapted from here)
1/4 cup (1/2 stick) butter
1 Tbsp. olive oil
3 cups whole wheat flour, freshly ground (or use half unbleached all-purpose)
1 tsp. and 1/2 tsp. sea salt, divided
1 Tbsp. baking powder
1 tsp. and 1/2 tsp. garlic powder, divided
1 Tbsp. parsley flakes
up to 1 cup milk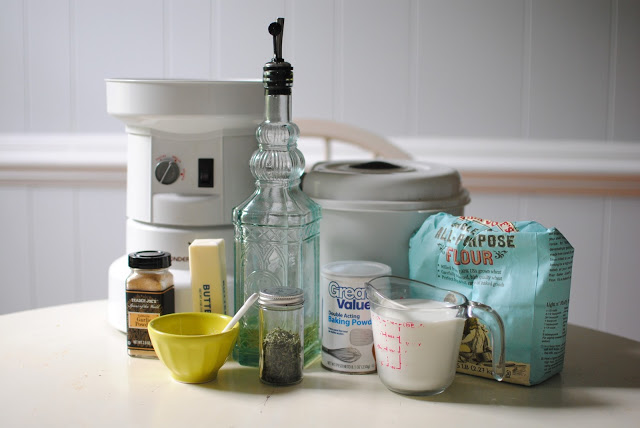 Grind wheat in the WonderMill.
Preheat oven to 425 degrees.  While oven is preheating, place 1/2 stick butter and 1 Tbsp. olive oil in a 9×13″ pan in the oven.  (Be sure not to let it burn; just melt.)
In a mixing bowl, combine flour(s), 1 tsp. sea salt, baking powder, 1 tsp. garlic, and parsley flakes.  Whisk to combine.
Add milk 1/4 cup at a time and stir with a wooden spoon until a dough forms, leaving the sides of the bowl.  (I usually use more than 3/4 cup but less than 1 cup.)
Turn dough onto a floured surface and knead 5-6 times, being careful not to overwork the dough.  Shape/roll into a 9×13″ rectangle.
Pull 9×13″ pan out of the oven and sprinkle melted butter/oil with reserved 1/2 tsp. sea salt and 1/2 tsp. garlic powder.  Place dough rectangle on top.  Cut into 1/2 inch strips (I usually cut longways down the middle first and then across at 1/2″ increments).
Bake for 16-20 minutes.
Enjoy!