Pancakes have been a favorite for Sunday Morning Breakfasts for as long as we've had children.  Waffles run a close second but pancakes were the usual flare for that special day of the week.
For years I used the 'yellow quick-mix' box thinking it was the way to go.  When I began to mill my own grains, I realized how wrong I'd been for all those years!  Freshly milled buttermilk pancakes have spoiled my family (I do say that with a tad big of gloat if I must be honest) because they just don't enjoy eating them even at the most well known pancake houses around. Yes, I win!
Give these fluffy and really tasty pancakes themselves a try – it's not just the syrup that tastes so good!
HEART HEALTHY PANCAKES
Makes about 24 six inch pancakes
Oh don't worry.  I'll tell you how not to waste left-overs.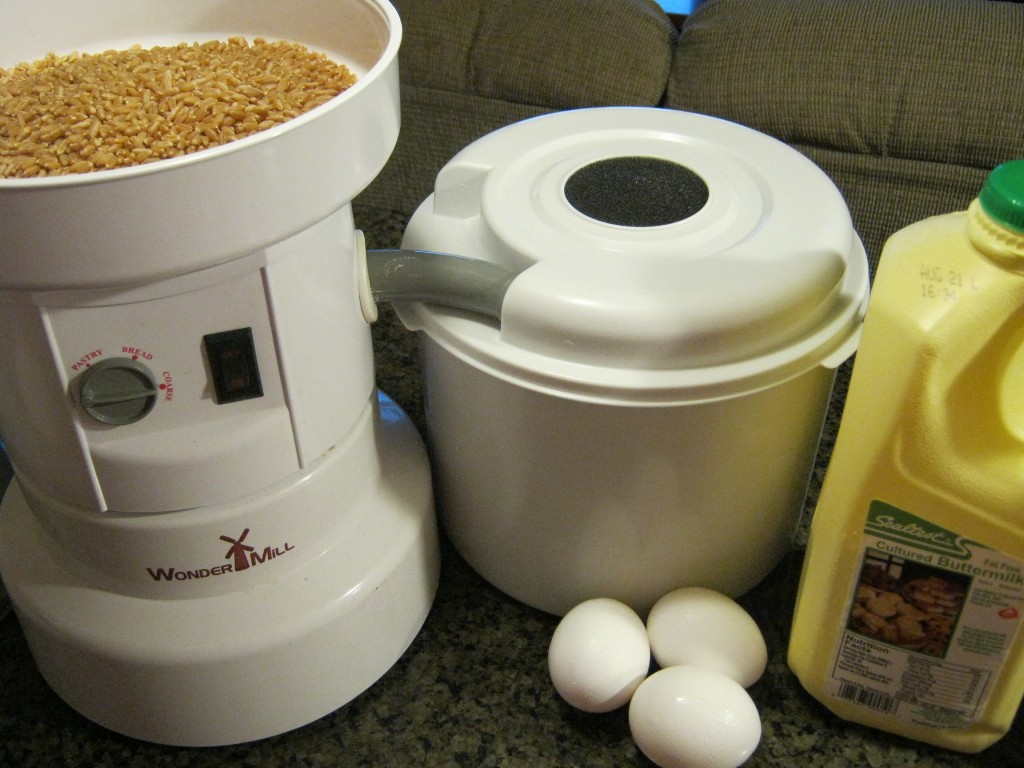 Odd Items Needed:
Griddle (electric or stove-top) or good size fry pan
Wisk or fork
Measuring Cups & Spoons
Non-stick Spray or butter
Dry Ingredients:
4 Cups Freshly Milled Flour* in your Wondermill!
1 tsp. Salt
1 tsp. Baking Soda
2 1/2 tsp. Baking Powder
*My favorite to grind together is 2 cups Prairie Gold White Wheat and 1 cup Organic Soft White Wheat 
Wet Ingredients:
1/2 Cup Liquid Egg Whites
2 Eggs
4 Cups Fat Free Buttermilk
1/4 Cup Organic Canola Oil**
1 tsp. Vanilla Extract
 2 TB Organic Cane Crystals
**For waffles, increase canola oil to 1/3 C
Mix all dry ingredients in a very large bowl. Whisk or fork stir to combine dry.
Mix all wet ingredients in a separate container and make sure they are well blended.
Note: (You can mix the dry ingredients ahead in a baggie and the wet ingredients ahead in a container and keep each in the fridge to combine for a fast mix together in the morning.)
Before combining – spray or oil then heat your griddle to a temperature where a water droplet dances on it.
Make a well in the center of the dry and mix wet mixture into the dry mixture and combine gently until almost mixed but still lumpy. Don't over mix.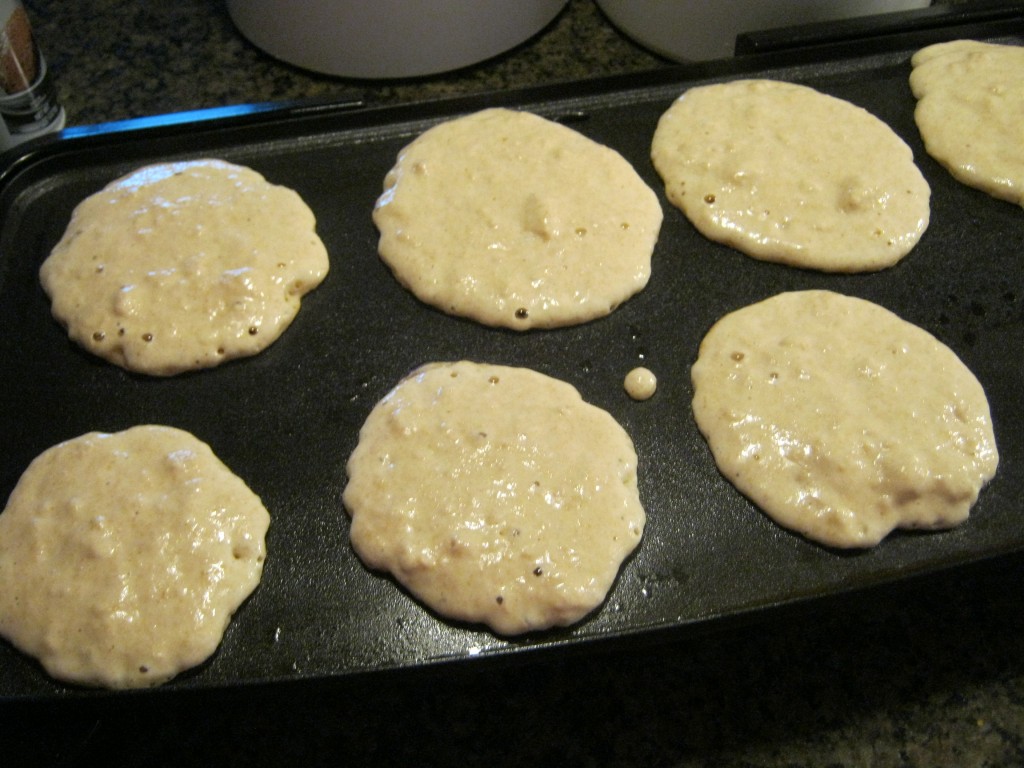 Pour out approximately 1/3 cup size portions onto the heated griddle. Flip after a few minutes (bubbles pop on the top) and cook other side for just a minute or two.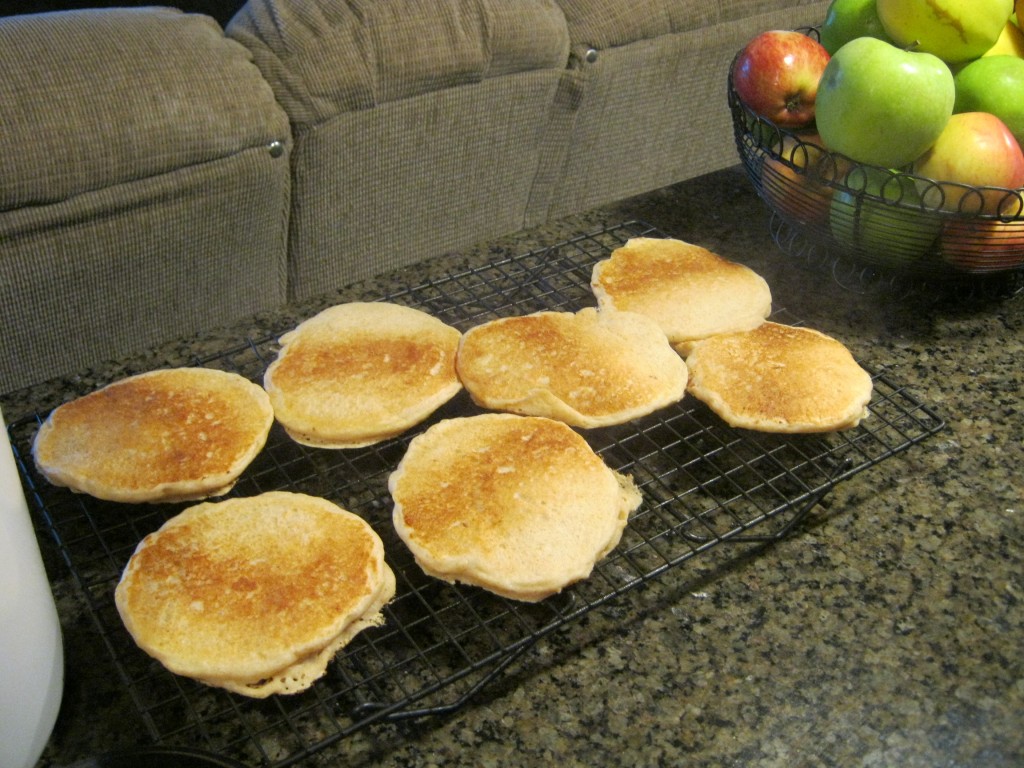 Transfer to a cookie sheet and keep in a low (200 degrees) oven as you prepare more or serve immediately.
Left-over helpful hint:  The cookie sheet is where any extra pancakes will stay until completely cooled.  Then store with parchment between them in a ziplock bag in the freezer.  These toast up or microwave wonderfully for a heart-healthy fast breakfast.  I just sent about 18 of them off with our girls for college to fix in the dorm!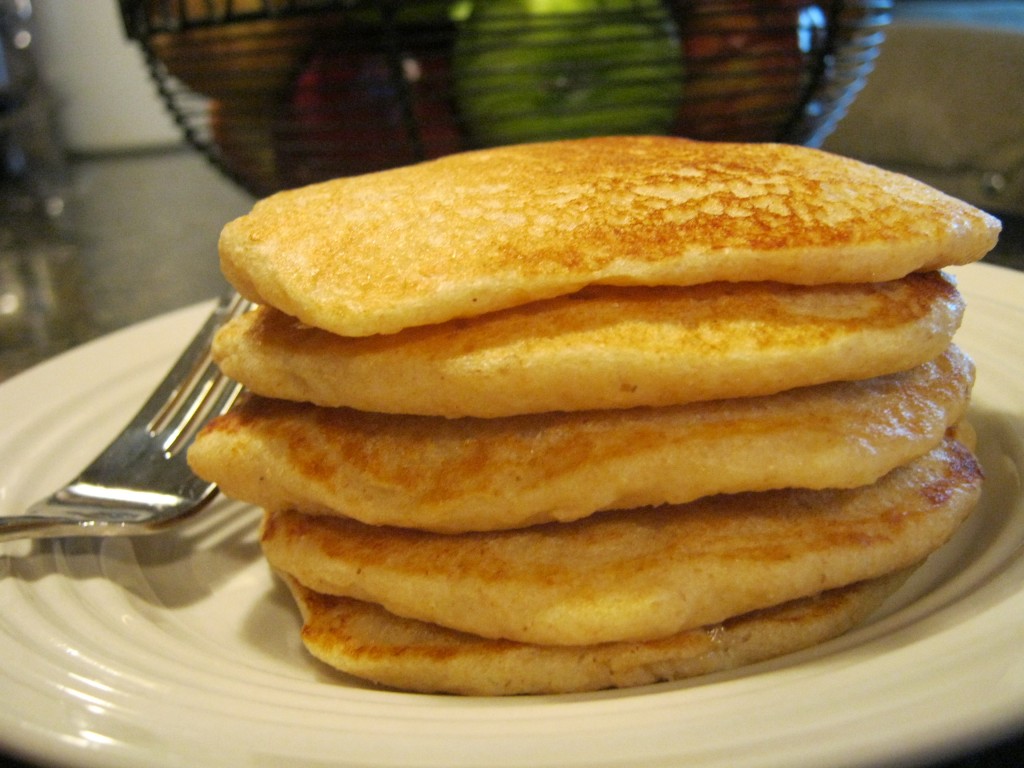 A little personal note: We have pancakes almost every Sunday morning and the girls have often helped me make them. For almost 24 years we have made them in the same 'yellow bowl' that their Nana (my Mother-in-Law) gave me. This bowl is jokingly the only inanimate object we would save in a fire. It's not the 'bowl' that matters, it's the memories we have made that are attached to using that bowl together in any kitchen, in any home we've lived in as they've grown.
So I happily share this with you to enJOY...
To see more pics of how I 'play with my food' then  please LIKE my Facebook Page