The beginning of Autumn heralds the coming harvest of sweet potatoes! Our state, (NC) is the country's biggest producers of sweet potatoes and there are many ways to use them. One delicious way is to make light, fluffy, 100% whole grain sweet potato muffins. Only mildly sweet, these golden gems can accent a savory meal, or serve as a quick snack or even a dessert served with ice cream, whipped cream or fresh fruit.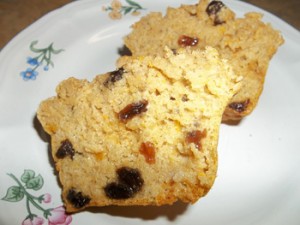 The amazing chia seed plays a part in these health-supporting muffins and adds to the light texture, but you can leave them out if you prefer. I do recommend whole, raw organic chia seeds as for food storage as well as every day diet, and I incorporate them in as many of my dishes and meals as I can. The nutritional boost of calcium and omega-3 fatty acids is jam-packed in this tiny seed.
For these 100% whole grain muffins, I use either Kamut or whole wheat pastry flour, freshly ground in my WonderMill. I use my dehydrated fruit, my favorites are cranberries, apples, pineapple or raisins. For a savory taste, experiment with mild dried veggies or nuts.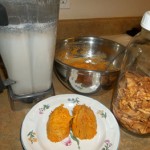 Food pantry option: use home dehydrated sweet potato powder or "plops" that are rehydrated in place of fresh cooked potatoes.
Sweet Potato Muffins
Makes 12
Mill soft wheat (whole wheat pastry) or Kamut berries into flour using the WonderMill or Wonder Junior Deluxe grain mill.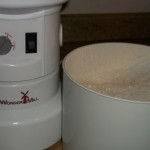 Dry ingredients:
3 cups freshly-ground whole wheat pastry or Kamut flour
1/2 cup sweetener of choice
1 Tablespoon baking powder
1 teaspoon baking soda
1/2 teaspoon salt
1 teaspoon whole raw organic chia seeds (optional)
1 teaspoon cinnamon (for sweet version)
1 cup dried fruit, chopped or diced
Wet ingredients:
1 cup cooked sweet potato (no peel), mashed and fluffed with a fork
3 cups milk, non-dairy milk or other liquid (I use my homemade almond milk)
1 Tablespoon organic raw apple cider vinegar, with the mother
1 teaspoon vanilla, preferably homemade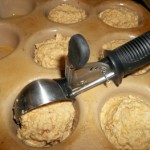 Preheat oven to 375.
In a large mixing bowl, whisk dry ingredients together.
In another bowl, whisk wet ingredients together until smooth.
Pour the wet ingredients into the dry and stir until mixed well.  Let sit 5 minutes to allow the chia to soften. Lightly stir the batter again.
With an ice cream scoop, divide the muffin batter into 12 muffin tins that have been greased or lined with paper cups.
Bake for 30 minutes, or until muffins test clean and done in the center. Let cool on a rack.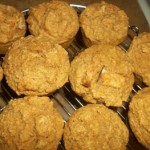 B'Teavon! (Bon Appetit!)