Making your hamburger healthier is super easy and simple. It's just a matter of having a good whole wheat loaf bread recipe and shaping differently.  Here's how we did them yesterday: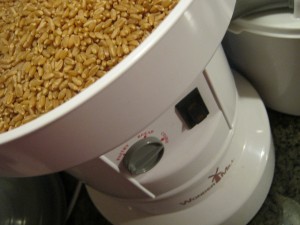 Practically 'Fool Proof' Simple Loaf Bread
2lb Loaf Recipe
Ingredients:
1 ½ Cup Warm Water (100-110 degrees)
1 Tablespoon Olive Oil
2 TBS  Organic Sugar
3 ½ Cups of Freshly Milled HARD (red or white) Flour
¼ Cup Gluten
½ teaspoon Sea Salt
1 ½ teaspoon Fleishmann's or SAF Instant Yeast
For Bread Machine: Put ingredients in in order given and set to 'Dough Setting' – now go fold clothes, vacuum and clean the shower (o:
By Hand or with Mixer/Dough Hook: Mix all the water, oil, sugar together in your mixing bowl.  Proof your yeast in the whole liquid if you want to.  Instant yeast does not HAVE to be proofed (let get bubbly) but it won't hurt it if you do.  In a separate
bowl, mix all your dry ingredients (flours, gluten, salt and yeast
if you didn't proof it)
Slowly add dry to the liquid stirring until too hard to use a spoon, then start the hand kneading process (or if in the kitchen aid – start the dough hooks, or if in the Bosch Mixer…follow directions for kneading)
Knead (by hand, by hook, Bread Machine or by Bosch Universal Kitchen Machine ) minimum 10 minutes – up to 15 minutes  – until dough feels elastic and looks silky-like.
Cover bowl with a clean cloth towel.
Let dough rise once in the bowl in semi warm place approximately 30 minutes or until double the size it started.
LIGHTLY punch it down to get all the air out after it rose the first time.
All above steps are usually done on 'Dough Setting' of your bread machine.
Turn out onto an OILED (not floured – it makes it heavy and dense) surface to REST for 5 minutes before shaping (this helps the gluten that has formed to relax a bit and not 'crack' the crust)
Shaping and Baking Burger Buns – about 8 to 10 – divide into 8 or 10 equal weight balls of dough. Make a 'hockey puck' with creases on the bottom and place in a casserole dish not quite touching.  They will rise and touch each other in about 30 minutes.
During the last 10 minutes of rising, preheat oven to 350 degrees (be sure your racks are placed so that loaves bake in the middle of the oven).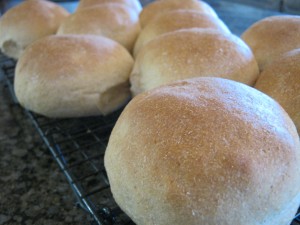 Bake 15 minutes on 350. Cool on wire rack and store in airtight bag.
Wait at least 10 minutes before attempting to slice. Use a serrated knife for best results in cutting.
ENJOY!!!