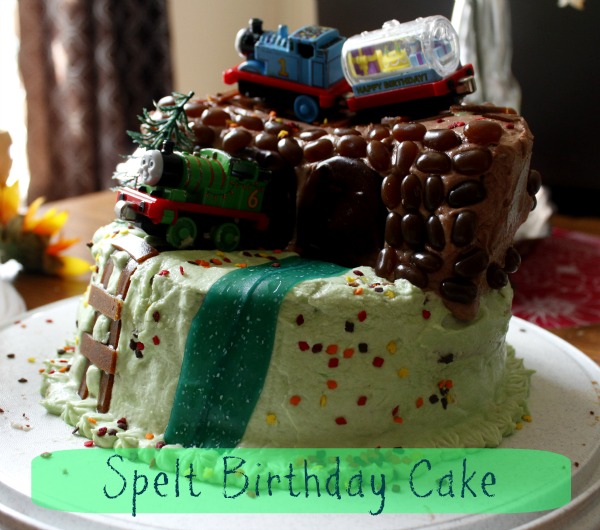 Baking a birthday cake for a child who is allergic to wheat, dairy and eggs (among other things) is a challenge. (Yes, that was a little bit of an understatement. Just a lil' bit.)
For one thing, wheat-free flours are very crumbly, as anyone avoiding gluten will know, but they can be made to bind together nicely with the benefit of an egg or two. So when an egg or two is not an option, things get a little hairy.
Ever tried to decorate a crumbly cake? It ain't easy. Actually, it's nigh unto impossible.
Thank goodness for spelt! Unfortunately for celiac sufferers, spelt does contain gluten, so it's not an option for them. However, for those allergic to wheat (and dairy and eggs), spelt is truly a godsend! Because it has a little gluten in it, it binds together a lot better than most of the other wheat flour alternatives, so it doesn't really need the binding action of the egg quite so desperately.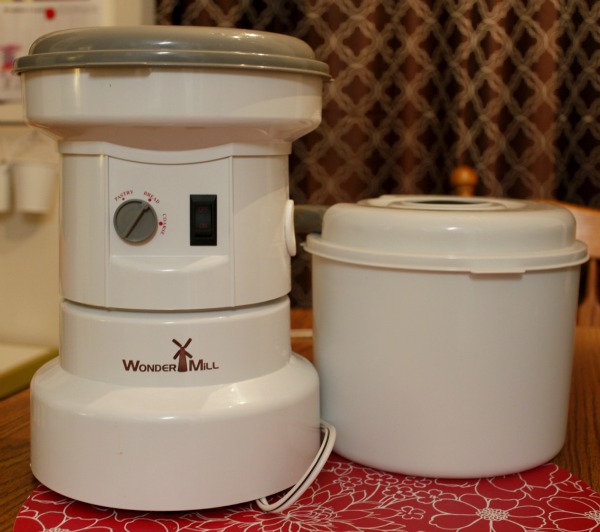 And thank goodness for my WonderMill grain mill! I buy 5-lb bags of whole grain spelt and grind it up a few cups at a time to use for a large portion of my wheat-free baking; it saves me a lot of money on store-bought spelt flour, and it's a lot healthier!
This spelt birthday cake is essentially a re-make of the vintage favorite "Wacky Cake", an egg-free, dairy-free (and now wheat-free) cake made popular during the Depression and WWII when eggs and butter were either scarce or prohibitively expensive. I've made this wacky cake with lots of different flour combinations, but spelt is definitely the way to go for a wheat-free option. Anything else crumbles to pieces (which is fine if you want to make, say, a trifle, but not so much if you're going for a birthday cake).
I freshened up the recipe just a bit by adding a little orange juice into the mix. It gave just a hint of a chocolate-orange flavor that was delicious!

Spelt Birthday Cake
wheat-free dairy-free egg-free birthday cake
Ingredients
1½ cups freshly ground spelt flour
¾ cup raw sugar, sucanat, or granulated sugar
¼ cup cocoa
¾ tsp baking soda
½ tsp salt
5 TBSP coconut or other oil
1 TBSP vinegar
1 tsp. vanilla
½ cup orange juice
½ cup water
Instructions
Whisk together the dry ingredients in a medium bowl.
Stir together the liquid ingredients in a separate bowl.
Combine the liquid and dry ingredients and stir just until flour is moistened.
Immediately pour batter into a greased and floured 8" round cake pan. Bake at 350F for about 30 minutes or until toothpick inserted in center comes out clean.
This recipe makes one layer.
Have a Happy Wheat-Free Birthday!