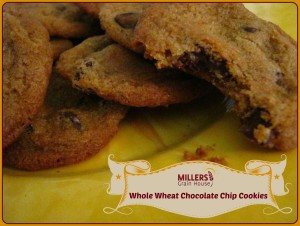 The classic chocolate chip cookie.  What could be more of a comfort food?  Well, making it healthier for one thing!
This recipe of course includes the whole grain goodness that you get from milling with the Wondermill and healthier oil options…but what a big bang of REAL FOOD flavor!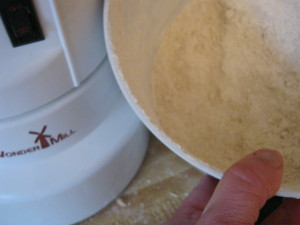 No one will care that it's healthier and contains whole wheat (which by now I'm sure you know tastes so much better when you've milled it at home).   So go ahead, enJOY that comfort food known as the chocolate chip cookie and share the fun!

Whole Wheat Chocolate Chip Cookies
A classic comfort cookie with whole wheat goodness.
Author:
Donna Miller of Millers Grain House
Ingredients
2¼ Cups Freshly Milled Hard White Wheat Flour
1 teaspoon aluminum-free baking soda
1 teaspoon sea salt
1 Cup Raw, Extra Virgin Coconut Oil
1 Cup Butter (softened)
¾ Cup of Evaporated Cane Juice (raw sugar)
¾ Cup of Sucanant or Brown Sugar
1 teaspoon of Pure Vanilla Extract
2 Eggs
1½ Cups Semi-Sweet Chocolate Chips or Carob Chips
*Optional - up to 1 cup of any of the following or combination of all: Rolled Oats, Chopped Nuts, White Chocolate Chips, Peanut Butter Chips.
Instructions
ALWAYS gather all ingredients before beginning to mix.
Preheat oven to 375 degrees F
In a small bowl combine: freshly milled flour, aluminum-free baking soda and sea salt.
Stir to combine and set aside.
In a large bowl, with electric beaters, combine: Coconut oil, butter, raw sugar and sucanant or brown sugar and vanilla.
Beat on high until creamy.
Gradually beat in flour mixture ½ a cup at a time until only ½ cup is left.
Add chocolate chips and any/all optional ingredients before that last ½ cup of flour and stir in to distribute.
Now add in the last bit of flour and mix well.
Drop by rounded spoonfuls onto an ungreased cookie sheet.
Bake on center rack of oven for about 9 minutes.
Remove when golden in the center but not yet brown (edges can be slightly brown).
Move to a wire rack almost immediately for a chewy cookie - let cool on pan for 2 minutes before removing for a crunchier cookie.
Share...if you must. And enJOY!