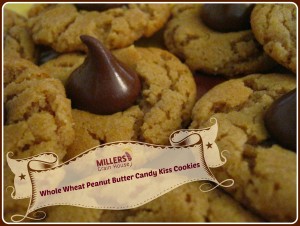 "The freshly milled flour that you get by using you Wondermill or Wondermill Jr. Deluxe can be used to replace every single recipe that calls for that 'dead' bagged flour." I said.  Although it seemed as if my words were a foreign language.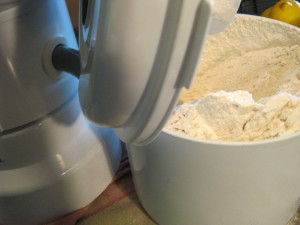 This truth took a little convincing for my mother-in-law.  That was until she tasted my bread, pizza crusts and pancakes.  No more convincing words needed!
So it is with great joy that I share one of her recipes (which is my husband's favorite) remixed with a little more 'health' in mind by using the whole wheat flour from my Wondermill and the Peanut Butter you can make with your WMJD. These healthier alterations also include replacements for shortening, white sugar and of course, white bagged flour which were all found in the original recipe.  Why eat those things when this recipe is so much healthier and twice as tasty? Am I right?  🙂
Remix of Nana's familiar favorite now with better-for-you ingredients.
Whole Wheat Peanut Butter Candy Kiss Cookies
A healthier twist on this classic cookie
Ingredients
¼ Cup Organic Coconut Oil
¼ Cup Real Butter
¾ Cup Creamy or Crunchy Peanut Butter
⅓ Cup Organic Evaporated Cane Crystals (Raw Sugar)
⅓ Cup Succanant or Brown Sugar
1 Egg
2 teaspoons Pure Vanilla Extract
1½ Cups Freshly Milled Hard White Wheat
1 teaspoon Aluminum Free Baking Powder
½ teaspoon Sea Salt
48 Chocolate Candy Kisses
Instructions
Gather all ingredients before beginning to mix.
Heat oven to 375 degrees F.
Disrobe the candy kisses from their foil and set in a cool place (not atop the oven).
With electric mixer, beat Coconut Oil, Butter and Peanut Butter in a large bowl until smooth.
Add Raw Sugar and beat.
Add Succanant or Brown Sugar and beat.
Add egg and vanilla and beat.
Set this bowl aside.
In a smaller bowl, place freshly milled flour, sea salt and baking powder stir with fork or whisk to combine.
Gradually beat the flour mixture into the peanut butter mixture until all is combined.
Dough is complete.
Spoon out 1 rounded Tablespoon and roll to form a ball.
Place on an ungreased cookie sheet with room for a little expansion for each cookie.
Bake the balls of dough (they will flatten while baking) for about 8-9 minutes on the middle rack.
When they are slightly browned, remove and place a candy kiss in the center of each cookie.
Remove to a wire rack to cool immediately after all cookies have been topped.
Resist the urge to put them in the oven after topping with the candy kiss.
Don't like chocolate? Just tap the top of the peanut butter cookie with a fork to flatten.