Pancakes are a treat in our house, but when I make them, I make a bunch!  We don't mind reheating the leftovers, and they freeze well also.  When I made these last time, I wanted to use my fresh strawberries to make a topping.  (Frozen strawberries also work just fine.)  The combination was so sweet and delicious!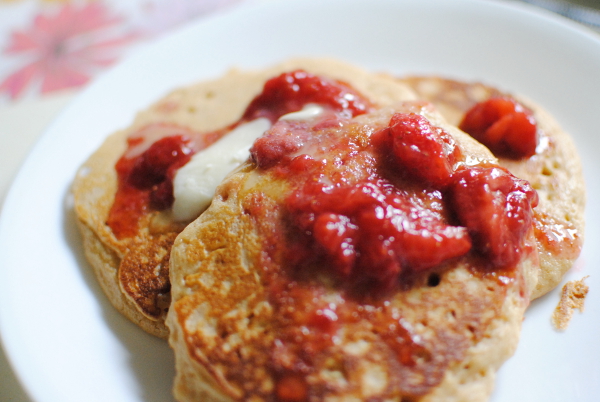 Whole Wheat Pancakes
(adapted from Betty Crocker)
2 eggs
2 cups whole wheat flour, freshly ground
2 1/2 cups milk
2 Tbsp. sucanat (or sugar)
1/4 cup olive oil
2 Tbsp. baking powder
1/2 tsp. Real Salt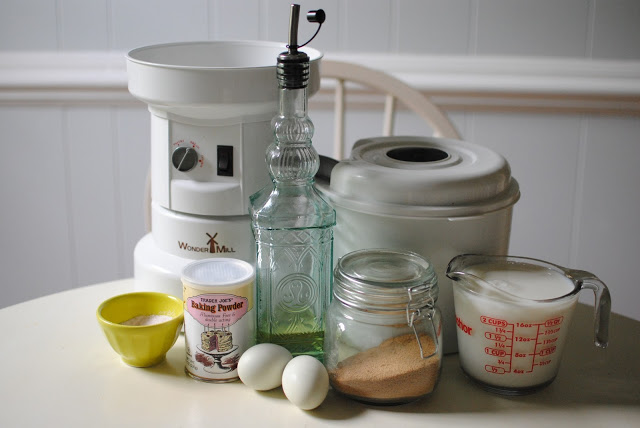 Grind wheat in the WonderMill.
In a mixing bowl, beat eggs with a whisk.  Add in remaining ingredients, mixing well until smooth.
Heat griddle to 375 degrees or a skillet to medium heat.  When hot, pour pancake batter onto griddle (about 1/4 cup for each pancake).  Flip when first side is done.
Remove from skillet and serve with butter and strawberry sauce (see below).
Strawberry Sauce (also great on waffles, ice cream, and stirred into lemonade!)
(adapted from Our Best Bites)
2 cups fresh (hulled and washed) or frozen strawberries, chopped
1 tsp. almond extract
1/3 cup evaporated cane juice (or sugar)
In a saucepan, combine ingredients over medium heat.  Simmer for 5 minutes, stirring as needed to keep from scorching.  If desired, you can blend the mixture in a blender until smooth, or you can leave it in its "chunky" state as I did.
Drizzle strawberry sauce over warm pancakes, adding butter if desired (highly recommended!).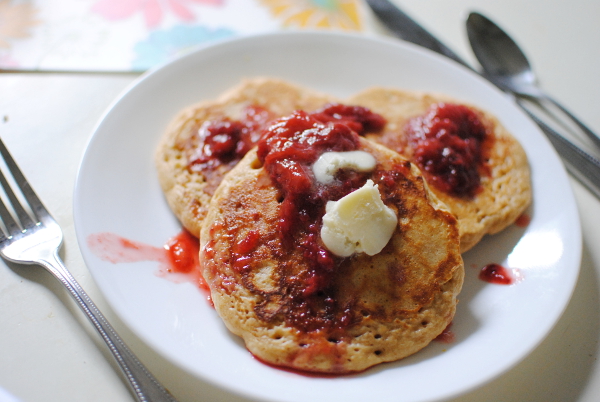 Enjoy!