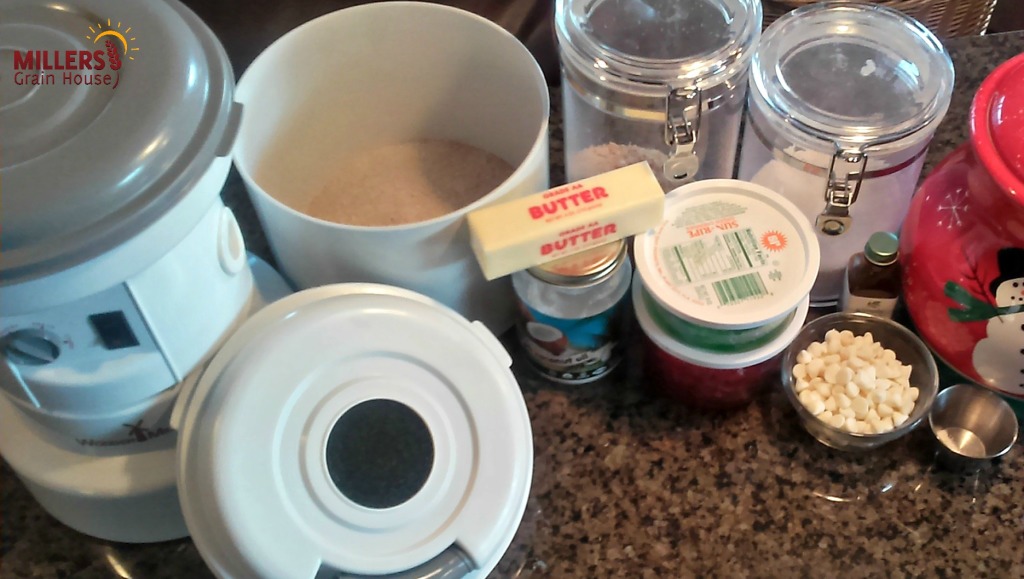 If you're like me (the odd-ball of the family) and just can't take another chocolate dessert (yep, you read that correctly)…then these festive cookies will allow you to escape the ordinary cookie and enjoy some of the colors and treats of the holiday.
Since this Very Cherry Christmas Cookie is 100% whole wheat and uses more wholesome ingredients, I don't feel too bad about the few 'fruitcake cherries' that are in it for the festive seasonal flair.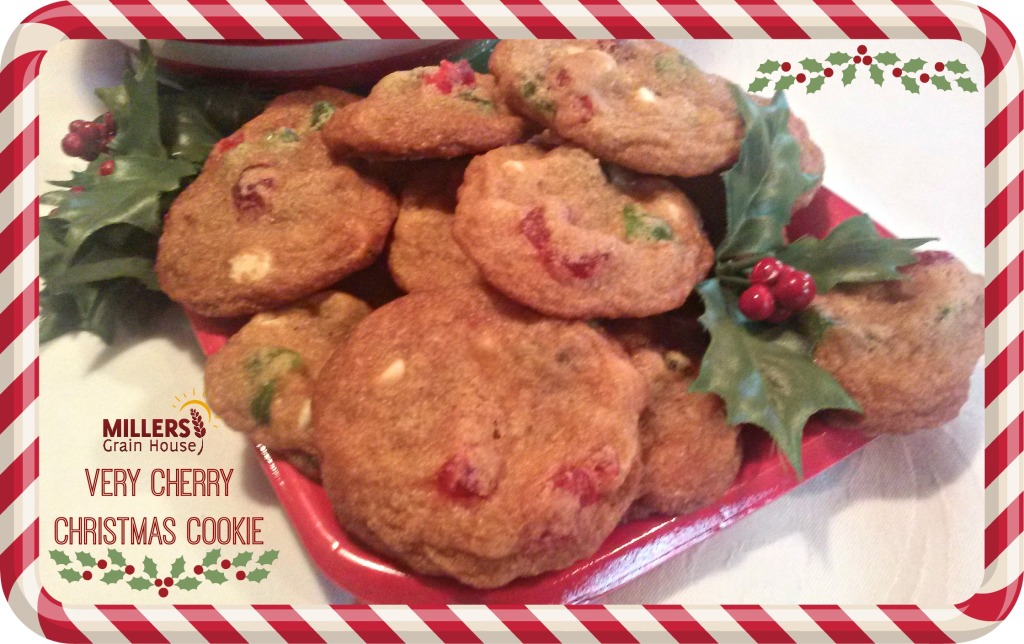 Very Cherry Christmas Cookies
Makes: 2 dozen
Ingredients
¼ Cup Organic Coconut Oil
¼ Cup Softened Butter
½ Cup Packed Brown Sugar
½ Cup Organic Evaporated Cane Crystals (Raw Sugar)
1 Large Egg
½ teaspoon Pure Vanilla Extract
1 ½ Cups Freshly Milled "All Purpose Flour"*
½ teaspoon Baking Soda
¼ teaspoon Sea Salt
¼ to ½ Cup Candied Cherries
¾ Cup White Chocolate Morsels or Almond Bark Pieces or Peppermint Pieces
* An 'all purpose' flour can be made by milling 50% Hard White Wheat & 50% Soft White Wheat in your WonderMill on the Pastry setting.
Instructions
Gather all ingredients before beginning to mix.
Heat oven to 375 degrees F.
With electric mixer, beat Coconut Oil and Butter in a large bowl until smooth.
Add Raw Sugar and beat until fluffy.
Add Brown Sugar and beat until fluffy.
Add egg and vanilla and beat until smooth and glossy.
Set this bowl aside.
In a smaller bowl, place freshly milled flour, sea salt and baking soda stir with fork or whisk to combine.
Cut Cherries each in half until you have between 1/4 to 1/2 Cup.
Toss about half of the sticky cherry pieces into this flour mixture.
Gradually combine the about half of the flour mixture into the sugar, egg & butter
Add remaining cherries and chocolate (or almond or peppermint) morsels
Chill this batter for at least 1 hour a 'higher' cookie.
Spoon out 1 rounded Tablespoon onto a greased cookie sheet.
Leave room for a little expansion for each cookie.
Bake between 11- 13 minutes
Move to a wire rack almost immediately for a chewy cookie – let cool on pan for 2 minutes before removing for a crunchier cookie.