What do you do when you want some fresh, homemade, whole-grain bread that tastes divine and has the aroma that attracts people from far and wide, but it's too hot to bake?
What do you do if you don't have an automatic bread machine and the thought of baking bread in your regular oven makes you start to perspire?
What do you do if you love the convenience of an automatic bread maker but you don't use non-stick coatings?
You bring out your slow cooker! 
That's right, the same wonderful, helpful vessel that cooks your pot roast to fall-apart yumminess and your chicken broth to perfection and your chili to new heights will bake your bread, AND not heat up your kitchen or use much electricity!!
Here's what you do:
Mill grain in your WonderMill or Wonder Junior Deluxe.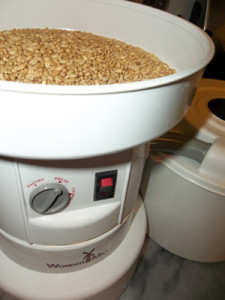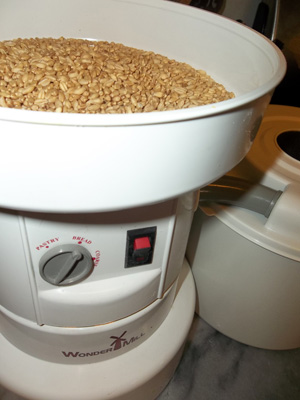 Get your recipe (or use mine below) for automatic bread machines.
Get your bread pan (I use an 8 x 4 size).
Make sure your bread pan fits inside your slow cooker (you'll need the large oblong ones, not the tall narrow ones) *If you don't have a slow cooker that holds a bread pan, no worries, you can use parchment paper!
Grab your parchment.
Make your dough (see options below).
Place a crumpled sheet of parchment on the bottom of the slow cooker
Place your bread pan onto the parchment *If just using parchment, criss-cross 2 sheets as described below.
Place another sheet of parchment INside the pan (press into the corners) and make sure it goes up the sides and over the pan to protect the sides of the bread from burning.
Shape your dough into a loaf and place inside the slow cooker in the pan or on the parchment.
Place another sheet of parchment over the opening of the slow cooker, but not down touching the bread.
Place a towel over the the parchment and place the slow cooker lid over the towel. (These last 2 steps reduce the condensation from inside the slow cooker lid which can make your crust soggy.)
Turn the slow cooker to HIGH and bake for:
1 hour 30 minutes* for a 1-pound loaf
2 hours 15 minutes* for a 1 1/2 pound loaf
2 hours 30 minutes* for a 2-pound loaf
*Times vary depending on your specific slow cooker, the size and density of your dough and your desired crust thickness. If you want a soft crust, bake less time. A crusty chewy browned crust? Bake longer.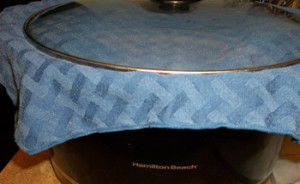 Be sure to take the temperature of the bread before removing from the pan. The internal temp should read 200 degrees F.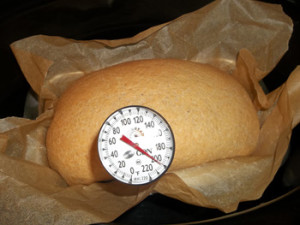 By picking up the parchment paper "sling," remove the baked loaf from the slow cooker, remove parchment and transfer to a cooling rack and cover with the towel from the slowcooker.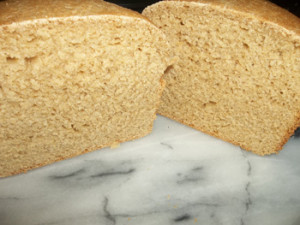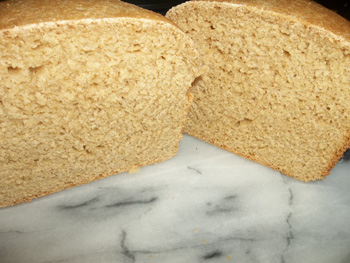 Other ways to bake bread without heating up your kitchen:
Solar oven
Grill
Electric roaster
Wood-fired brick oven
Outdoor oven
WHOLE-GRAIN BREAD (2 pound loaf)
Yield: 12-15 slices
Baking Time: See above
1 1/2 cups warm water
1/4 cup extra virgin olive oil
1 teaspoon organic apple cider vinegar
1  teaspoon SAF instant yeast
1/4 cup raw honey
1/4 cup vital gluten flour
1/2 teaspoon natural salt
3 (or so) cups whole wheat flour (or Kamut), freshly groundMake dough by hand, in a stand mixer with a dough hook, or in a food processor.Place the water, 2 cups of flour, apple cider vinegar and the yeast in the bowl you are using. Mix well, cover and let sponge 30 minutes.Add remaining ingredients, adding enough flour for a dough that pulls away from the side of the bowl. Knead for 5 minutes.Shape dough into a loaf and place inside the prepared slowcooker (which has been OFF) either in the pan or on parchment. Add the cover of parchment, towel and lid as described above. Turn slowcooker to HIGH and cook *UNDISTURBED* (do NOT lift lid until the end) for desired time and crust thickness.