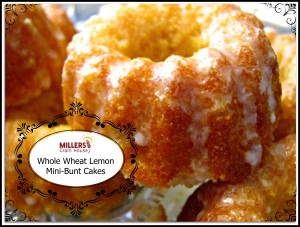 Lemon is one of my favorite flavors for desserts.  In the winter it brightens the darker days and puts a smile on my lips.  I am the lone lemon aficionado in our home; or so I thought.
I tried my hand at making these Whole Wheat Lemon Mini-Bunt Cakes because I wanted to taste that sun-shiny citrus – only to wind up with the family standing around eagerly waiting for me to snap the picture so they could devour them.  Chalk one up for Mom having good taste (buds).
While I made these – I also recorded a video.  So, please subscribe HERE so you'll get to SEE this recipe being done, not just read it!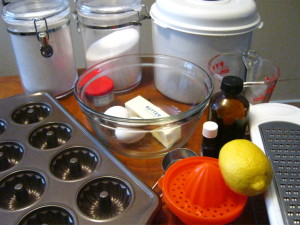 First things first – Mill about 1 cup of  Soft White Wheat Kernels in your Wondermill.  Now gather all the members of the cast to make sure you have them before you begin.
Now that everyone's here – Pucker up Buttercup and let's get started!

Whole Wheat Lemon Mini-Bunt Cakes
This bright and sunny taste is sure to lift the winter blahs off your shoulders or bring a smile to your face at a summer picnic.
Ingredients
1½ Cup Freshly Milled Soft White Wheat (very fine pastry setting)
¼ teaspoon Sea Salt
½ teaspoon Baking Powder
1 Stick of Softened Butter
1 Cup Organic Evaporated Cane Crystals (sugar)
2 Eggs
⅓ Cup Milk
¼ Cup Lemon Juice
½ teaspoon Grated Lemon Peel
½ teaspoon Lemon Extract
½ teaspoon Vanilla Extract
Instructions
Sift Soft White Wheat Flour, Sea Salt and Baking Powder together and set aside. Yes, you will have some of the bran left after sifting.
In a large bowl, using an electric mixer, cream together the sugar and butter until smooth and fluffy.
Beat in the Lemon Juice until fully incorporated.
Beat in one egg until fully incorporated then the second until fully incorporated.
Add vanilla, grated lemon peel and lemon extract.
Add ½ Cup of the flour mixture and blend until smooth.
Add some of the milk.
Repeat alternating flour mixture and milk until both are gone. Remember to scrape the sides of the bowl as you go.
Prepare mini-bunt pans with baking spray.
Pour or spoon batter into mini-bunt tins until about ⅔ full. The center cone should clearly show through the batter.
Bake in a 350 degree oven for about 20 minutes or until browned on top and spring back to the touch.
Remove from oven and let cool for about 3 minutes in the pan before turning out on a wire rack to cool completely before glazing.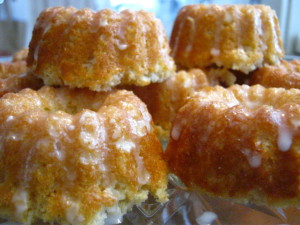 While these are completely cooling it's time to think about glazing them.
Oh no, I don't mean icing – but rather a light and tangy glaze that complements without over powering the mini-bunt.  So below is a quick and simple glaze recipe for these little gems.

Lemon Glaze
Perfect topping for the Whole Wheat Lemon Min-Bunt Cakes. We do have a 'secret ingredient' that we'll share too.
Ingredients
1 Cup Powdered Sugar
3 Table Spoons Lemon Juice
2 Drops Lemon Essential Oil or Lemon Extract
Water as needed.
Instructions
Mix all ingredients (minus the water) with a fork.
Let rest. Avoid adding water too soon. The glaze tends to become more liquified after it sits a while.
After it has reached the desired consistency and mini-bunts are cooled dip the mini-bunt into the glaze upside down (pretty side down) and then quickly turn upright to the serving plate.
The glaze will run down the sides like little sweet and tangy rivers.
ENJOY!